Auto Business
Launch
News
There's a new Ferrari in town: the 296 GTB
The mid-engined sportscar derives its power from a twin-turbo, V6 Hybrid, producing 830hp! The future is oh-so-ready for Ferrari.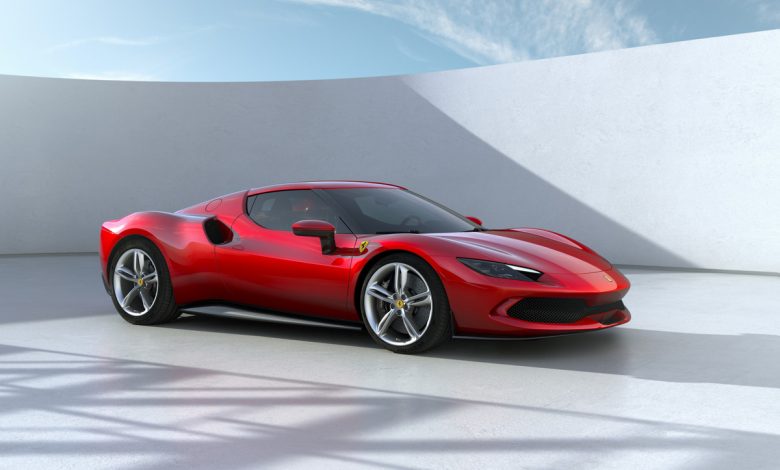 After months of spy shots, anticipation, possible overthinking too, Ferrari has revealed its newest model – the 296 GTB. Of course, when you look at it for the first time, you will know that the design has been heavily borrowed from the SF90 Stradale, at least for me it has. But that doesn't mean that it's not new elsewhere. Why this model makes sense for Ferrari? Let me tell you!
Let's talk power
First and foremost, it being a Ferrari, even with a 2.9L, V6 engine, coupled with twin-turbos and hybrid assistance, the 296 GTB, a PHEV, hasn't lost its charm. In case you managed to catch up on the live premiere, you would know that it sounds amazing. In case you couldn't, let me tell you, for a V6 Hybrid with twin-turbos, it sounds amazing. The car thus redefines the idea of driving fun to provide pure excitement not only when pursuing maximum performance but also in everyday driving.
The 296 GTB is the first Ferrari road car fitted with a 120°, 6-cyl turbo engine. The engine structure means that the turbochargers can fit within the "Vee" which increases its compactness, lowers its center of gravity, reduces its mass, and helps it achieve extraordinarily high power levels – 221 hp/l for specific torque output for a production car, a record.
While the V6 motor alone makes 663hp, the electric motor is capable of producing 167hp all by itself. The MGU-K is derived from Ferrari's F1 program and is powered by a floor-mounted 7.45kWh battery that can drive the car for 25km without any help from ICE. To make that happen without any hiccups, a clutch called the Transition Manager Actuator sits between the electric motor and the engine that can connect and disconnect the electric motor from the V6 depending on the situation.
The F1-style 8-speed DCT handles the transmission duties and sends all the power to the rear wheels. Donuts now more fun. You can achieve 0-100km/h in 2.9secs (0-200 takes 7.3secs), with a maximum speed of 330km/h+. Oh, and you also get 740Nm of torque. 
Let's talk design
As mentioned above, the 296 GTB borrows its styling heavily from the SF90 Stradale, but you do get a body that is smoother, less mean, and aggressive than what we are used to seeing from the Prancing Horse. It is 2.5-inches shorter than the F8 Tributo in length, a car it apparently replaces (although Ferrari says that it's not a replacement model), and almost a full inch shorter in height, too. It is heavier though, by around 310 pounds.
The new headlights incorporate brake ducting right into the assembly and for the first time in this segment, an active wing at the rear which, according to the Italian carmaker, can produce up to 793 pounds of downforce at 250km/h. I especially adore the rear-end, but with that exhaust setup, I also get strong Mercedes AMG One vibes. You do too?
Let's talk chassis
In simpler words, Ferrari has ensured that the 296 GTB isn't just another car with mind-boggling figures that cannot be driven in the manner it is supposed to. To help its potential customers with this, it has given the 296 a new six-way Chassis Dynamic Sensor to discern the car's acceleration in speed in all three axis; an upgraded ABS controller for smarter stops, Side Slip Control; an e-diff; and a new input feed from the power steering to help the car build a crystal clear idea of where you and the GTB are relative to the limits.
In short, the 296 GTB will be more fun to drive and don't worry, it will go wherever you want it to go, without thinking twice about the consequences. It will be "fun-to-drive" as Ferrari says. The driving modes are also borrowed from the SF90 Stradale – you can choose between eDrive, Hybrid, Performance, and Qualify. The Manettino switch on the 296 GTB happens to be the only physical control on the 296's steering wheel. Sad.
Let's talk interior
Of course, this is where you will spend most of your time, and so, it has to be worth every penny you spend, no? But then again, with a great V6 motor powering the car you are driving, would you even bother reviewing the interior?
It's as minimal as it could get, on the designing part, with several touch-capacitive buttons dominating the cabin. There's no more a central infotainment unit, instead, all is built-in on the 16-inch curved digital driver's display. However, if you feel like it, you can opt for a screen for the passenger side which will show revs, speed, and the current gear. Apart from that, the cabin feels roomier and well-designed.
Ferrari 296 GTB Assetto Fiorano
Don't know what that means? Well, for Ferrari to give you an even meaner machine, the 296 GTB can also be had with this package meaning if you choose it, you get Multimatic shock absorbers, a Lexan rear windscreen, new lightweight door panels, and a host of carbon-fiber trim pieces on both the exterior and interior for a total weight savings of 26 pounds.
One could also have the even-lighter Lexan rear window to bump weight savings to 33 pounds, and Michelin Cup 2 R tyres for ultimate track-day performance.
The car should reach customers by early 2022, and one thing is definitely for certain – the McLaren Artura, a V6 Hybrid sportscar said to be the closest competitor to the 296 GTB, doesn't stand a chance. Period.