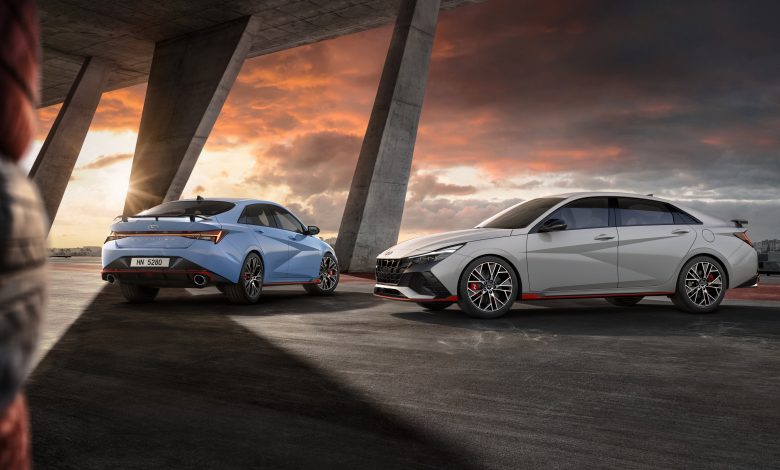 This has been a long time coming, but Hyundai has finally taken the wraps off of the Elantra jewel, if you may. The Elantra N is essentially an Elantra N Line but with more power and performance in every area thanks to several upgrades.
So right off the bat let's talk about power. The 2022 Elantra N gets the same ol' 2.0L, turbocharged, 4-cyl motor also found in other performance models from the brand. In here, the power output stands at 276hp. However, you can also have an additional 10hp at your disposal should you want it. The torque figures stand at 289 lb-ft powering the front wheels. Transmission duties are handled by an 8-speed, wet DCT that executes crisp shifts and results in a 0-62 time of 5.3sec.
Furthermore, for added cornering and accelerating abilities, Hyundai has also equipped the Elantra N with its N Corner Carving Differential (e-LSD, electronic Limited Slip Differential), Variable Exhaust Valve System, and… Launch Control! All of these are specialized, high-performance features that come as standard. For DCT models, the N Grin Shift (NGS), N Power Shift (NPS), and N Track Sense Shift (NTS) are provided as standard features to maximize driving pleasure.
The 360-mm brake discs come equipped with high-friction material pads to ensure best-in-class braking performance for high-performance vehicles. Similarly, for the first time in a Hyundai, the Elantra N applies an integrated drive axle (IDA), inspired by technology used in WRC rally cars. By integrating drive shaft, wheel hub, and bearing, weight reduction of 1.7 kg enables a 'lighter and stronger' car, also beneficial in terms of withstanding extreme lateral g-force. You also get the sticky, 19in Michelin Pilot 4S rubber at all four corners.
The Elantra N will also get the N Sound Equalizer (NSE), "a virtual engine sound that not only provides driving sounds that represent Hyundai Motorsports, such as TCR race car sounds, but also has an equalizer function that allows the driver to adjust details for each range (whine, throat, bass), with consideration for personal preference, allowing the driver to hear a more realistic and dynamic engine sound while driving." Pops and bangs aplenty!
On the outside, the 2022 Elantra N looks angry and serious. Put simply, it looks the part. Nothing wrong with the design. At least not for me. You should have a performance car looking this serious and angry, throwing around its tantrums. Inside, you get a typical Elantra-like cabin, but with the oh-so-much-more N branding everywhere to remind others that you paid extra for all of this.
Additionally, a lap timer for the infotainment system and other critical monitors for things like engine oil and coolant temperature along with upgraded seats with extra bolster support welcome you.
"Hyundai Motor's high-performance N brand constantly aims to provide customers with a range of exciting choices for increased driving pleasure," said Till Wartenberg, Vice President and Head of N Brand Management & Motorsport sub-division at Hyundai Motor Company. "Elantra N is the purest expression of our mission to date."