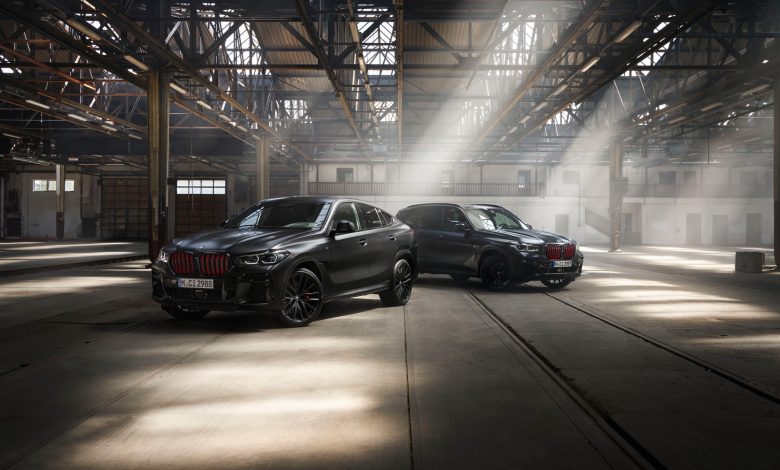 Let's accept this, the color Black has its own charm, especially in the automotive industry. And BMW has been at the helm of taking advantage of that ever since they launched their blackest black Vanta Black X6 . Now though, BMW has launched special Black Vermilion editions of the X5, X6, and the X7 in Frozen Black metallic edition. The new editions will be made available in the US and Europe as a limited-production models. The Bavarian automaker claims the two sports activity vehicles (SAV) and the sports activity coupe (SAC) to be equally dynamic and distinctive in design. Oh! And it has red accents. DAMN!
The Black Vermilion edition charms with its contrasting interplay between the red and black colors. Is there a better combination than red and black contrast? The X5 and X6 flaunt a double kidney grille with red bars that provides them with an aggressive look against the black backdrop.
The M headlights Shadow Line with BMW laser light also include accented lighting while the blue X signature takes over the front end. Both the X5 SAV and X6 SAC come with dark matte grey 22-inch wheels that complements their ninja appearance. These models also get an M Alcantara roof liner.
The BMW X7 also comes with a red and black contrasting colour combination and 22-inch Y-spoke 758 I matte grey alloy wheels.
In terms of powertrain, BMW will offer the same engines available for each of the original models of all these three vehicles.
That means the BMW X5 will continue with a diesel as well as a petrol engine with automatic transmission. The five-seater SAV's twin power turbo 6-cylinder engine can generate a power of 335.2 bhp and a peak torque of 450Nm.
The BMW X6 SAC also has two petrol and two diesel engine options from the latest generation that are capable of churning powers of 265 hp and 530 hp. It comes with a standard eight-speed Steptronic transmission and can attain a maximum torque of 450 Nm.
The 'more spacious' seven-seater BMW X7 SAV's diesel and petrol engines can create a power of 394 hp and a peak torque of 760 Nm.
BMW has planned a market launch beginning in August 2021. All the 3 models can be ordered with immediate effect. Prices in Germany start at 93,200 Euros for the BMW X5 Black Vermilion, 100,700 Euros for the BMW X6 Black Vermilion and 108,700 Euros for the BMW X7 in Frozen Black metallic (each including 19% sales tax).