Auto Business
Electric
News
Tesla requests Indian Government for lower custom taxes
The EV maker is aiming to begin sales in India this year and has reportedly ramped up local hiring while searching for showroom space.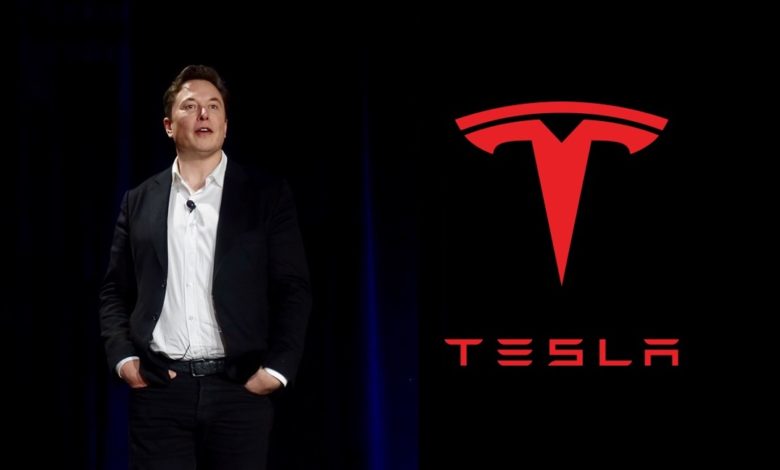 California-based electric car manufacturer Tesla has demanded a reduction in import duties on electric vehicles (EVs) in India, multiple sources reported. Sources claim that the US auto giant has written a letter to Indian ministries regarding the matter, arguing that the tax relief will boost demand and generate revenue for the government. Moreover, Tesla will also consider setting up a factory in India if the American company is able to succeed with imported vehicles, said CEO Elon Musk while replying to a thread of tweets.
In reply to a launch request of the Tesla cars in India, Musk also stated in the Twitter thread, "We want to do so, but import duties are the highest in the world by far of any large country."
"But we are hopeful that there will be at least a temporary tariff relief for electric vehicles. That would be much appreciated," a follow-up reply from the EV maker's Chief reads in the same thread.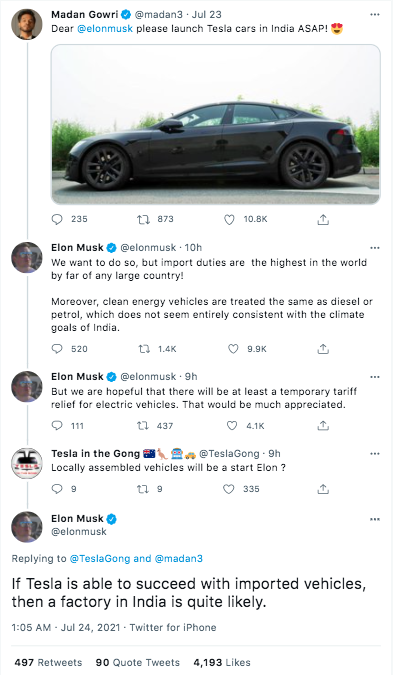 However, Tesla's pitch to lower duties is likely to face resistance from Indian government authorities, which has already cleared on previous occasions that such relief will be provided only if the automaker sets up a local production factory in the country.
"India would be willing to offer incentives to ensure Tesla's cost of production in the country is less than that in China, but only if it manufactures locally," India's transport minister Nitin Gadkari said while talking to Reuters, in March.
Meanwhile, it's not just the Elon Musk's company that will be bearing the high custom rates in the Indian market. Other luxury automakers in India have also been exposed to these high import taxes by Prime Minister Narendra Modi's administration in a bid to boost local manufacturing. Just like Tesla they also lobbied the government in the past to lower taxes on imported cars but have had little success with their persuasion.
Currently, all cars imported as completely built units (CBUs) attract customs duty ranging from 60 per cent to 100 per cent, depending on engine size and cost, insurance and freight (CIF) value. In simpler terms, cars priced below $40,000 attract 60% import duties, while the charge goes all the way up to 100% for those costing above $40,000. And according to Tesla's U.S. website, only one model – the Model 3 Standard Range Plus – is priced below $40,000.
As per Reuters reports, Tesla, in its letter to ministries and the country's leading think-tank, Niti Aayog, advocated that slashing federal taxes on imports of fully assembled electric cars to 40% would be more appropriate.
"The argument is that at 40% import duty, electric cars can become more affordable but the threshold is still high enough to compel companies to manufacture locally if demand picks up," one of the Reuters sources said.
"Actually it's a revenue matter. But yes, their demand for lower tariffs is in public domain," another official told PTI on the condition of anonymity.
While lower duties would give Tesla a better chance to test the market, its plan to begin sales in India does not hinge on a change in government policy, both sources said.
Recently, Union Minister Nitin Gadkari has also said that given India's current thrust on e-vehicles, Tesla has a golden opportunity to set up its manufacturing facility in the country.
"Tesla is already sourcing various auto components from Indian automakers and setting up a base here would be economically viable for it," the Road Transport and Highways minister had said.
Gadkari had also exuded confidence that given the improvement in Indian products, within two years India would be capable of producing e-vehicles of Tesla's standard. He also suggested that Tesla can make industrial clusters and create and develop its own vendors here.
The Indian EV space is currently in a nascent stage with just a few electric options available, especially in the budget segment. However, India's premium EVs market arguably has more choices to offer but the vehicles are far too costly for the average consumer to afford. As per data, only 5,000 of the 2.4 million cars sold in India last year were electric and most were priced below $28,000.
Right now, the luxury EV segment in India consists of cars like Mercedes EQC, Jaguar i-Pace and the recently launched Audi e-tron, all of which cost a crore or over.
As for Tesla's operation developments in India, the EV maker registered a local company in India in January and has reportedly ramped up local hiring while also scouting for showroom space, most probably Mumbai being its first destination.
Tesla's entry into India is definitely a welcome change in the market, and could bring some changes in the country's EV industry, encouraging other automakers to introduce more budget-friendly electric options in the future.