Auto Business
Electric
News
Tesla's lower import tax requests denied by Indian Government
"No such proposal is under consideration in Ministry of Heavy Industries," told a ministry official to parliament on Monday.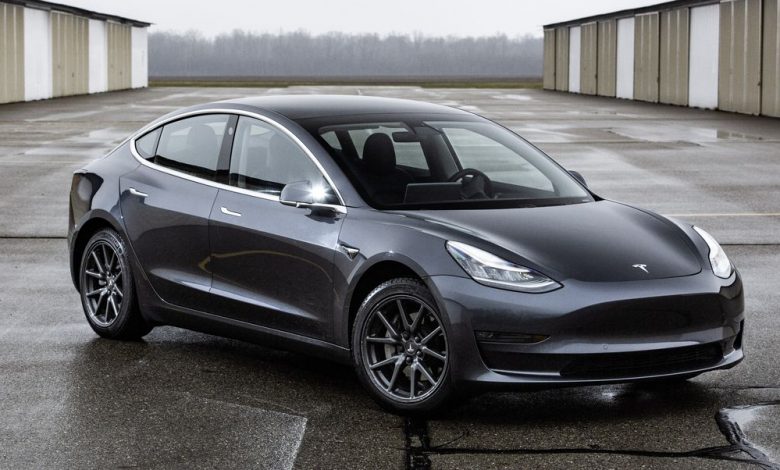 Tesla's India launch might get stalled after the Indian government denied cutting import duties on its electric vehicles. A few weeks back, the California based EV company wrote letters to the Indian transport and industry ministries requesting them to cut customs duty on electric cars to 40% from the current range of 60-100%. Its billionaire chief Elon Musk also hinted on Twitter that Tesla could set up a local factory if it gets a good response with its imported CBU cars.
Tesla now have to go with their plan B, if they have any, as Krishan Pal Gurjar denied any possibility to entertain such tax cut requests. Gurjar, who was recently inducted in the cabinet as the MoS in the Ministry of Power and Heavy Industries, told parliament on Monday, "No such proposal is under consideration in Ministry of Heavy Industries."
However, he added that the government is aggressively promoting the use of electric vehicles by keeping domestic taxes low, offering incentives through the FAME II scheme, and help to install EV charging stations to develop the EV ecosystem in the country.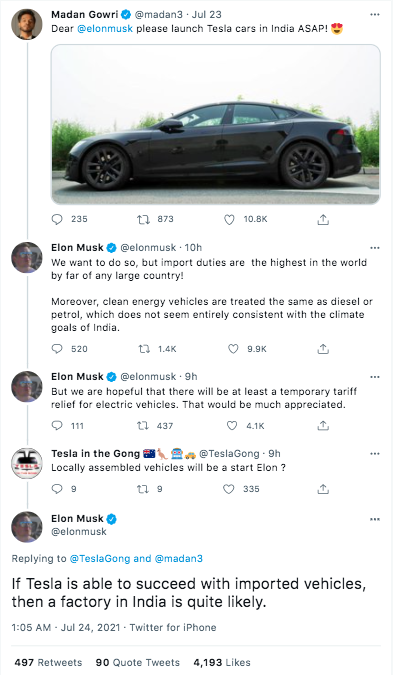 Following Tesla's tax cut demands, TATA demanded the Government of India to support local made electric vehicles under its FAME Scheme. But Tesla's request on import duties in India sparked a debate among carmakers in the country. There was a clear divide in opinions shared by vehicle manufacturers. While Hyundai echoed Tesla seeking reduced taxes, Ola ELectric, a new venture of Ola Cabs aimed to make and sell EVs in India, backed TATA on its demand. Ola Electric, which is all set to launch its first two-wheeler electric product in India, said emphasis should be more on promoting local manufacturing besides tax cuts.
Responding to Autocar India editor, Hormazd Sorabjee's tweet, Ola CEO Bhavish Aggarwal retweeted last Tuesday that he "strongly disagrees" with the views of Tesla and Hyundai on lower import duties for electric vehicles in India. He said India should have confidence in its ability to build electric vehicles indigenously while also attracting global manufacturers.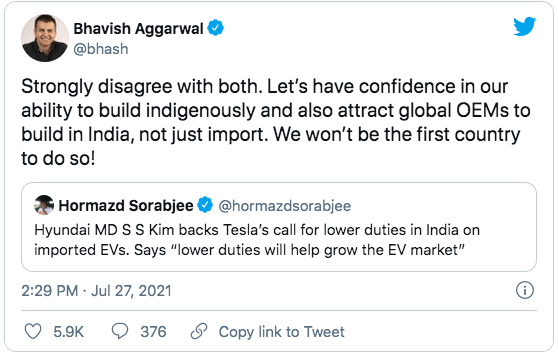 In India, currently, all cars imported as completely built units (CBUs) attract customs duty ranging from 60 per cent to 100 per cent, depending on engine size and cost, insurance and freight (CIF) value. In simpler terms, cars priced below $40,000 attract 60% import duties, while the tax goes all the way up to 100% for those costing above $40,000. And according to Tesla's U.S. website, only one model – the Model 3 Standard Range Plus – is priced below $40,000, which means all Tesla EVs will cost marginally high in India.
Tesla's announced its entry in India earlier this year when the EV maker registered a local company in India in January. Even though reports suggest that the US brand has ramped up local hiring while also scouting for showroom space, this new news could prove to be a setback for Tesla and its Indian operations.
According to leading tech policy and media consultant Prasanto K. Roy, Tesla's India plans are still unclear and unknown.
"Musk said he could be aiming for 20 million vehicles globally by 2030, replacing 1 per cent of the global fleet each year. Up to a tenth of that could come from India. But neither Tesla nor India will be ready in 2021 for any major ramp-up in EVs. Tesla is overstretched with its global plans and it has its hands full with China," Roy told IANS recently.
Roy suggested Tesla to look at a three-pronged India strategy.
"It should create a base for software, testing and R&D, explore distribution tie-ups for charging networks and support for Model 3 buyers and evaluate tie-ups for initially assembling Model 3, while sourcing local suppliers for the body and components other than motor, battery and charger," he explained.