Formula 1
Alpine, Hamilton and Vettel give a race to remember at the 2021 Hungarian GP
6 of the racers were out of the race following a mass collision at Turn 1 on Lap 1. Sebastian Vettel secures his second P2 and then gets disqualified, while Hamilton fights for a championship lead changing P3.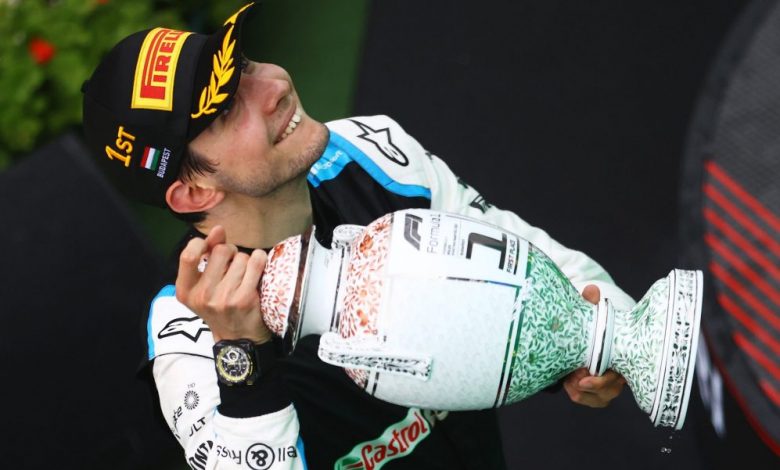 Woah and Wow! The only two reactions we had throughout the race. Albeit in a much more expressive way. One wouldn't have hoped for such a nail-biting experience during the 2021 Hungarian GP when half of the podium contenders retired out of the race at the very beginning due to a mass collision.
The huge Turn 1 incident sparked by Valtteri Bottas took several cars out of the race, including Lando Norris' Mclaren, Leclerc's prancing horse, Sergio Pérez' RB16B and of course, his own W12. The accident also damaged a big chunk of Max Verstappen's RB16B right front portion, resulting in a noticeable disruption in the Dutchman's performance, which kept him away from the podium action the whole time at Hungaroring.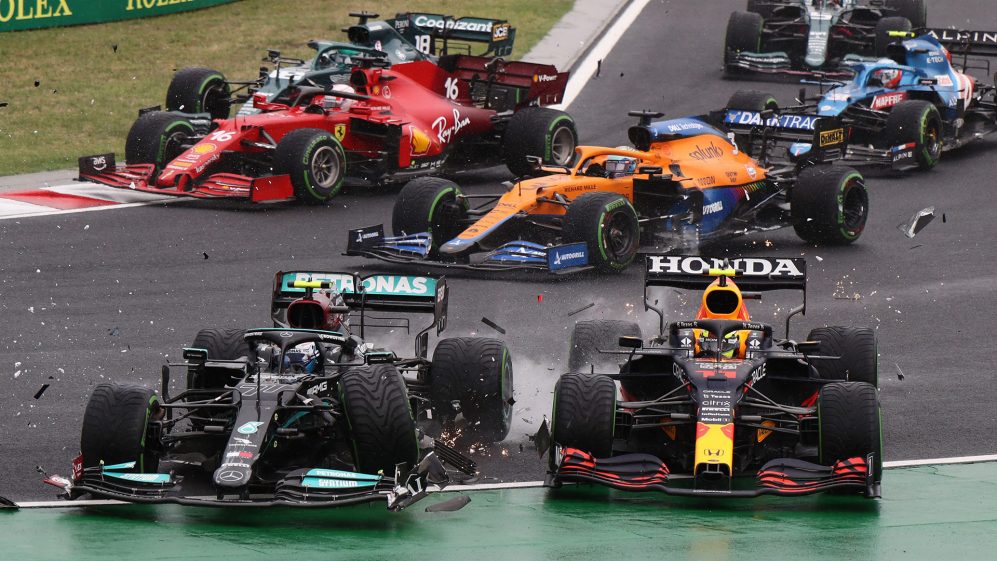 With the top half of the starting grid involved in a catastrophic carnage, the red flag saw multiple usual bottom-half finishers promoted up the order for the standing restart.  And a restart to remember it was because Lewis was the only one starting on the grid with the inters while others changed. A bad decision by Mercedes that cost Lewis P1 but, Hamilton's fierce driving got him ahead securing P2 after Vettels disqualification. That now puts him 8 points ahead of Verstappen in the championship.
BTW! What a mind-blowing performance from the underdogs of the 2021 F1 Championship, especially those Alpines, which proved quite tough opponents for two World Champions – Vettel and Hamilton. Oh, Sherlock, those A521s are mad fast. We did tell you, but did you listen?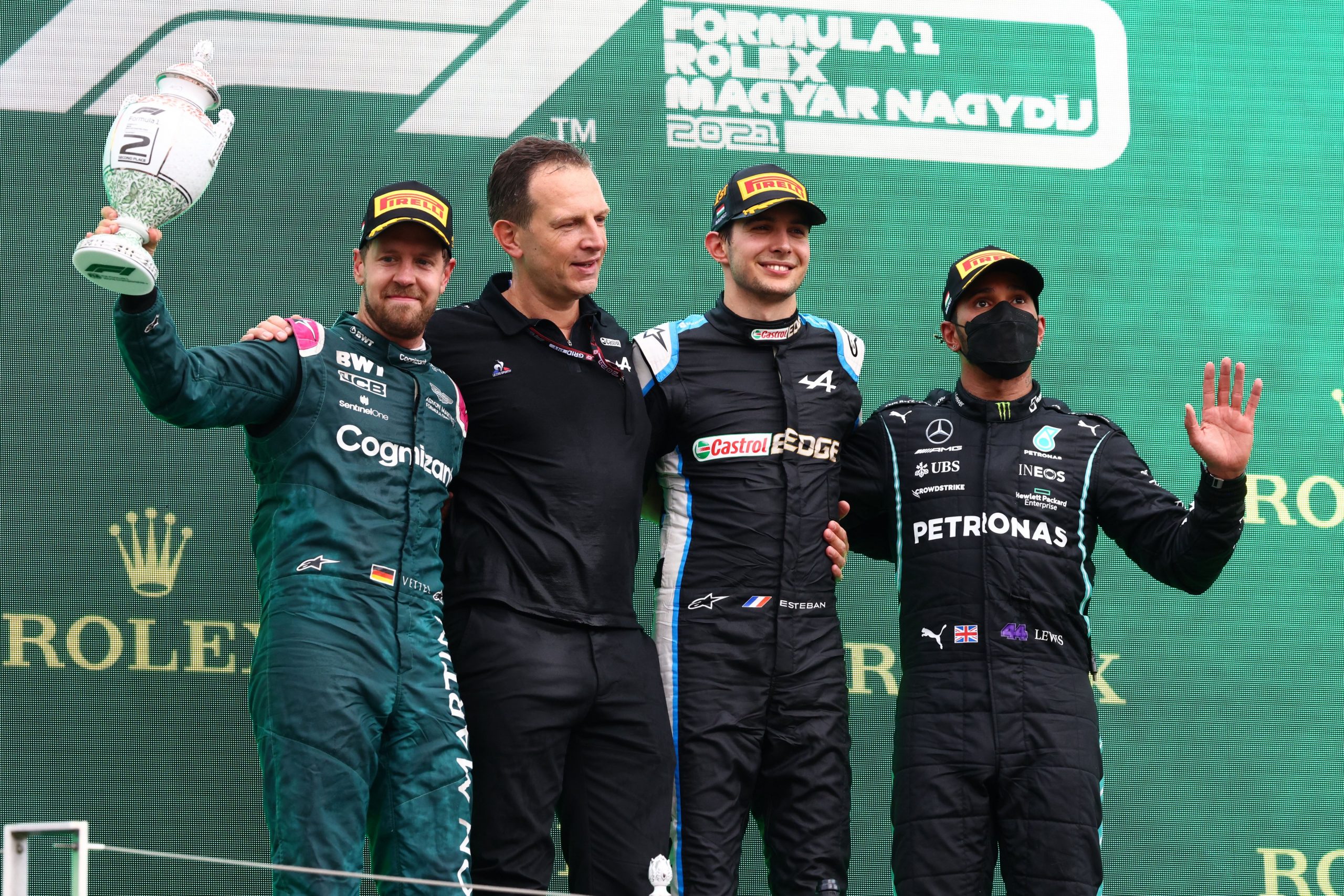 Esteban Ocon claimed a very deserving F1 win for the first time in his racing career. Sebastian Vettel repeated a 2021 Baku GP grabbing another P2, he grabbed the second podium of this season for himself and his team, Aston Martin although, some fuel sample issues got him a dis-qualification for which he wasn't happy quite openly.
Quite a duel the German racer had with Ocon the whole time, but the Frenchmen showed great calm and composure for his age and did not lose his top spot to the 4-time World Champion, even for once. Lewis Hamilton filled the remaining podium spot with a remarkable comeback after a strategic blunder on the red flag restart. So you see, even with six racers out of the Hungarian GP, we have a lot to talk about, so let's begin our usual team by team analysis.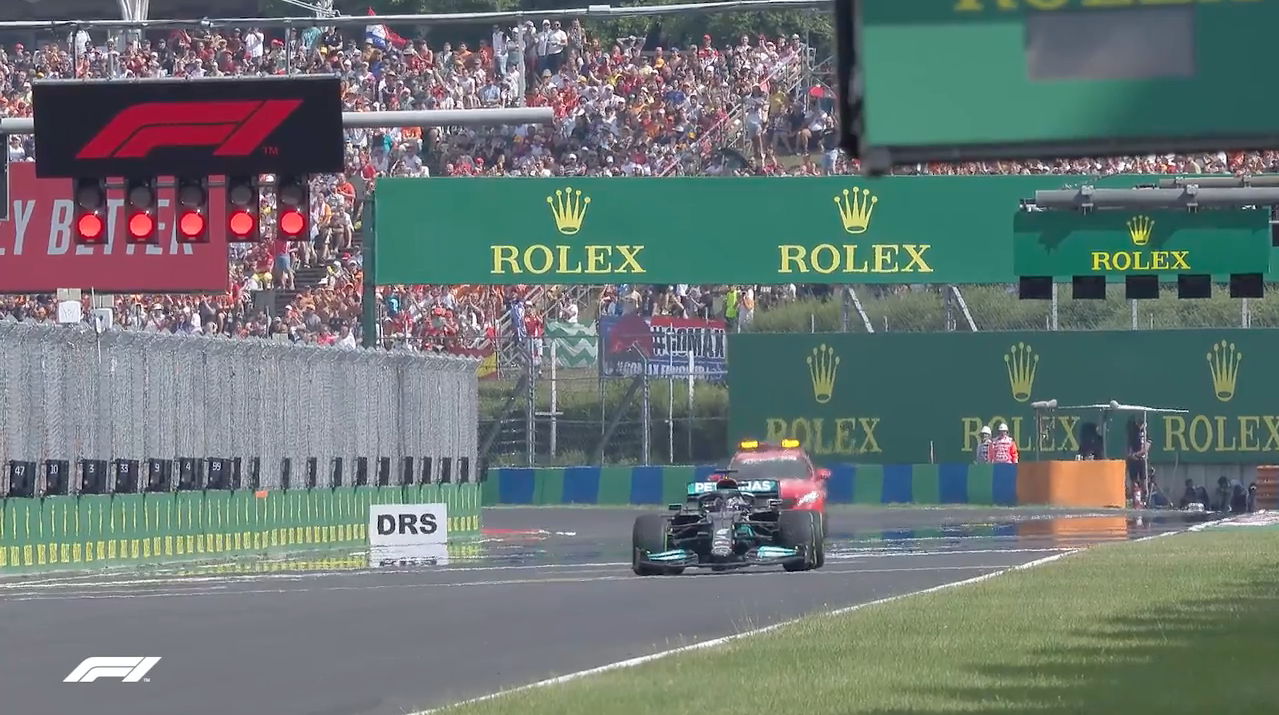 Alpine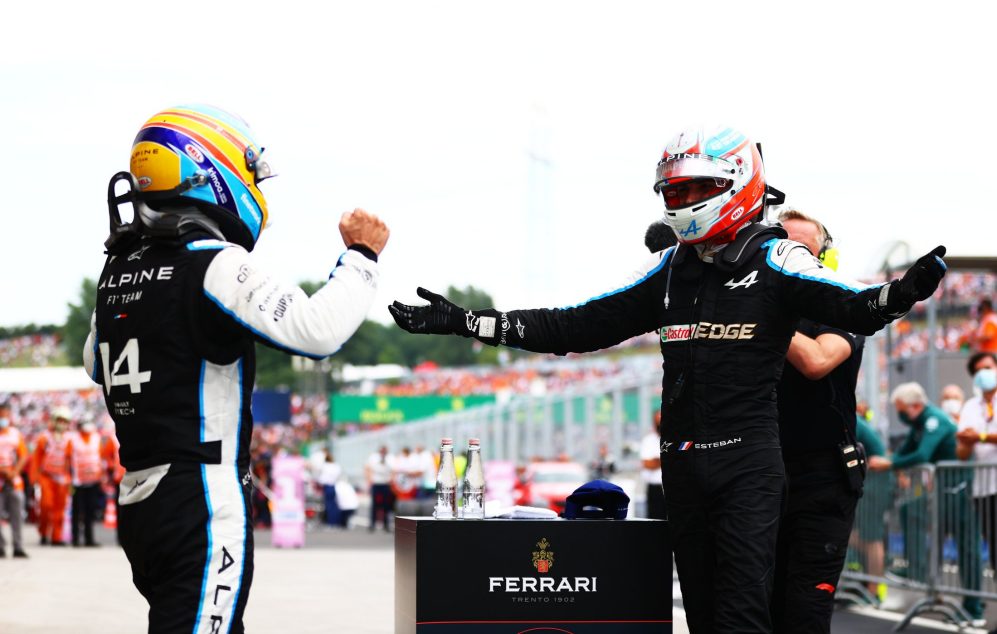 First things first! A bow to both Alpine racers. No really! What a top-class performance. Both A521s kept us on the edge of our sofas throughout the game, especially Fernando Alonso. He may not have won the race, but he certainly won everyone's heart today with his brilliant driving. Alonso's valiant duel with the charging Mercedes of Hamilton have had single-handedly elevated the excitement around the Hungaroring circuit and all the TV screens tuned into the Sunday game.
The third time he denied the Brit of an overtake, we knew for sure, the Driver of the Day title belongs none other than the Spaniard. We have a lot to say, but we are kind of out of words right now. Esteban Ocon may have suffered the same fate as Leclerc did two weeks back at the British GP, by Hamilton, if it wasn't for Alonso's performance. Overall, a fantastic near-perfect act by the 2-time World Champion who crossed the chequered flag at P5.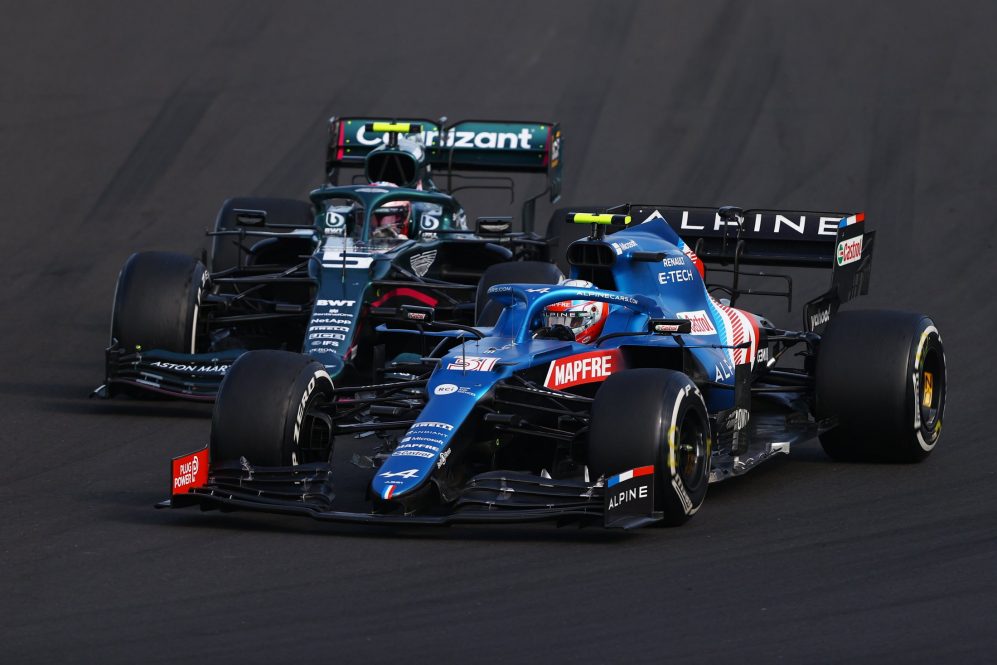 The day at Hungarian GP was Alpines' to seize. If Alonso was near-perfect with his driving, his teammate, Ocon, was undoubtedly a ten on ten at the Hungaroring circuit. The 24-year-old racer outperformed Sebastian Vettel, who is not just a decade older than him but is also much experienced with 4-world champion titles. With his flawless driving and Alpines admirable strategy, the Frenchman did not let Vettel pass him after taking the lead on the Sunday race, not even for once.
Interestingly, eighteen years ago, Fernando Alonso claimed his own maiden victory at the same Hungaroring track, that too with the same Enstone squad. Crazy how the universe mysteriously works! But, amidst all this, the most wholesome thing to watch was Alonso waiting on Ocon to celebrate his victory. Adorably classy if you ask me.
Aston Martin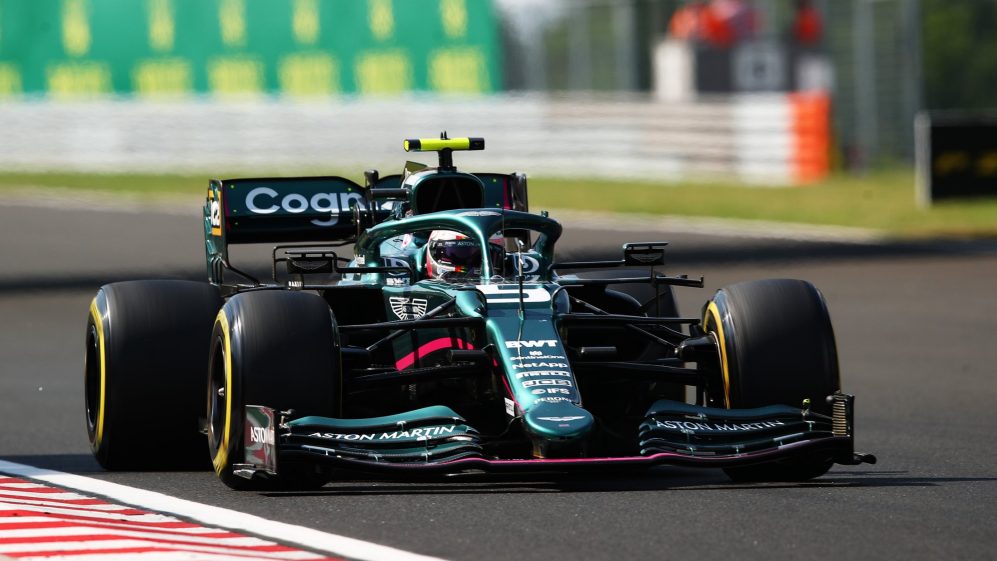 Sebastian Vettel carried Aston Martin on his shoulders during the Hungarian GP to get their second podium finish of the 2021 season. The German racer, however, accepted post match that he was obviously a little bit disappointed because he felt he was faster for the majority of the race. He definitely pushed very hard and kept constant pressure on the young Alpine talent throughout the race, but Ocon did a sterling job to hold off the advances of Vettel. vettel held nothing back in accepting Ocon's superiority for the day.
It was devastating to know that Vettel was disqualified from the race for a fuel sample issue. The FIA need to penalise the team for this not the driver! Anyway, Vettel didn't hold back anything when he said post-race that his penalty was because "he wore the wrong t-shirt during the national anthem." He added that he really couldn't care less which is understandable.
Even though the gap between their Alpine and Aston Martin kept on fluctuating between 0.3s and 2.0s the whole time, the Frenchman did not make a single mistake to let the 4-time World Champion overtake his A521. Lance Stroll retired out of the race on the opening lap of the race after he took to the inside grass at Turn 1 but locked up and could not avoid crashing into Charles Leclerc. The Canadian-Belgian racer who secured the 12th position in the qualifiers accounted in P20 on the race day.
Ferrari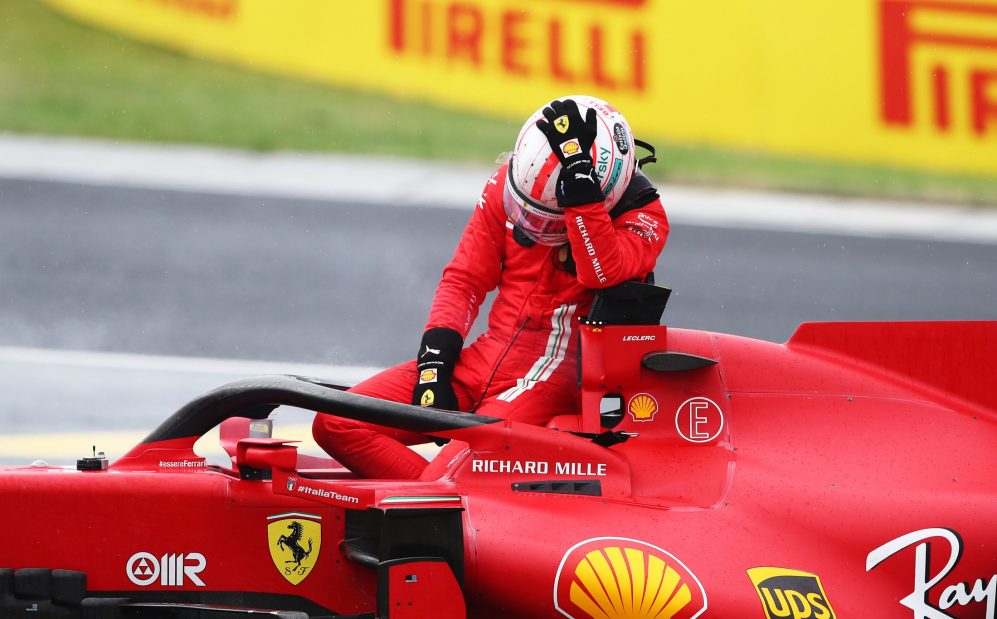 Ferrari suffered a similar fate as Aston Martin, with Charles Leclerc forced out of the race following Stroll's crash. The Monégasque racer finished a place above his collision partner at P19. All in all, Leclerc certainly had a bad week in Budapest. On Saturday, Carlo Sainz had also shared a similar fate when he crashed during the qualifying session due to oversteer sending him into the barriers and out of the session.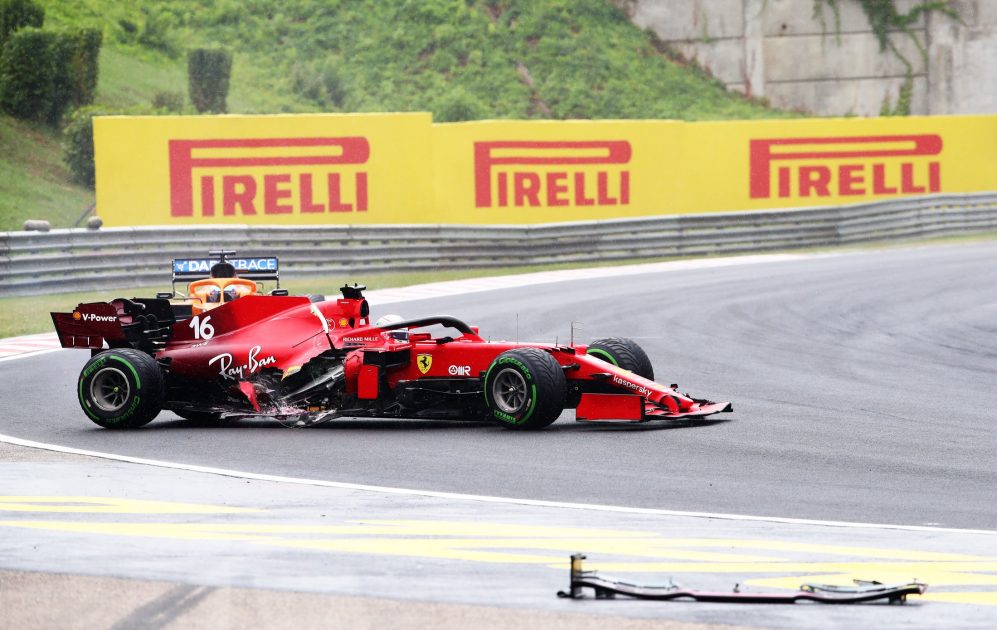 But the race day collision proved kind of helpful for the Spaniard, who started far back at P15 due to the Saturday crash, as he managed to pick his way through the debris to run in the top five. After gaining positions, Sainz drove a superb race by challenging hard at the front and finished at the 4th spot. He had held P3 for much of the race but was taken over by Lewis Hamilton in a more or less similar fashion the Brit surpassed Leclerc in the final minutes during the British GP. Overall, not a completely bad result for Prancing Horse camp, given their bad luck this weekend. But, some good luck at the end for Sainz Jr. as he was promoted to P3 into the podiums due to Vettel's isqualification.
Williams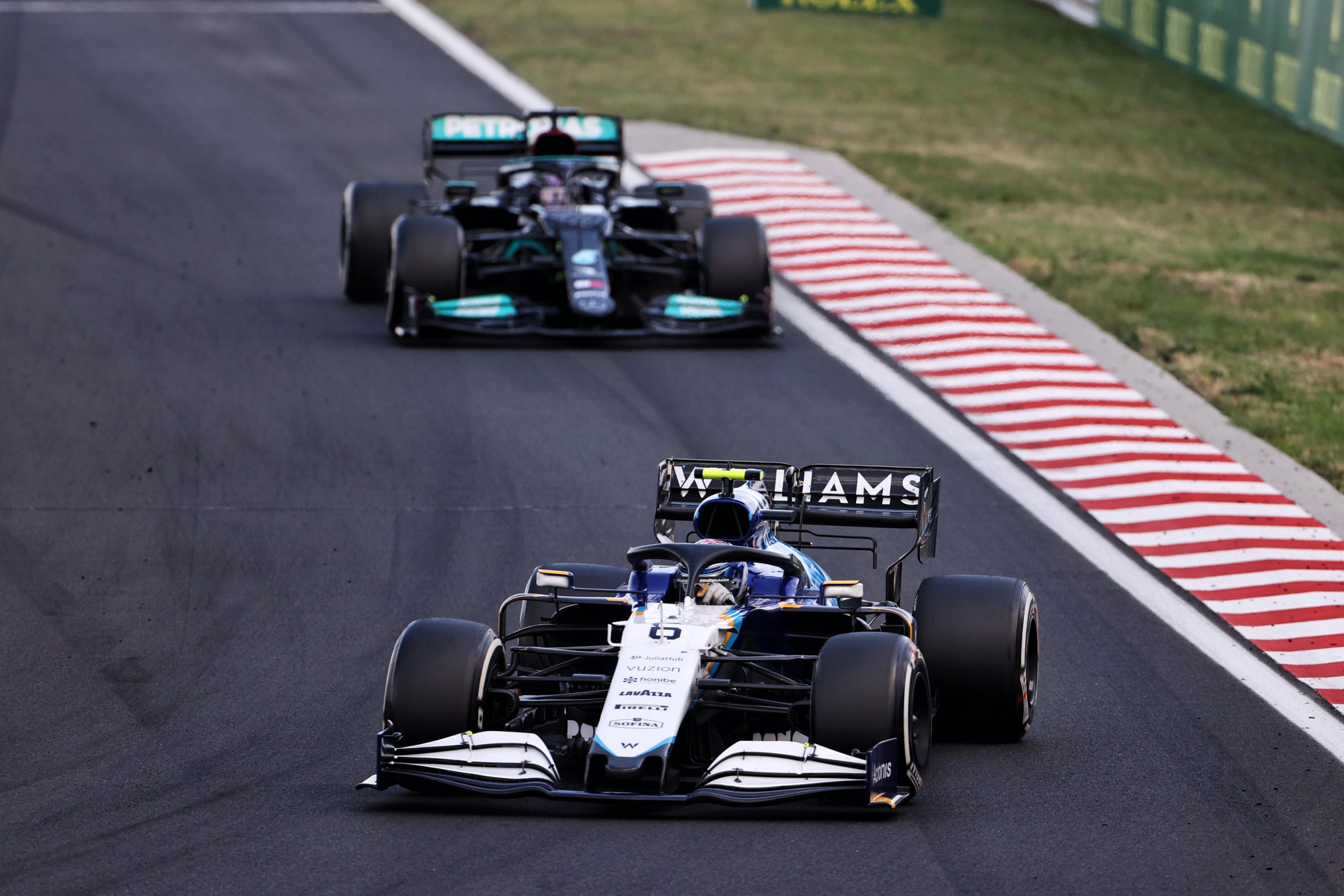 August 1 was definitely a day of the underdogs in the 2021 F1 season. Multiple racers outperformed top-flight drivers, and the Williams duo was no different. The British team claimed their first points since the 2019 German Grand Prix, that too with a double top 10 finish – a feat the team last achieved in Italy in 2018. Similar to Ferrari's Sainz Jr, Nicholas Latifi benefited immensely from the opening lap crash.
Post-collision on the Turn 1 at Hungarian GP, the Canadian emerged from the restart in third, with teammate George Russell at seventh. However, the Williams pair later lost back their lead as quicker cars recovered. But both Latifi and Russell finished ahead of Red Bull's Max Verstappen at P8 and P9, respectively, which is an achievement in itself. A great day at Williams camp, one they have been waiting and having deserved for a long time.
It was again very wholesome watching an F1 racer like George Russell got emotional in giving Williams the places they deserved. After YEARS of hard-work. I keep wondering if it was because Russell is set to leave WIlliams next year? Hmmm…
McLaren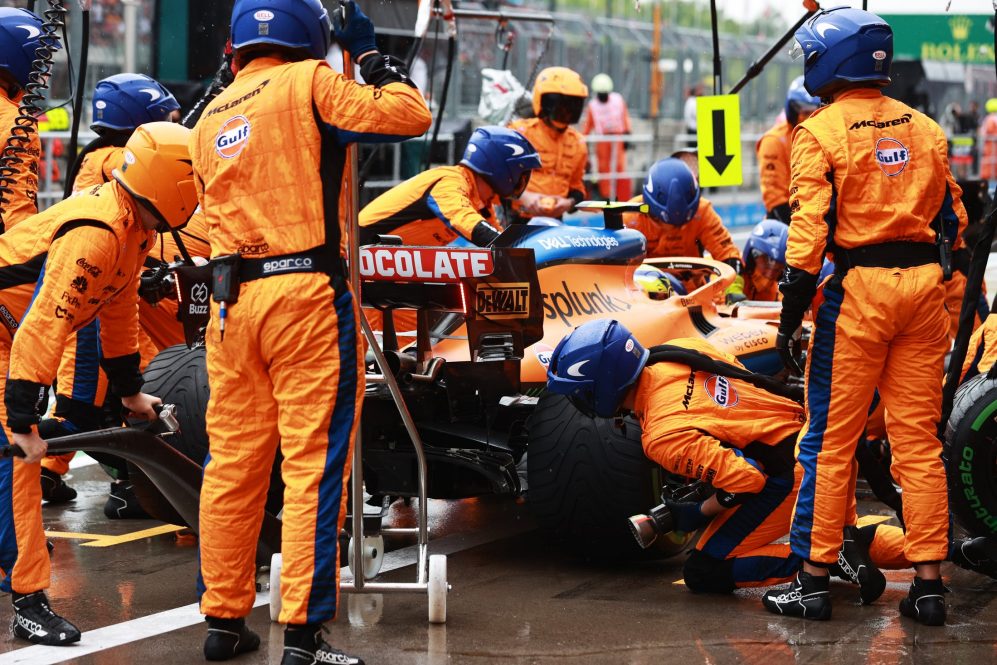 Arguably the worst affected team in the Lap 1 chaos at the Hungaroring. Lando Norris made a great start in the rain-soaked turf and looked to be challenging for the second position when the lights turned green but became the direct victim of the mass crash at Turn 1. Valtteri Bottas' locked up F1 W12 triggered the whole ordeal by hitting Norris' MCL35M at the back, sending him into the side of Verstappen.
Although Lando limped back his wounded McLaren to the pits, the damage to the chassis was too great for him to continue, and he was forced to retire with the ultimate position of P16. The Brit was the only driver this season with a record run of 15 straight points finishes, but his chance of extending that streak ended within seconds of the start of Hungarian GP. 
His teammate, Daniel Ricciardo was also among the unlucky ones who suffered from the race day catastrophe. The Australian racer was tagged into a spin after double-contact with Leclerc, suffering significant car damage as a result. The heavy contact massively affected his MCL35M performance and finished P12, one spot down his Saturday qualifying eleventh position. A terrible day for the team in orange.
But, Ricciardo did for Hamilton what Alonso did for Verstappen. Of course, Ricciardo didn't specifically do it for Ham unlike Alonso who openly said it was for Max and why not, we know what lengths Alonso will go to stop a Hamilton win or pull him behind. Coming back to Ricciardo, he drove that McLaren beautifully because as we all know, defending from Max isn't simple by any means. He did for most part of the race which is exactly what pulled Max away from keeping his championship lead.
Mercedes AMG Petronas F1

Mercedes had what you'd say a textbook bitter sweet race. Valtteri Bottas had a bad start (to say the least) as he locked up in turn 1 on lap 1 taking out the Mclaren of Lando Norris which had a domino effect on so many others as 6 racers ended up taking a DNF. Bottas was handed a 5 place grid penalty for the next race for the same. It wasn't just Bottas though, Stroll tried to cut the grass on the same turn which led to more of the chaos. All in all, Bottas took out 2 players whose involvement could've changed the face of this already amazing race. Norris and Perez.
Newer F1 fans have tried to voice their strong opinion which I am including in this "mature" blog. They believe Bottas had orders from Mercedes to help Hamilton. That's why he did it. Basically saying Bottas is no personality of himself but just a pawn and he accepts it. He works hard to keep his seat, does an almost flawless qualifying just to crash. Right. Anyway, we have known for a long time that as long as anything against Lewis Hamilton exists, there will be fans who'll support it. Max fans mostly.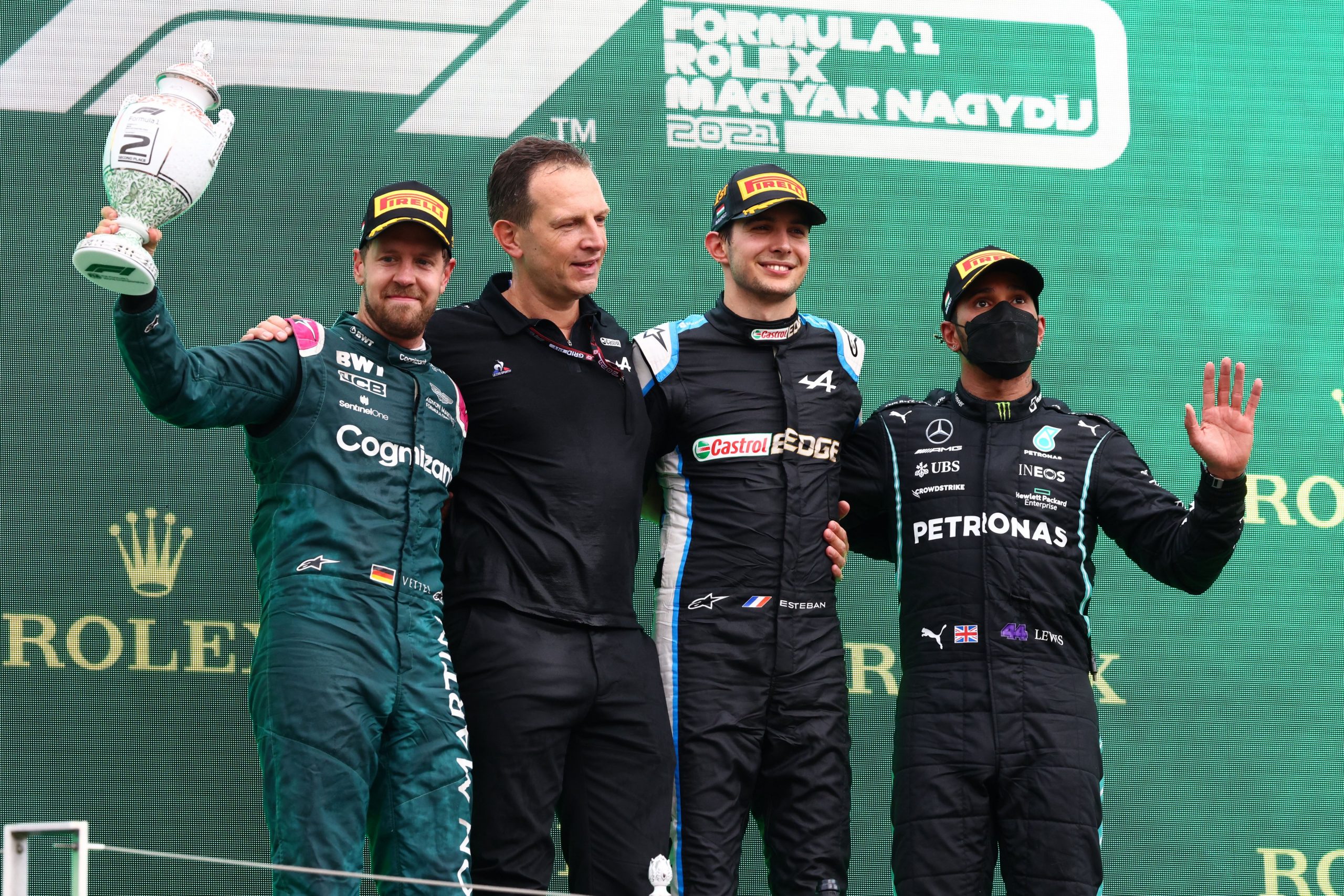 Coming over to Hamilton, I think his exhaustion level after the race was definitive of what he did in the race. He was absolutely de-hydrated to the limit and was barely managing to stand on the podium. A caring gesture by Ocon asking him if he was okay didn't miss anyone's eyes. But, it was the genuine respect between Hamilton and Vettel that still catches everyone's attention. These two have shown the most outrageous growth curves w.r.t. maturity and respect between two drivers.
Hamilton's performance was everything. But, it was Mercedes' corrective strategy that got him the added bonus. Starting the race alone on the inters was obviously one hell of an error but, Mercedes quickly covered that by a beautiful undercut on BOTH Ricciardo and Verstappen and from there on, Hamilton was unreachable. Until he reached Alonso who kept him for about 8-10 laps giving Ocon the victory and doing damage control for Verstappen. Classy drive by Alonso even though I feel he took the limits a little too far in one or two occasions.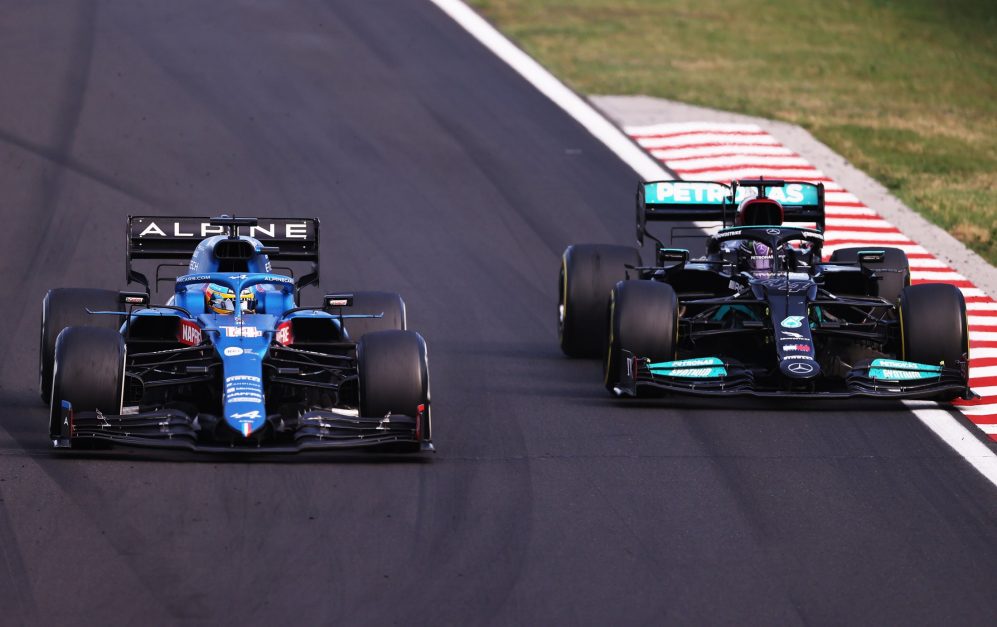 The bad part though was that even after all this, Hamilton always has respect for every driver in the post-race interviews, something many other drivers like Alonso himself fail to show. I guess this is why Hamilton is a 7-time world champion and still going strong on his way to an eighth. Alonso saying Lewis always complains was ironical considering he was blatantly undesired on the grid in 2018 complaining about his McLaren, the same McLaren that changed their fate in 2019 with Sainz and Norris.
Alfa Romeo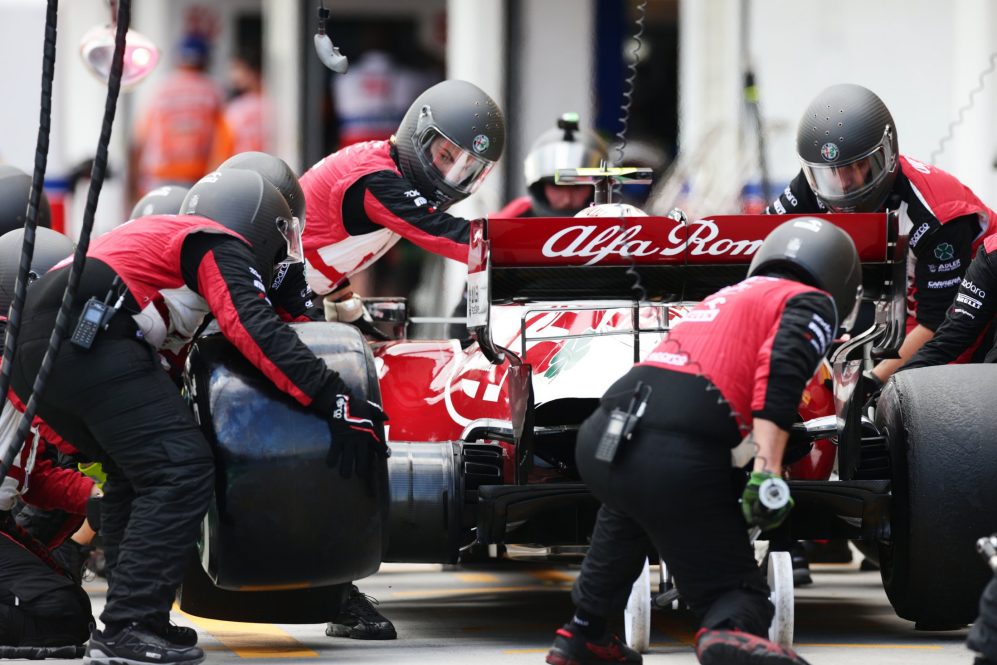 Nothing special with the Alfas apart from Raikonnen showing Verstappen what class means in racing and getting a P10. Giovinazzi finished P13. Both the Alfa drivers finished a lap behind the leader and Raikonnen has always been amazing when it comes to understanding the rules and boundaries of racing in times of being lapped. Raikonnen was also given a 10-seconf stop and go penalty which he served and an additional 7 seconds in a faulty pit stop.
The best part was Perez' one liner in his post race interview which was after Kimi. Surprisingly, Kimi took near about a minute or maybe more to finish answering a question to which Perez said, "He spoke longer than I thought." When you can be this way after having such a bad race without your own mistake, you're showing signs of championship winning potential.
Haas F1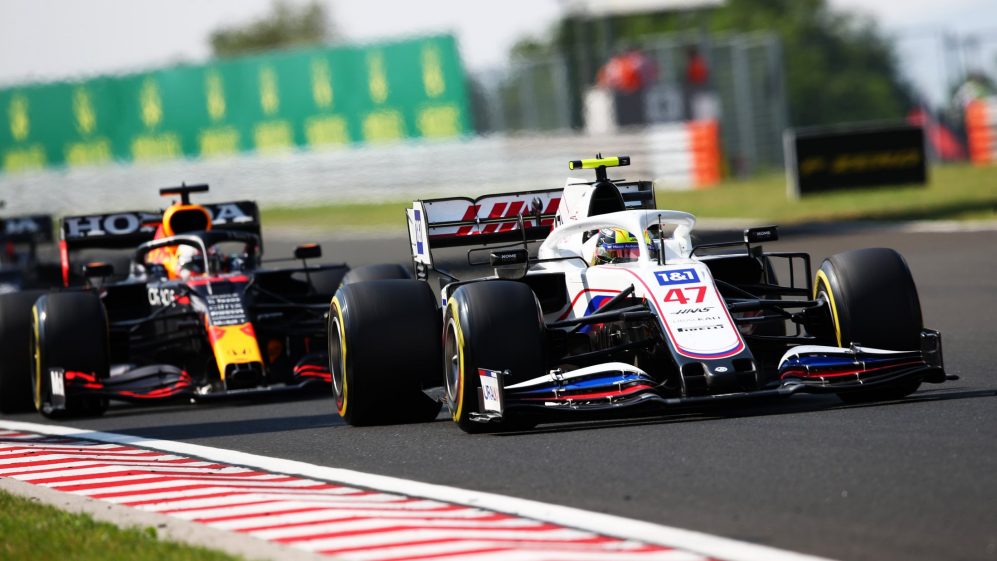 There isn't usually much to talk about when it comes to Haas races apart from that one of their drivers already seems like a champion in the worst possible car while the other… is questionably skilled for being an F1 driver. Schumacher and Mazepin for those who didn't get it. Respectively.
Scchumacker took the advantage amidst chaos and well, when it came to fighting the likes of world champions or potential champions, this boy did NOT crack under pressure. His father would've been proud seeing that. Mick was defending superbly against a very fast and fierce Verstappen while maintaining the manners of racing which were again seen to be lost by Max. As always. Max still does not understand that finishing the race is more important than finishing first when you clearly do not have the pace or sometimes the talent.
Alpha Tauri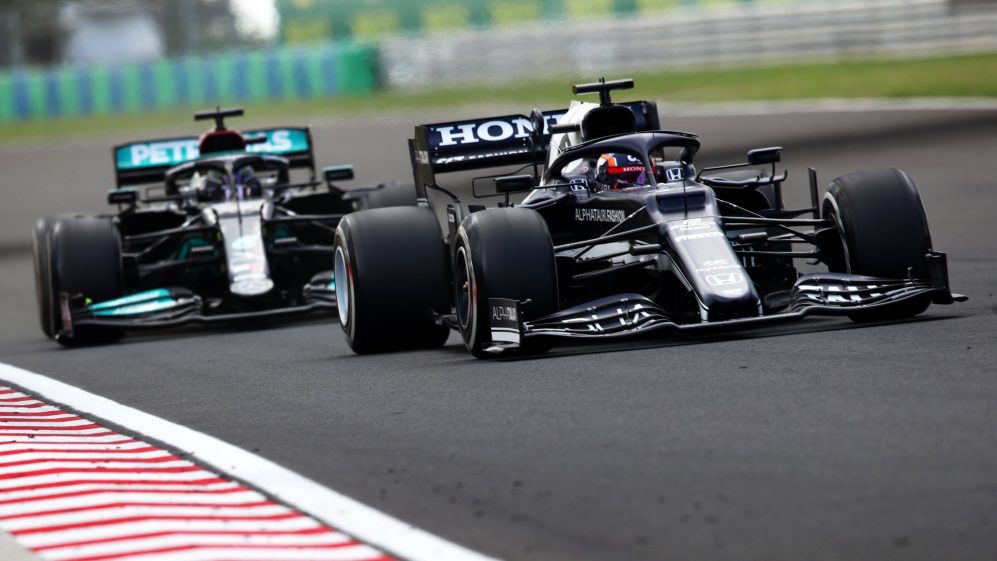 What a race by both the boys at Alpha-Tauri. Apart from Tsunoda's typical burst of cuss words anger asking Gasly to be quicker when Gasly was given the lead under team orders. And quicker did he move afterwards. It was a great finish for them as they secured P5 and P6 Gasly and Tsunoda respectively. I loved the moment when Hamilton and Gasly were racing side by side wheel to wheel. It was just tremendously nerve wracking and a pleasure to watch at the same time. Gasly has been performing at a pace that has gotten everyone alerted of his presence next year where he could be with a newer team, ready for competing for the podiums. Excited I am!
More than that, I am glad he isn't in RedBull and I don't want him there. If rumours are to be believed, McLaren might spice things up as Ricciardo's performance has been inversely proportional to his talent. I agree he is a great driver and I would defend him till my last breath but, I can see logically as well and his seat does not look secure. If he is not as good in the next race after the summer break, I guess that will be it for him!
RedBull racing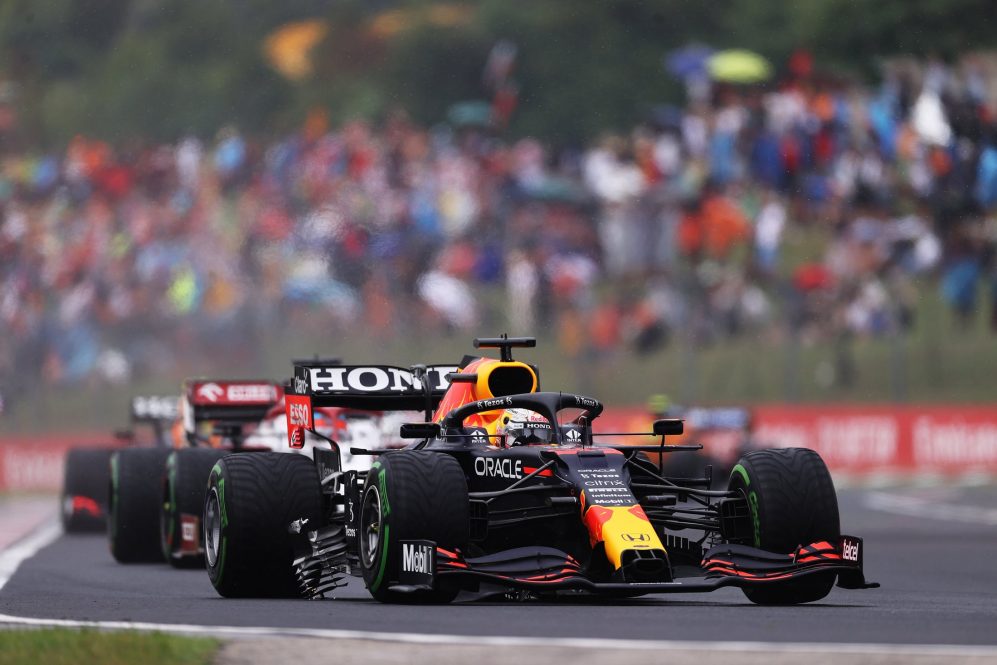 RedBull had the worst race of the season so far. Far worse than Silverstone. I say it because at Silverstone, everyone at RB had Hamilton to blame and carried it for long. The fans used Hamilton as their punching bag as well while Horner added fuel to the fire. Mr. Marko, as usual, used all of his IQ and we all saw what that looked like. In this race however, there wasn't a Mercedes to directly blame. Max was still on the grid albeit with some damage as RedBull claims.
Although, Max not being able to take on Ricciardo said something about both the drivers. No question to Max's talent but, I think the continuous wins got to him and maybe some humbling races is what you need to get your flow back! Perez was taken out in the Lap 1 chaos so it was going to be damage control for RedBull. Luckily for RedBull, Mercedes' wrong call for the strategy at the restart pushed Hamilton to P14. But, a quick strategy change allowed them to undercut RedBull who missed their strategy mark as they called in Verstappen right after Hamilton.
Verstappen drove nicely. It was a race to forget for him going into the summer breaks losing the championship lead but, he drove great in a damaged car. What I do not understand is why Max is so keen on an overtake to even let his race be completely ruined either with a penalty or by being taken out especially when a clean move is possible. Maybe the frustration gets to him which is understandable but, one calm breath and he could've easily done a lot more than P9.
What Next?
What a day! The 2021 Hungarian GP is definitely going in the books as one of the most action-packed and thrilling races of the season. The Championship has already come halfway down, and we just can't wait for the rest of it. But before that, the season is going into an interval, with the next race scheduled for August 29. The 2021 F1 World Championship will return almost after a month from now, at the Belgian GP. Meanwhile, during this downtime, all the teams and racers will be relaxing and assessing their performance so far to plan their upcoming moves.
So who will win the title, Hamilton, Verstappen, or will someone else step up his game to take over these two? Honestly speaking how this season has turned out to be it's hard to predict the winner right now. But what we can predict, is a fierce battle between Lewis and Max for that top spot. With the next GP at his home turf, Verstappen will undoubtedly strike back like a wounded lion, but given Hamilton's fighter spirit, he too won't be surrendering that easily. All this means just one thing for us, the best and most exciting F1 season in recent history.