Auto Business
Formula 1
Launch
News
The 2022 Audi RS3 saloon is your new "King of the Ring"
Driven by Audi Sport's racing and development driver Frank Stippler, it set a time of 7:40.748 (on the full, 20.8km layout).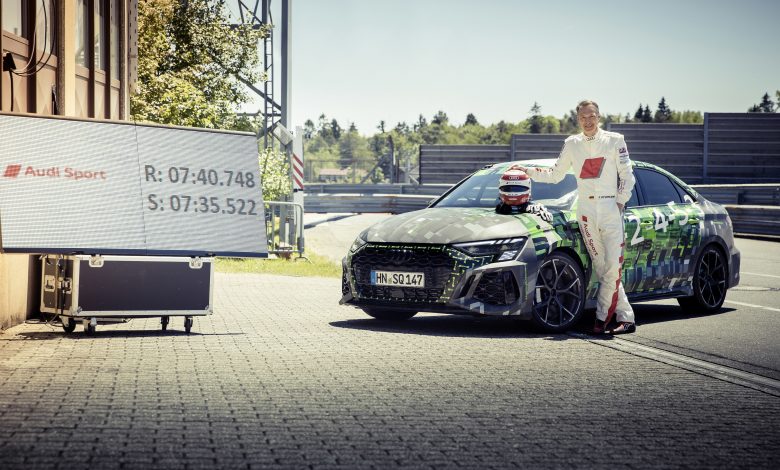 The Green Hell may be a dangerous track to drive on, but it also serves as the benchmark for manufacturers to test out their new performance cars and hopefully break a record or two, and that is exactly what Audi did back in June this year.
Before Ingolstadt officially revealed its latest-gen RS3 in hatch and sedan/saloon forms, it took the latter to the Nürburgring in the hope of beating the previous record of 7:45.389 set by the Renault Megane RS Trophy-R for compact cars, with Audi Sport's racing and development driver Frank Stippler behind the wheel.
Mr. Frank ran over the 20.8km course in the all-new RS3 sedan and achieved a time of 7:40.748, earning the title of the fastest compact model (for the car of course), beating the previous record by 4.64secs. For this record, the RS3 sedan was fitted with the Pirelli P Zero Trofeo R semi-slicks of which the pressures only needed to be tweaked before the record-breaking run because "we don't have unlimited opportunities to try for a record like this," said Stippler.
Audi's clever Torque Splitter tech also came in handy to tame the legendary circuit. The system comprises a pair of electronically-controlled multi-disc clutches to better distribute the power across the rear axle. This results in reducing understeer under hard cornering.
During dynamic driving, on right turns, there is more torque on the left rear wheel and the opposite on left turns. The RS3, therefore, turns into the curve even better and follows the steering angle more precisely. "In general, the new RS3 is much more agile when driving from the middle of the curve to its end and when accelerating out of the curve," said Frank Stippler. "For me, the torque splitter is a quantum leap in terms of agile driving", he added.
Powering the third-gen Audi RS3 is a 2.5L, in-line-5 motor producing 401hp and 369 lb-ft of torque via a 7-speed DCT to both the axles, resulting in a 0-62 time of a mere 3.8sec with a top speed of 250kmph (in standard form), but should you feel the need for more, you could even go for the Performance Package, which will see the top speed increase to 290kmph.