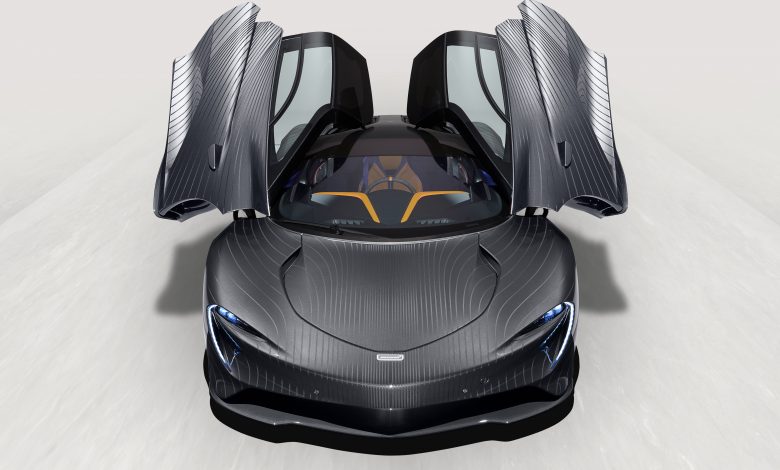 McLaren Special Operations (MSO) unveiled a bespoke model of the beautiful Speedtail hyper car. This is to pay tribute to the first Speedtail attribute testing vehicle from 2018, called the 'Albert' Speedtail. The model is a commission by a McLaren North American dealer, McLaren Beverly Hills. Albert has been christened after the 1992 McLaren F1 test mules, which were named after the Albert Drive premises. The one-off version of the Speedtail hypercar will be limited to just 106 units worldwide.
The McLaren Speedtail Albert has a sloping roofline, a muscular hood, a wide air dam, a prominent front splitter, sleek headlights, a unique streamlined-style livery, and a mix of Magnesium Silver and Ueno Gray paint. On the sides, it is flanked by dihedral doors and blacked-out multi-spoke wheels. Sleek taillights and 'SPEEDTAIL' lettering are available on the rear end of the vehicle.
McLaren Speedtail Albert packs a 4.0-litre V8 petrol engine and an electric motor. The hybrid powertrain is mated to a 7-speed DCT gearbox and delivers a combined output of 1,070hp/1,150Nm. The car can sprint from 0-100km/h in three seconds and has a top speed of 403km/h.
The McLaren Speedtail Albert has a luxurious 3-seater cabin with the driver's seat located in the centre of the cockpit, black and orange upholstery, and a flat-bottom multifunctional steering wheel. It houses a digital instrument cluster and a touchscreen infotainment console with support for the latest connectivity facilities. The safety of the passengers is ensured by airbags and a standard rear-view camera.
The prototype proves the concept of the Speedtail's central seat driving position, and the 'Albert' prototype was the first Speedtail to be driven on public roads. The car originally used front panels from a McLaren 720S. The exterior shade is available in two colours, Magnesium Silver – the colour that the F1 road car was first shown in at the 1992 Monaco Grand Prix – and Ueno Grey, the colour of the F1 GTR that won the 24 Hours of Le Mans in 1995.
McLaren claims, the painting, which was a six-week process, required the car to be disassembled to ensure complete accuracy and flawless finish. After the first coat of paint, the body panels were treated and assembled to ensure perfect alignment, after which the final clear coat was applied. The 'Albert' Speedtail will make its public debut at a luxury car and coffee event hosted by O'Gara Beverly Hills called the Sunset GT. The event will be hosted on August 8, 2021, in Sunset Plaza, Los Angeles, USA.
Ansar Ali, the Managing Director of McLaren Special Operations said, "The name 'Albert' has a special resonance with MSO, as we are the custodians of the McLaren F1 and are based at the Albert Drive premises that McLaren Cars occupied in the 1990s. The Speedtail experience has been an exciting journey for our customers, from visualising their imaginations to realising these inspirations and sharing their delight when unveiling the finished product. 'Albert' brings this project to a conclusion and we are thrilled to finish on a high note."