Formula 1
Russell draws the gap between blazing Verstappen and Hamilton battle! 2021 Belgian GP Qualifying highlights
A dramatic session concludes with Verstappen on pole, a red flag, and a Williams on the front row!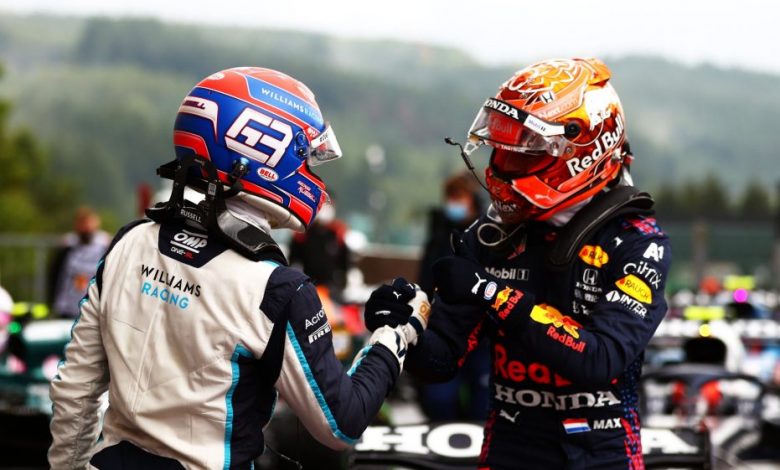 Qualifying for the Belgian GP was amazing, with every session having its fair share of excitement. There were some moments of confusion, some moments of fear, a massive crash and a red flag, but pole position and top honours went to Max Verstappen, though it was very, very, very close to being a result straight out of the F1 2021 game. This, along with Turkey 2020's qualifying remains one of the best qualifying sessions for me in recent memory.
Q1
Qualifying was delayed, so as to let the weather clear up. Once the weather cleared, 18 out of the 20 drivers came out on the full wet tyres, with only both Williams on the intermediates.
The @WilliamsRacing drivers have started Q1 on intermediate tyres – all the other teams have opted for wets 👀#BelgianGP 🇧🇪 #F1 pic.twitter.com/fptMzo5gks

— Formula 1 (@F1) August 28, 2021
It was an inspired decision, as up until about the 6 minutes left mark in the session, Williams were 1-2! Latifi did spin, but they kept it on the black stuff. Everyone hurriedly shuffled back to the pits, and there were a few chaotic moments, but eventually Giovinazzi, Tsunoda, Schumacher, Raikkonen and Mazepin were eliminated.
Q2
Q2 was a more hectic affair, as yet again, changeable conditions saw the pecking order initially shaken up. Mercedes were the only team to gamble on staying out on used tyres, while everyone else opted to run a fresh set. This nearly backfired, as both were forced to come back in to change tyres, and with 2 minutes to go, both were in the relegation zone.
ELIMINATED: Q2 ❌

11 LEC 📸
12 LAT
13 SAI
14 ALO
15 STR#BelgianGP 🇧🇪 #F1 pic.twitter.com/qzVsl7b5ph

— Formula 1 (@F1) August 28, 2021
Both did make it out of the relegation zone, but Stroll, Alonso, Sainz, Latifi and Leclerc were out. It was a bit of a shocker to see both Ferrari's out, and as for Stroll's performance, he complained on the radio about how he wasn't even given the opportunity to complete his second run and improve his time.
Q3
Disaster struck at the start of Q3. All those who were out on track in the initial stages complained about poor track conditions and bad visibility, and Vettel even called over the radio to red-flag the session. The session, still went on with everyone using the full wet tyres, and Norris was the first car on track at the time. While he was going up through Eau Rouge, the broadcast showed his McLaren disappear behind the dense trees of the Ardennes. In the next shot, his car was ripped in half, doing 360's on a very, very wet track. It was a horrifying sight, and not one that anyone wanted to see.
The session was immediately red-flagged, and Seb rued the decision of the race director to go ahead with qualifying. He stopped beside Lando to check on him, in a display of great sportsmanship. Lando got out of the car, and was immediately sent over to the medical center to perform precautionary checks on his elbow, said McLaren. With 8:59 remaining in the session, the drivers waited for the session to restart.
At the restart, Ocon and Russell went out on the wet tyres, while the other 7 went out on the intermediates. As the track was too dry for full wets, both came in. Those who were on the intermediate tyres right from the start hence, had two fast laps, while Ocon and Russell could only do one lap each, due to how long it takes to do even an out lap around Spa.
Hamilton had a good initial time posted, and it was the turn of the other drivers to finish their laps. Then, we had a shocker yet again, though this time it was a positive one. George Russell was purple in Sector 1. About 1.8 seconds up on Lewis' time through Sector 2. He crossed the line to take provisional pole, something I'm sure no one had ever thought would happen in a Williams!
It was short-lived, as Max did eventually pip him by 3 tenths of a second, but Russell did outqualify everyone on the grid apart from Max. A remarkable qualifying for him and a true testament to his talent! It's the first time since Italy 2017 that Williams will start on the front row and Russell's first front row in a Williams is a historical moment indeed. Ricciardo, Vettel and Gasly put in cracking laps to qualify 4th, 5th and 6th respectively, all 3 qualifying ahead of both a Red Bull and a Mercedes. Great stuff!
Here's the full grid line-up (Credits: FORMULA 1 ROLEX BELGIAN GRAND PRIX 2021 – QUALIFYING)
POS
DRIVER
Q1
Q2
Q3
1
33
 
RED BULL RACING HONDA
1:58.717
1:56.559
1:59.765
20
2
63
 
WILLIAMS MERCEDES
1:59.864
1:56.950
2:00.086
24
3
44
 
MERCEDES
1:59.218
1:56.229
2:00.099
22
4
3
 
MCLAREN MERCEDES
2:01.583
1:57.127
2:00.864
22
5
5
 
ASTON MARTIN MERCEDES
2:00.175
1:56.814
2:00.935
23
6
10
 
ALPHATAURI HONDA
2:00.387
1:56.440
2:01.164
23
7
11
 
RED BULL RACING HONDA
1:59.334
1:56.886
2:02.112
22
8
77
 
MERCEDES
1:59.870
1:56.295
2:02.502
22
9
31
 
ALPINE RENAULT
2:01.824
1:57.354
2:03.513
23
10
4
 
MCLAREN MERCEDES
1:58.301
1:56.025
DNF
19
11
16
 
FERRARI
2:00.728
1:57.721
16
12
6
 
WILLIAMS MERCEDES
2:00.966
1:58.056
17
13
55
 
FERRARI
2:01.184
1:58.137
15
14
14
 
ALPINE RENAULT
2:01.653
1:58.205
16
15
18
 
ASTON MARTIN MERCEDES
2:01.597
1:58.231
16
16
99
 
ALFA ROMEO RACING FERRARI
2:02.306
9
17
22
 
ALPHATAURI HONDA
2:02.413
9
18
47
 
HAAS FERRARI
2:03.973
9
19
7
 
ALFA ROMEO RACING FERRARI
2:04.452
9
20
9
 
HAAS FERRARI
2:04.939
8
*Both Stroll and Bottas will take 5-place penalties, after their shenanigans in Hungary.
All I'll say to that qualifying, is WOW. Completely unexpected result, full of drama and adrenaline, I loved it! If the rest of the season can give us similar shocks in qualifying and the race, I'm all in for it, bring it on!