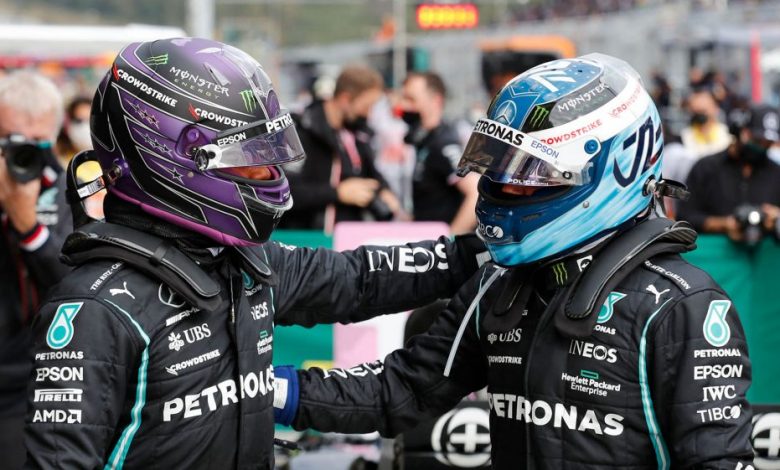 The rain came and went away within the qualifying session on Saturday, and boy was it fun to watch the drivers navigate the tricky track! FP3 was wet, while Quali was a wet-to-dry session. We saw a multitude of spins, many lock-ups and even some tasteful 360's! Let's wait no further, and dive straight into the events of Saturday.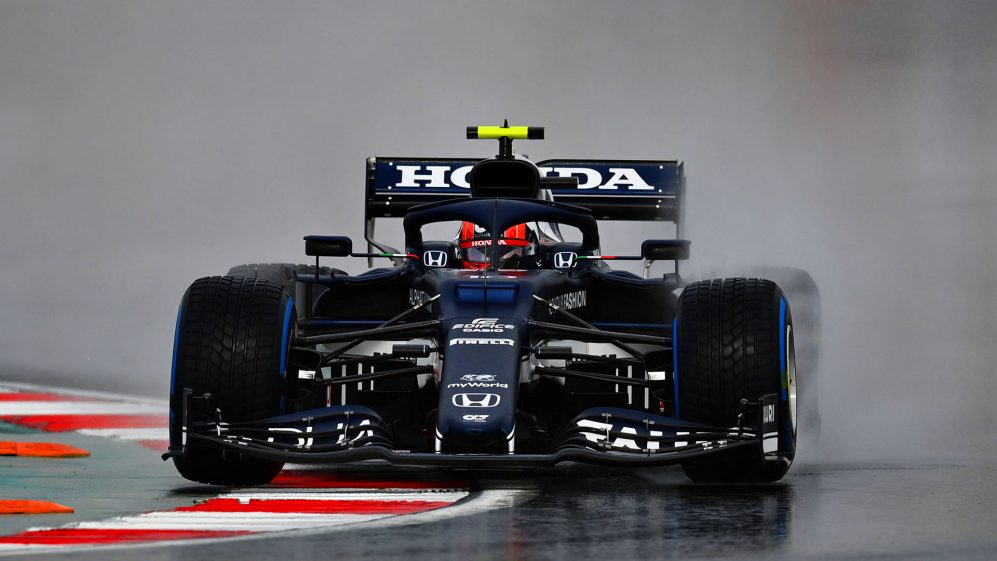 FP-3
The rain was imminent and ever-present for FP3, with drivers initially going out on the full wet tyres. Initially, the AlphaTauri cars and the pair of McLarens were the only cars out on track, but soon more followed, though tyre temperatures were a gripping issue for everyone.
The two AlphaTauris are the first cars to emerge

Here's Pierre Gasly leading the way, and Lando Norris soon joins them#TurkishGP 🇹🇷 #F1 pic.twitter.com/WzQccCJ25b

— Formula 1 (@F1) October 9, 2021
We then saw the drivers switch over to the intermediate tyres, as they found the track conditions not suitable for full wets. This led to faster laptimes, though also resulted in many spins, such as this one for Leclerc, and a perfectly executed 360 for Max!
Keep your eyes on Turn 9 during qualifying, it was tricky earlier!

Everything you need to know from FP3 ⬇️#TurkishGP 🇹🇷 #F1

— Formula 1 (@F1) October 9, 2021
Russell spun and beached his car, bringing out the Red Flag. Once the session resumed, drivers got back at it, though the track conditions caught everyone out. Regulars to seeing the wrong way of the track like Mazepin to even race winners Leclerc and Gasly, everyone spun!
Istanbul Park's tricky conditions are enough to catch out even the most in-form drivers!#TurkishGP 🇹🇷 #F1 pic.twitter.com/eNsAKxpQDA

— Formula 1 (@F1) October 9, 2021
The session did eventually end, and it became obvious that this session was somewhat of a throwaway, with both Mercs, especially Lewis minimizing his track time, finishing down in 18th. Pace in this session wasn't indicative of much in my opinion, though it was still track time on a circuit that favours the brave!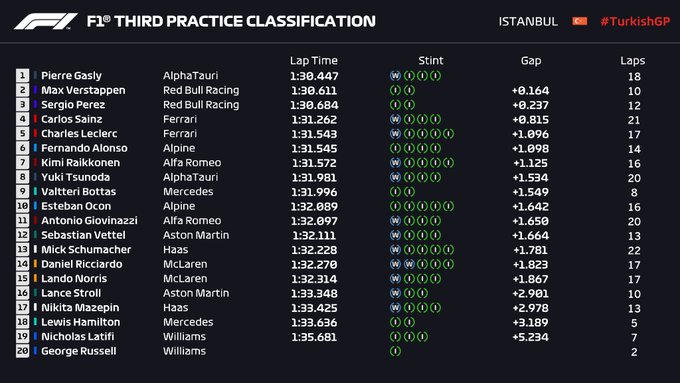 Let's wait no further, and get straught into Qualifying!
Qualifying
Qualifying started in damp conditions, though everyone opted to go onto the slick soft tyres. That isn't to say that it was easy for them in any way, as many struggled and had near misses, like Pierre and Lewis did. We then saw many spins and off-track moments, with Tsunoda's excursion off-track ensuring he took the polystyrene board with him!
FIVE MINS TO GO: Q1 DROP ZONE 👀

16 GIO
17 STR
18 TSU 📸
19 RAI
20 MAZ#TurkishGP 🇹🇷 #F1 pic.twitter.com/KELDQ9e75J

— Formula 1 (@F1) October 9, 2021
The track kept evolving, but unfortunately for Ricciardo, his laptimes didn't. Out of nowhere, Schumacher drove a blistering lap and ensured a Q2 appearance for himself with P14, while Ferrari ensured that Carlos setting a laptime would relegate Daniel to taking no further part in qualifying post Q1.
ELIMINATED DRIVERS – Q1

16 RIC 📸
17 LAT
18 GIO
19 RAI
20 MAZ#TurkishGP 🇹🇷 #F1 pic.twitter.com/rP4GQP6rj7

— Formula 1 (@F1) October 9, 2021
Q2 began, and the track evolved a bit more. Most went out on Mediums, while Tsunoda went out on Softs. The drivers did set laptimes, though as they were on the mediums, they struggled. Both Leclerc and Checo spun, and had to box for new tyres.
Early spin for Sergio Perez in Q2 👀

He narrowly avoids the barriers but will need a fresh set of tyres #TurkishGP 🇹🇷 #F1 pic.twitter.com/eRBJqtNe6W

— Formula 1 (@F1) October 9, 2021
A few more off-track moments followed, like Stroll spinning, before the session drew to a close. Carlos took no part in the session for obvious reasons, but was sent out to give Leclerc a tow on the Monegasque's final Q2 run. Russell made a blunder at the very last corner, or he'd also have gotten through into Q3, a shame!
ELIMINATED DRIVERS – Q2

11 VET 📸
12 OCO
13 RUS
14 MSC
15 SAI#TurkishGP 🇹🇷 #F1 pic.twitter.com/Zq4fL4p5ZR

— Formula 1 (@F1) October 9, 2021
Q3 was relatively quiet, with most action taking place at the tail end of the allocated 12 minutes. The Mercs looked strong, and the Red Bulls seemed to struggle. Gasly and Leclerc put in star performances to put themselves in good positions before their final Q3 runs.
Big shout out to Pierre Gasly after a blistering first run in Q3

He's currently in P4 – splitting the Red Bulls 👏#TurkishGP 🇹🇷 #F1 pic.twitter.com/iaxao0vKa3

— Formula 1 (@F1) October 9, 2021
It was Valtteri who was fastest after the first runs, though Lewis decided to go a bit earlier on his final run, getting a clear track in the process. He duly went quickest by over 2 tenths, and it became a challenge to try to beat him. Valtteri and Max tried, though neither could deny Lewis- the Englishman taking a stunning pole at Turkey.
🏁 TOP 10 – END OF QUALIFYING 🏁

1 HAM 📸
2 BOT
3 VER
4 LEC
5 GAS
6 ALO
7 PER
8 NOR
9 STR
10 TSU#TurkishGP 🇹🇷 #F1 pic.twitter.com/2yVnwUJtoS

— Formula 1 (@F1) October 9, 2021
Charles did superbly to bag P4, and the most surprising thing was seeing the pace deficit of the Red Bulls to the Mercedes, and Checo's gap to Max. Apart from that, kudos to Charles, Pierre and Fernando on putting in brilliant performances on their final Q3 runs!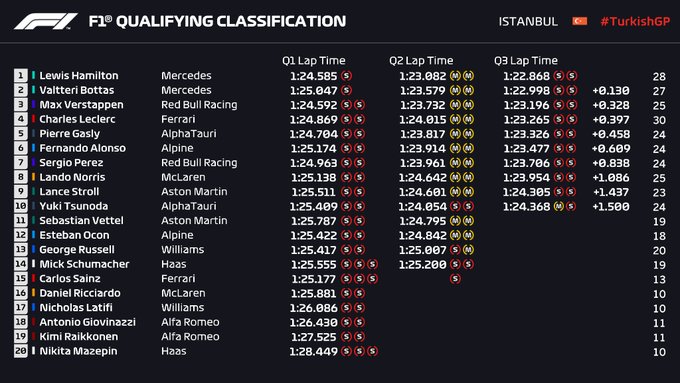 After Lewis' penalty, Bottas will move up to pole and Fernando will get his first Top 5 start since way back in 2014, when he had taken 4th at Singapore! P2-P11 will move up one place each thanks to Lewis' penalty, and so will P15-P20 thanks to Carlos' penalty.
The grid is all set for tomorrow, and can you really wait till tomorrow for the race? Lewis won from P6 last year and owing to his drive in the quali, expect a REAL race tomorrow. Who knows maybe Valtteri actually defends from Verstappen or COD buddies Pierre and Lewis blow everyone away! I certainly can't wait.