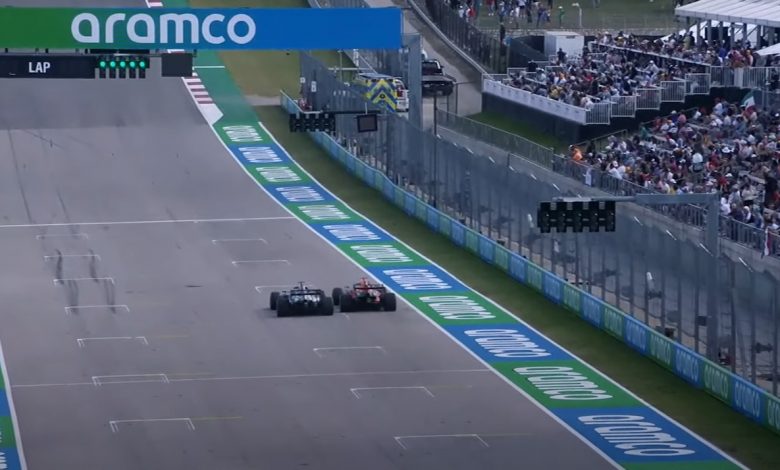 Welcome to "Merica!"
F1 arrives in Austin for the first time since 2019, and boy was today enjoyable. FP1 had it's fair share of action, with spins, lockups and time deletions for track extensions, while FP2 saw not much more in terms of action, though drivers impeding  one another and hot track temperatures still prevailed.
Let's get straight into the events of Friday!
FP1
Within the first few minutes, we had some drama. Alonso's car stopped at the end of the back straight, and he had to get out of the car. The car was leaking some sort of fluids, though it was recovered, and both the car and driver made their way back to the pits.
Not a good start to the session for Fernando Alonso, his Alpine comes to a halt

He hitches a ride back to the garage 🛵#USGP 🇺🇸 #F1 pic.twitter.com/Z1SYsa4f1r

— Formula 1 (@F1) October 22, 2021
The session got back to speed once Fernando's car was recovered, and we saw a couple of spins as drivers pushed and tested the limits of their cars. No one crashed, though many had off-track excursions and lockups as well. Mazepin and Leclerc had quite scary spins, though both emerged unhurt. Not much happened apart from the odd lockup or spin, and the session ended.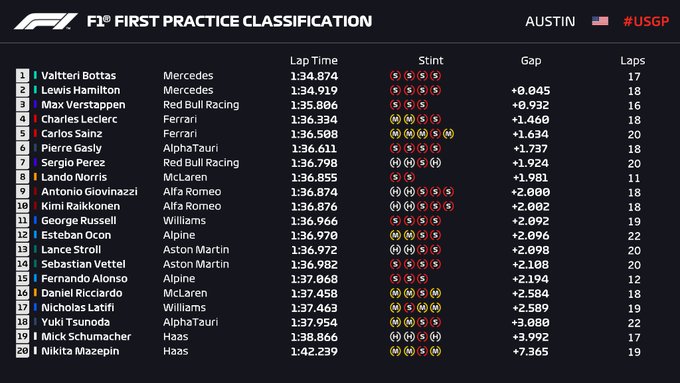 It's a bit alarming to see Merc almost an entire second clear of Red Bull, though can we just put it off as "Friday running"? A similar deficit was present in Silverstone, when Lewis was 7 tenths off Max in Practice but took top honours come Qualifying. Are Red Bull sandbagging, or is this their real pace?
Ferrari did very well with 4th and 5th, and so did Alfa with 9th and 10th though Kimi did spin once the flag dropped. Something to note is that Sergio's fastest time was done on the Hard tyre, so he definitely has more pace in that car. He also made contact with Schumacher in the final few minutes, in a bizarre accident.
Watch all of the thrills and spills from FP1 🍿#USGP 🇺🇸 #F1

— Formula 1 (@F1) October 22, 2021
Many laptimes were deleted at Turn 9, and we can expect many more to follow suit. It'll be interesting to see how it plays out in the end, but for now let's get onto FP2!
FP2
Turns out Red Bull was somewhat playing with us in FP1, after all!
FP2 had a few moments of enjoyment, though most of the session was just drivers doing high-fuel runs, and not a whole lot in terms of action. The session started, and it immediately became apparent- traffic would be an issue!
Just Lewis and Max wheel to wheel on a Friday…

Neck and neck in the title battle, and in FP2 😲 #USGP 🇺🇸 #F1 pic.twitter.com/wXuBD6kecG

— Formula 1 (@F1) October 22, 2021
Once the soft tyre running started, the traffic came out and started messing up everyone's laps. Max got quite upset at encountering traffic just before his fastest lap, and decided to abort his soft tyre run entirely because of that! A bit much, and I think that he missed out on some possibly useful data which could've been gathered.
Not a lot happened hence, with drivers focussing on their long run pace. Alonso then suddenly went into the barriers at the exit of Turn 19, though thankfully escaped without major damage. He went back to the pits without much issue, though this will be a learning experience for him.
Fernando Alonso has bumped the barriers at Turn 19 #USGP 🇺🇸 #F1 pic.twitter.com/qIUEXKPO2q

— Formula 1 (@F1) October 22, 2021
Post that, the session ended. Ocon had issues with his helmet, while Antonio overshot the pitlane on his in lap. Sergio led the way in this session, followed by a quick Lando in P2 and Lewis in P3.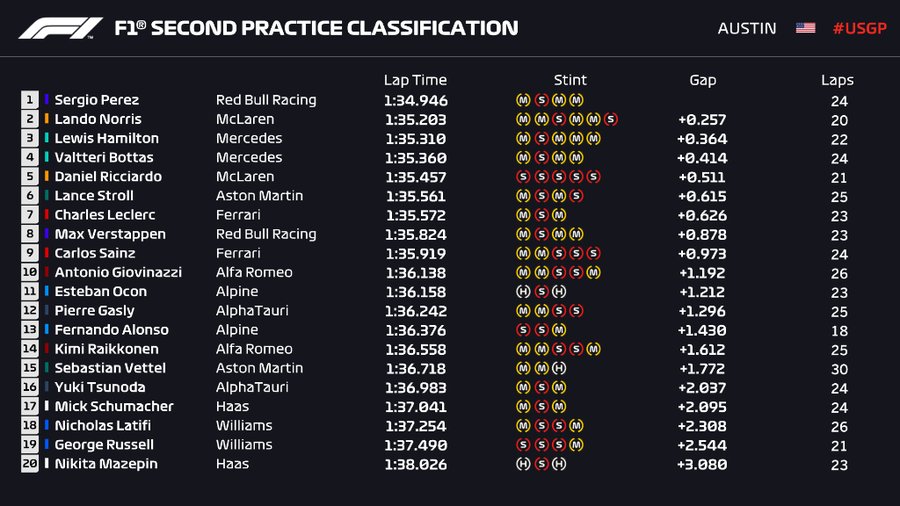 Sergio seems to be comfortable with the car around here, and could pull off a minor miracle on Sunday! The McLarens had good pace as well, as did both Merc cars. Stroll was also quick, though Max could've gone faster had he not aborted his soft tyre run.
Vettel was the only one to not use the softest tyre compound at all during the session, which explains his low position. The Ferraris also slumped a bit from their FP1 pace, and will be hoping to find a bit more performance!
What this session was indicative of will only really be known to the teams and drivers, and I can't wait to see how Quali plays out tomorrow! Russell and Vettel will be taking new power units and starting from the back of the grid, while Valtteri's ICE has been changed AGAIN (6th ICE of the year!) which will net him a 5-place grid drop. Tomorrow's quali will be interesting to say the least!