Formula 1
Many F1 drivers are sporting special themed helmets at the US GP!
Drivers have chosen COTA to be the venue to display their artistic skills on their helmets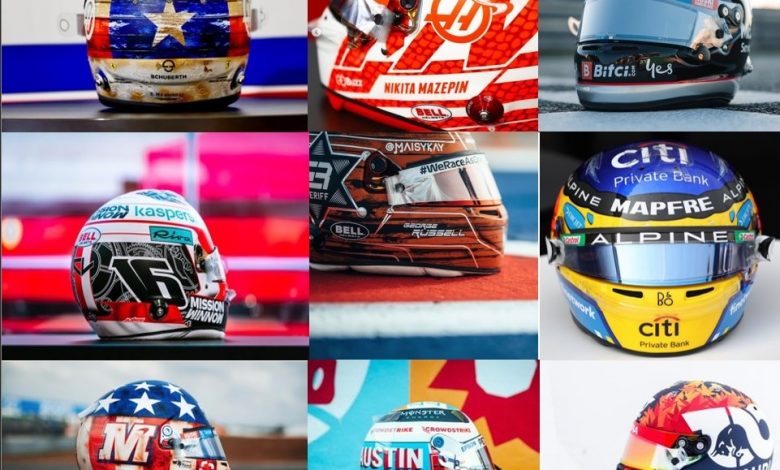 It's always nice to see F1 drivers use new helmets on a one-off basis, right?
Lando, Yuki, George, Nikita and Fernando all have chosen COTA to display their artistic skills on their helmets. They all look stunning, and it's hard to choose a favourite!
Lando
Lando has chosen to depict the star-spangled banner on his helmet, in a nice nod to American heritage and culture. He has also written "Norris" in a typical American movie-esque font, and it's a nice tribute by the Briton!
George
George has gone for a more midwestern approach, with a sherrif-inspired helmet. It's a nice nod to country heritage in the States, and I'm sure this will be a well-received helmet! Only needs a nice and strawng American accent to seal the deal, like the one Daniel is fashioning this week!
Nikita
Nikita has also gone for a cowboy vibe, with a small hat on the side Haas logo, bull horns on the front Haas logo and a small horseshoe on the top of his head. Subtle, but nice touches by him!
Fernando
This one isn't honouring America, but instead honouring those suffering from the devastating volcano eruption in  La Palma in Spain. He will wear this helmet on raceday, and then auction it off and give the proceeds to the charities who will help those affected. A noble cause, and a great initiative by the Spaniard.
Yuki
The helmet I liked the most amongst all the new ones for this weekend, Yuki is celebrating autumn on his helmet, and the Acura logo has also been slapped across his visor considering the brand's American outreach. A novel idea by him!
Daniel
Daniel has honoured the legacy of former NASCAR legend Dale Earnhardt Sr, who tragically lost his life in 2001 by using his helmet design for this race. Earnhardt has been one of Daniel's heroes, and the Aussie even said that his choice for racing number 3 was inspired by watching Dale's racecar!
Mick
Mick has also honoured his team's home race in America by opting for a rustic, and 'Murican helmet! The #47 Texas football is a fantastic touch as well, and the rustic brown patches make this helmet one of the most beautiful as well!
Valtteri
Valtteri had his helmet designed by his partner and professional cyclist Tiffany Cromwell, and it looks great! The design is made to honour Austin, and the city's rich musical heritage and street art. A cool helmet for the winner of the Turkish GP!
Charles
Charles has decided to honour 10 years of his partnership with watchmaker Richard Mille, and celebrating 20 years of the company making watches! It's quite a nice gesture of appreciation for what has been one of his long-time sponsors in my opinion.
All these helmets will be ones to look out for, and let's hope for some good racing as well! We go into the last 6 rounds with just 6 points separating the top 2, and COTA can really put up some decently good racing at times! Let's keep our fingers crossed for an exciting weekend, and the FP1 and FP2 reports will also come later on once they finish!
In my terrible American accent, I say to you: Howdy buddy, let's get this Formuluh 1 weekend underway, shall we?🤠🤠🤠