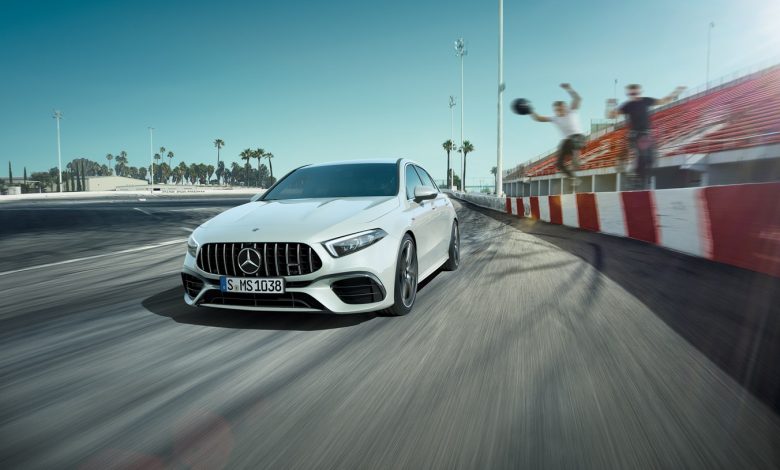 The A45S is coming to India. After the A35 sedan, I didn't think Merc would do it but, here it is. Although, this pocket rocket could literally burn your pockets with its Rs. 75 lacs price tag. Mercedes has announced that they will be bringing the small yet incredibly powerful AMG A45S hatch to India this Diwali. The car will be imported as a CBU unit, so it will be a tad bit expensive to say the least- with estimates putting the price at about 75-80 lakhs. The car will have a lot more power than the locally-built A35 AMG sedan, and will be imported in less numbers.
Let's shift to the only talking point of the car, its engine. A 2.0L four-cylinder turbo-charged with 421HP and 500NM of torque, it is the most powerful 4-cylinder engine in the whole world. Although, Koenigsegg's Gemera has a 600HP 3-cylinder engine but, you could get an entire Mercedes dealership for the price of that 4-door hyper-car. Internationally, there is a lower-spec variant as well, but Mercedes has opted to only bring the fully loaded variant to India. An 8-speed DCT is available for transmission, with power delivery to all 4 wheels being made seamlessly thanks to the 4MATIC system. In simpler terms, it has a 0-100 KPH time of 3.09 seconds.
The brakes have also been given an upgrade with 360mm front discs and 330mm rear discs helping slow down the car in no time at all. The car has been given an obvious spruce-up in terms of the exterior body kit, like the AMG Pan-americana grille, aggressive bumpers and side skirts with air intake snorkels, a roof-mounted spoiler and 19″ AMG wheels. The interior has remained almost the same as the standard car, with not a lot in terms of changes.
Being in the unique position that it is in, there are no real competitors for the car, mostly thanks to it's absolute UNIT of an engine. As it is a CBU, it will be quite pricey, and hence sales figures will be interesting to note! Let's wait and see how it fares. Although, owing to the INR 52 lakh OTR price of the BMW 220i M-Sport, it does seem to be NOT THAT EXPENSIVE. (Yes I dared to say it.)