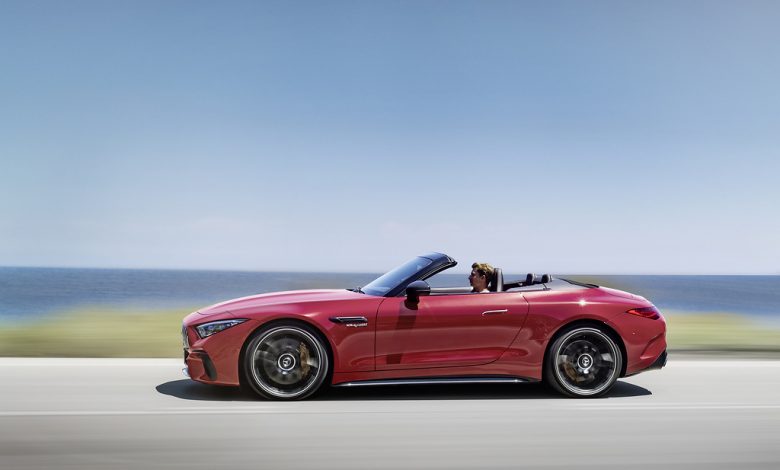 Mercedes has unveiled the brand new AMG SL roadster which is a replacement of the outgoing AMG GTC. This new one in one word is breath-taking. The car is an inspired design from the older gull-wing models and definitely feels more of a successor to the SLS AMG than the AMG GT ever did. Let's check it out in full:
Exterior and interior design
This one has smooth lines all across. No aggressive vents or shapes for aerodynamics. Just pure car. This one gives me the same feelings I got when I first saw the Jaguar F-Type and the 2012 Aston Martin Vanquish. The AMG SL looks as low as an F1 car (exaggeration) and it definitely appears to be VERY wide. 19″ alloys are standard (boo!) although, you can opt for 21″ wheels. Sharp and slim headlights and the muscular rear quarter just melt your heart! The only aggressive bits are the massive grille at the front, quad-exhausts and an angry diffuser at the rear.
The interior is no less and compliments the smooth exterior. A 12″ driver's display is protected from sunlight by its own sun-visors while the motorised secondary infotainment display can be adjusted from 12 to 32 degrees to protect it from glare. The cabin looks as posh as a Mercedes' and well, just the looks of the cabin let it be known that it will be of utmost high quality. The supercar comes fit with a set of sport seats with neck-warmers as standard and is now a 4-seater. Although, the rear seats could barely fit children. Mercedes has a very low age benchmark set for children given its rear seat size. The boot is big enough for your golf clubs or if you're more interesting then, you could fit in your road-trip luggage easily even with the roof folded down.
The chassis is NOT by any means similar to the AMG GT. Every part in there is new and the fibre-glass plus carbon-fibre chassis now weighs an entirety of 270 Kilos. But, the car isn't weak at all. Now, the AMG GT was already a very planted and well built vehicle. This SL is 50% stiffer side to side and 40% from front to end than the AMG GT.
Aerodynamics and drive-train
Mercedes has an F1 team and it becomes quite obvious with how they fit aerodynamics in all of their cars. For starters, there is an active front grille which remains shut for reduced drag but, opens up on hard footing. The lower end opens up only if you're going more than 112 MPH (180KPH). Of course there is a lift system and also an integrated rear spoiler which opens up at around 50 MPH but opens up more at higher speed for reduced drag.
There is an aerodynamics pack if you want more. It adds more vents and aggressive openings, a new high-downforce setting for the rear spoiler and an underbody splitter extending by about 40MM to reduce lift at the front by about 52 kilos.
There are a pair of V8 bi-turbos on offer. The entry level SL55 AMG (not to be confused as SLSS) produces 476hp and 700 nm of peak torque while the top of the line SL63 AMG gets 585hp with 800NM of torque in between 2500-4500 rpm. That SL63 AMG name brings me back to some really good memories. The SL55 AMG goes from 0-100 kph in 3.9 secs and a top speed of 183 MPH while the SL63 AMG does 0-100 in 3.6 seconds and a top speed of 196 MPH. There is a hybrid in the works that'll use the AMG GT 4-door E-performance hybrid's powertrain. That was a mouthful! The hybrid version could have as much as 790hp.
There is a 9-speed automatic gearbox and wait for it… an AWD system. Yes! The AMG SL fits in the V8, the transmission, the AWD and the the electronics all in that super stiff chassis. Not to say the car is short because it is quite long but well, it still is a crazy feat. The AMG GT was RWD only. This AMG SL will drive on RWD when you're cruising, just like a GT. Maybe we even get a drift mode in later versions?
The roof can be operated at speeds of up to 37 MPH and is 21 kilos lighter than the previous hardtops. You know what that means. Better handling and driving dynamics. The three layer fabric roof now also dampens a lot of the wind noise.
Pricing and availability
This one goes on sale in March 2022 globally with a starting price of about £100,000 which is cheaper than the car it replaces. For India, you can expect it to arrive late in 2022 or maybe even in early 2023 depending how long production is inconsistent due to the chip shortage. As for pricing in India, you can expect it to be a CBU with a starting price nearing INR 2 crores.