Motorsport
News
Lewis Hamilton triumphs in Friday Qualifying! Here's your roundup from FP1 and Qualifying action at the Interlagos Circuit
A rather uneventful FP1 was capped off with Lewis taking "pole" in qualifying, and more of Friday's action!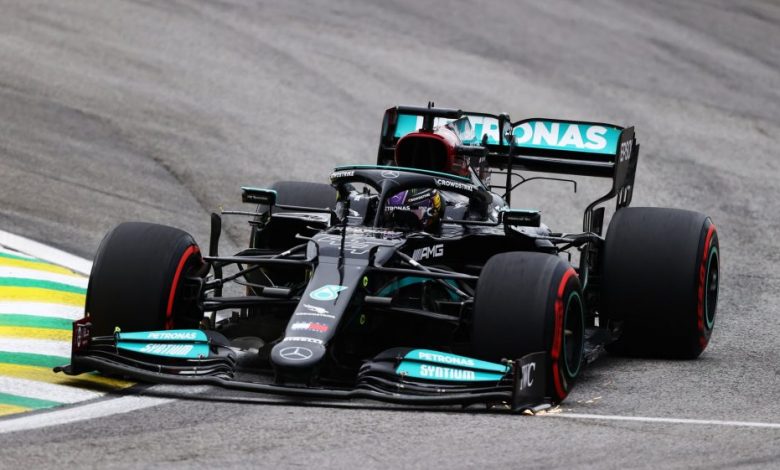 Olá, Interlagos! FP1 and Qualifying took place on Friday, as F1 gears up for what will be only it's third-ever Sprint race weekend. Right off the bat, we got some very interesting news- Lewis Hamilton will take a 5-place grid drop for changing his ICE, as he has already exceeded his allocation for the season.
Lewis Hamilton takes an engine change and a 5-place grid penalty for Sunday's Brazilian Grand Prix #BrazilGP 🇧🇷 #F1 pic.twitter.com/wYOSouCPqf

— Formula 1 (@F1) November 12, 2021
It'll be very interesting to see how it all pans out for Lewis, as this drop of 5 places will only affect his starting position for Sunday's race, and not Saturday's sprint race. Let's not wait any more, and get straight into the events of FP1 and Qualifying!
FP1
The entire session was rather uneventful, with not much in terms of drama. The odd lockup sure made it look like drivers were struggling, though everyone was quite well-behaved, and had a quiet session. The Red Bulls had the pace in the initial part of the session, staying on top for quite a while with Checo quite evenly matched with Max!
🟢 FP1 GREEN LIGHT 🟢

After two years away we are back on track in Sao Paulo 🙌#BrazilGP 🇧🇷 #F1 pic.twitter.com/amFmFefhqS

— Formula 1 (@F1) November 12, 2021
Rain droplets started to fall, and a few drivers commented about the track getting a bit slippy in Sector 1, though nothing much came out of it, and everyone continued to set their times on dries. Fernando and Pierre had a small scrap, though no front wings were harmed in the process! Red Bull had the pace for most of the session, though it was Lewis who ended the session on top after a great lap put him P1.
Hamilton pushing hard 💪

He goes P1, 0.069s ahead of Verstappen ⏱#BrazilGP 🇧🇷 #F1 pic.twitter.com/TY6Wv70vcz

— Formula 1 (@F1) November 12, 2021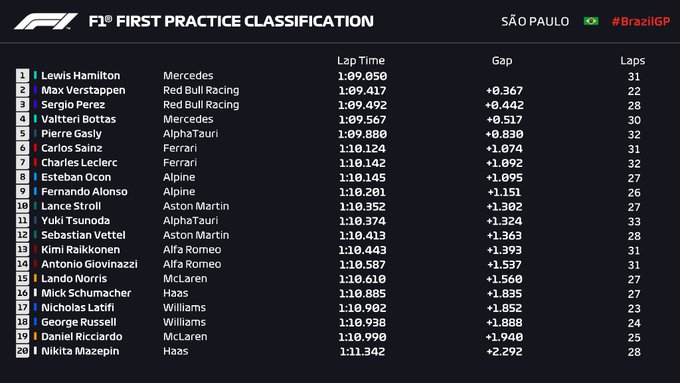 Lewis may have a sizeable gap at the end of FP1, though we mustn't rule Red Bull out at all- and neither should we rule out Bottas. Both Ferrari cars and both Alpines also looked strong, though the midfield spread will be divided amongst McLaren, Ferrari, Alpine and AlphaTauri this weekend in my opinion- McLaren are just sandbagging like how they tend to do in FP1- they didn't run the soft tyres at all- the only team to do so.
Albeit unlikely, I feel like Haas might have a slight edge on Williams here, as they did in Portugal. It won't mean that they'll be fighting for any points, though Haas might not finish last and second to last in a 2021 race for once! The Astons also had decent pace, and now we go onto Qualifying!
Qualifying
Q1
Q1 didn't see much drama, though some drivers cut it very close indeed. Gasly and Tsunoda were very, very evenly matched at the end of the session, while Leclerc cut it very fine by having his initial laptime deleted. Once the session ended, it was quite a remarkable end to the session for Latifi, who outqualified Russell for the first time in his career– something he can certainly be proud of! It was curtains for Stroll, who had a torrid final lap and missed out on Q2 yet again.
❌ ELIMINATED IN Q1 ❌

Stroll (📸)
Latifi
Russell
Schumacher
Mazepin
#BrazilGP 🇧🇷 #F1 pic.twitter.com/UsYXrFQDfY

— Formula 1 (@F1) November 12, 2021
Q2
Not much happened in Q2, apart from Lewis losing his laptime, only to promptly go back on top immediately after. Yuki had a disappointing end to the day by only managing P13 and hence failing to get into Q3, and it was a disappointing end to the session for both Alfa cars as well.
❌ ELIMINATED IN Q2 ❌

Ocon
Vettel
Tsunoda
Raikkonen (📸)
Giovinazzi#BrazilGP 🇧🇷 #F1 pic.twitter.com/k3TpYGCuC7

— Formula 1 (@F1) November 12, 2021
Q3
Yet again in Q3, Lewis had the outright pace. Max came close after the first runs, though Lewis eventually took P1 by a margin of almost 4 and a half tenths! Red Bull will certainly be disappointed to see Merc this far ahead, though race pace and qualifying pace are two very varying things, and with that we should be ready to expect the unexpected tomorrow! Lewis went quickest of all by quite a margin, and took pole. Well, he took the "Speed King" award, but that's just not catchy enough- let's just unofficially call it pole as we always do, shall we? 😉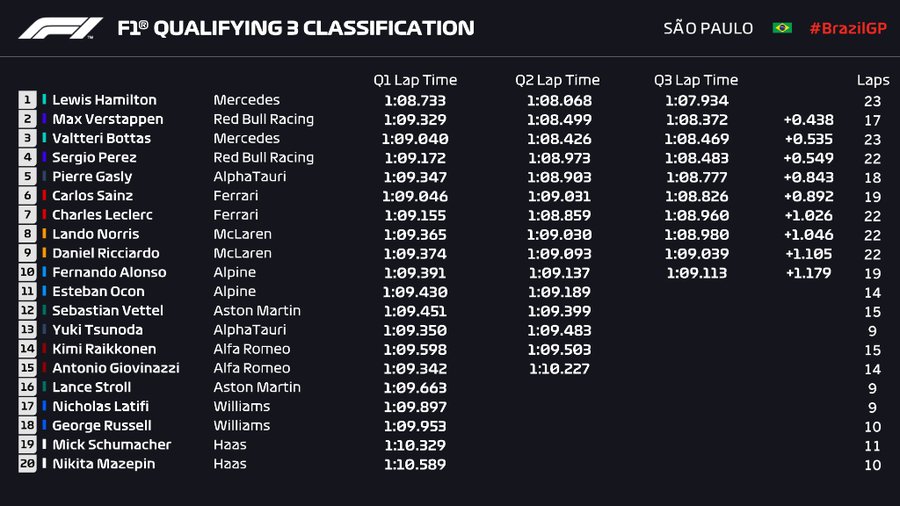 Checo missed out on P3 by a smal margin, and Valtteri will make the Merc bosses happy thanks to him splitting the two Red Bulls. Gasly yet again put in a stellar drive, and both Ferrari cars were rapid as well- Sainz outqualifying Leclerc!
That's curtains on Friday running, and while it may not have given us much drama, it certainly gives us a few discussion points for tomorrow! Will Red Bull be better in race trim? Can Ferrari stay ahead of McLaren? Can someone from the midfield stage a comeback in the race? All we can do is wait- and I'm very excited for tomorrow! Bring it on, Interlagos!