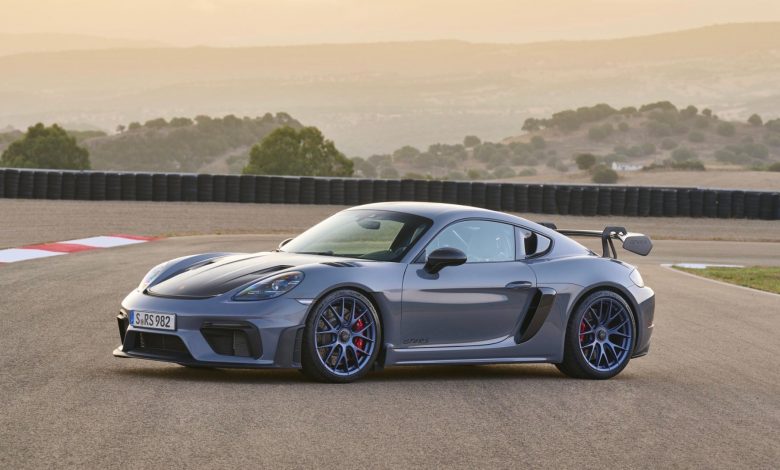 Porsche has gone all out with the GT4 RS model of the Cayman, and it's a looker! The car has a whopping 493HP, and just 1,415kg of kerb weight. The most apparent change is in the handling, with Porsche saying that this car will redefine the term "driving pleasure". If there was any proof needed about the previous statement, Porsche says that the car outperformed the standard GT4 by over 23 seconds, missing out on the GT3's time by just 9 seconds . If that won't make one take notice, not a lot more can!
The car is a beast in terms of performance, as if it was ever in doubt. The engine has an extra 80HP than the GT4, and the torque has been increased from 430NM to 450NM. The new air intakes next to the passenger doors improve airflow, but also have a dual purpose of making the howl noise from the intake go right to the passengers!
As standard, the car comes fitted with a dual clutch transmission, which sprints through the gears at an incredibly high speed. 0-100km/h takes just 3.4 seconds, and the top speed of the car is 315km/h! Weight-saving measures have also been put in place, with the use of carbon fibre reinforced plasticon parts like the bonnet and the front wing, and lightweight door panels and lightweight glass also being used.
The rear wing has also been upgraded, and the inspiration for it comes from the Porsche 911 RSR GT racecar, and the mixture of the underbody panelling, front diffuser and spoiler lip and the rear wing sees a 25% increase in downforce as compared to the GT4. For further weight loss and performance gains, the Weissach package can be optionally added to further lighten the car thanks to carbon finish around certain parts of the car, and titanium rollcage and tail pipes will also be added, and so will magnesium wheels instead of aluminium wheels.
All these enhancements are fantastic, though they come at a cost- 141,338 euros to be precise. Deliveries will start in December, while the Clubsport Racing variant will be launched in multiple racing categories starting next year. It's the most powerful car in the 718 family, and it's a fantastic one at that!