Formula 1
News
A mega dramatic conclusion to the 2021 Abu Dhabi GP crowns Max Verstappen as the 2021 F1 World Champion!
At some stages it looked like a certainty that Lewis would win the championship, but on the very last lap Max overtook Lewis to cap off the most dramatic conclusion to an F1 race in a very long time!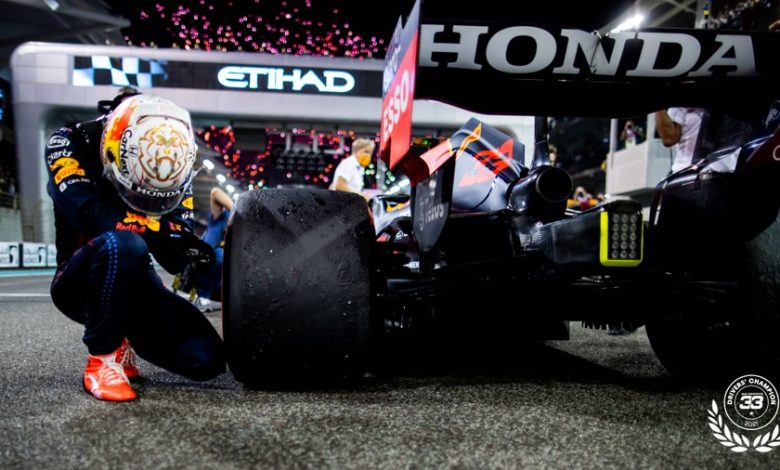 I'm certain that all of us who watched the race yesterday were left absolutely speechless- be it from how yet again the FIA managed the event and crushed Lewis' chances or by those who were screaming in delight for Max!  The conclusion to this F1 season has been one of drama and utter madness. If you missed the race, then you certainly should watch the highlights– they're adrenaline-packed to the brim!
The Story Of The Race
As the sun set in Abu Dhabi, the sun was also setting on the magnificent 2021 season. It was certain that this would be a fight which would go down to the wire, but at the race start no one could've predicted the eventual outcome! At the start, Max had a poor getaway on the soft tyres starting 1st, while Lewis absolutely rocketed away from second place. The reaction time difference being a tenth of a second between the two. Bottas fell further back, Norris ran wide and Tsunoda made up places as well.
LIGHTS OUT! 🟢

It's finally time – the 2021 Abu Dhabi Grand Prix is GO!#AbuDhabiGP 🇦🇪 #F1 pic.twitter.com/eBvQL3uvT8

— Formula 1 (@F1) December 12, 2021
Approaching Turn 5 on Lap 1, Lewis was under attack from Max. The Dutchman sent one down the inside, late braking to force an error from Lewis, but Lewis ran wide and cut across the chicane, while Max had to go around it. This was the first conflict between the two, and resulted in a lot of radio chatter- though the FIA rejected Red Bull's pleas to let Max by and deemed there was no investigation necessary for the same.
This was the first controversial moment of the race and why people were left frustrated from Masi. Once you leave things like that from the Turn 4 incident in Brazil, you are left with decisions like the ones yesternight. But, by the time we were at Lap 12, it was clear that Lewis was going to be VERY dominating at the least.
LAP 3/58

A great start from Lewis Hamilton and he's up into P1!

Max Verstappen tries to battle back through the chicane on the opening lap, but Hamilton holds on 🍿

Game on in Abu Dhabi!#AbuDhabiGP 🇦🇪 #F1 pic.twitter.com/M2tlS2LpaR

— Formula 1 (@F1) December 12, 2021
The race kept progressing, and worryingly for Red Bull Max just kept falling further and further back from Lewis. By Lap 6 the gap was over 2 seconds, while by Lap 10 Max came on the radio and told the team he was struggling with tyres. This was enough for Red Bull to bring him in, as they stopped him for hard tyres, as the gap to Lewis was just increasing.
LAP 12/58

Verstappen: "Rears are starting to struggle a bit"

Hamilton is pulling away from him and has extended his lead over his title rival to over five seconds 🚀#AbuDhabiGP 🇦🇪 #F1 pic.twitter.com/Ky7keDVwU4

— Formula 1 (@F1) December 12, 2021
Both made their pitstops, with Lewis stopping 1 lap after Max. Unfortunately for Max, he emerged in traffic while Lewis emerged in clean air. Max had to get past Norris and Sainz, which cost him precious and valuable time. Red Bull were very lucky, however that Perez was quick around here, as they kept him out so as to hamper Lewis' progress.
Once Lewis caught up to him, we all expected him to breeze past Perez for the net lead, but what we didn't expect was Checo being the best wingman in the world- he held up Lewis, reduced the gap to under 2 seconds, and cost Lewis a massive 5 seconds in one single lap!
LAP 21/58

Epic stuff at the front as race leader Sergio Perez battles hard to keep Lewis Hamilton frustrated

Hamilton eventually gets past to take P1, but his lead over Verstappen is cut to two seconds

"Checo is a legend" says Max over team radio #AbuDhabiGP 🇦🇪 #F1 pic.twitter.com/Thc5IPQV09

— Formula 1 (@F1) December 12, 2021
Unfortunately for Max he still fell back, not being able to gain on Lewis. The career of one of F1's best drivers and enigmatic personalities, Kimi Raikkonen came to an end when the Finn's braking system failed. BBW (Break by wire) failure is suspected to be the culprit, as Kimi had a scary moment at Turn 5 and slowly drove back to the pits to retire, and with it his incredible F1 career as well. All we should say is Kiitos Kimi, and thanks for the memories!
LAP 29/58

Kimi is out 😞

His final F1 race finishes early with reported brake issues – and he's back in the garage #AbuDhabiGP 🇦🇪 #F1 pic.twitter.com/w1uBe1UbIV

— Formula 1 (@F1) December 12, 2021
George Russell retired in his last race for Williams after a suspected gearbox failure caused him to lose drive. A few laps later on Lap 37, Antonio Giovinazzi also retired with car issues.
As sad as it was for the Italian in what seems likely to be his final F1 race as well, there was something far more important he did while retiring- he stopped by the side of the track, and as a recovery vehicle had to be called for retrieving the stricken Alfa, the VSC was called out which added some spice to the strategies of the championship contenders!
LAP 37/58

We're behind a Virtual Safety Car after Antonio Giovinazzi comes to a halt trackside

And it looks like Red Bull are about to pit…#AbuDhabiGP 🇦🇪 #F1 pic.twitter.com/STFgiKq5gd

— Formula 1 (@F1) December 12, 2021
And then…Max pitted for a new set of hard tyres, getting effectively a free pitstop thanks to the VSC.
LAP 37/58

And Red Bull do call Max Verstappen in for a fresh set of tyres, under the Virtual Safety Car

Lewis Hamilton is now 17 seconds clear of his title rival – but is on much older tyres

Attack mode engaged for Max 🚀#AbuDhabiGP 🇦🇪 #F1 pic.twitter.com/2QtdnQTi9o

— Formula 1 (@F1) December 12, 2021
Lewis and Mercedes stayed out, gambling for track position over fresher tyres. Max had to close by 8 tenths each lap if he was to catch Lewis by the end. It seemed like he would be able to do so at first as he set fastest laps in succession, but as the race progressed Lewis seemed to be able to hold on, which was bad news for Max. The fact that Lewis maintained a lead of almost 12 seconds till lap 50 was a painful sight for the Dutch fans. But then…
LAP 40/58

Hamilton is told that Verstappen needs to be 0.8s quicker per lap than he is for the Red Bull to catch him before the chequered flag 🎧

And Max has just set a new Fastest Lap of the race on those fresh tyres… 🚀#AbuDhabiGP 🇦🇪 #F1 pic.twitter.com/tXgn4u7cra

— Formula 1 (@F1) December 12, 2021
With 10 laps to go, it seemed like Lewis would cruise home to the 8th with ease, as Max was just not able to gain at a quick enough rate. Even with Lewis being slowed by lapped traffic, all Max could do was catch up a bit, but it just wasn't enough. However, then we had a massively dramatic moment- Latifi went into the wall at Turn 14, and crucially for the championship brought out the Safety Car!
LAP 54/58

Huge drama as Nicholas Latifi goes into the barriers – he reports that he is ok

But the Safety Car comes out and Max Verstappen immediately goes into the pits for some fresh tyres

We *could* have a final lap shootout here… WOW#AbuDhabiGP 🇦🇪 #F1 pic.twitter.com/j9uUZxGPaW

— Formula 1 (@F1) December 12, 2021
Max pitted again for soft tyres as RBR basically had nothing to lose, while Lewis and Mercedes stayed out on their ageing hard tyres. This would make it two out of two that Mercedes didn't pit Lewis in the interest of retaining track position.
Max had a brand new set of soft tyres, but crucially the recovery vehicle took a bit of time to come and recover the Williams, and as there were 5 cars between Max and Lewis now, it would not be easy sailing for Max under any circumstances- or so it seemed….
LAP 56/58

Will there be time for the marshals to safely remove Latifi's car from the track before Lap 58?

Extraordinary tension here in Abu Dhabi with the championship still up for grabs in the final minutes of the season#AbuDhabiGP 🇦🇪 #F1 pic.twitter.com/gDeisjgNKv

— Formula 1 (@F1) December 12, 2021
At first, we saw a message from race control which said that the lapped cars would not be allowed to unlap themselves as per the rules, but with just ONE LAP to go, the 5 cars between Max and Lewis were given permission to unlap themselves, giving us fans one, single extremely dramatic, controversial and thrilling final lap to this stunning world championship!
LAP 58/58

Safety Car is in – one lap to decide the championship!#AbuDhabiGP 🇦🇪 #F1 pic.twitter.com/LSJdZulMTt

— Formula 1 (@F1) December 12, 2021
I don't know any person who was watching the race who wasn't absolutely on the edge of their seats on the Safety Car restart- just reminiscing on the restart is giving me chills! Lewis pounced early once the Safety Car went in, but when they approached the end of Sector 1 at Turn 5, Max made his move down the inside- and took the lead because he could brake late with his brand new sets of softs.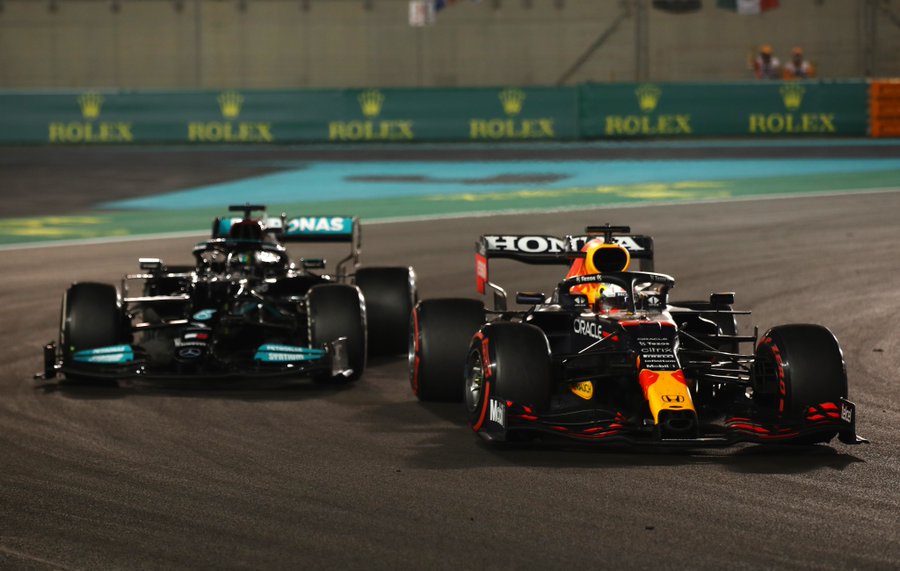 He had two long straights to fend the quicker Mercedes of Lewis off, as he weaved like mad to break the slipstream. Coming up to Turn 9, Lewis got incredibly close to Max, though Max held it off, and went into Sector 3. He just had a few more corners to navigate, though once he reached the final turn, all became apparent- Max Verstappen had just clinched the 2021 F1 World Driver's Championship- becoming the first Dutch driver to achieve this glory!
A dream come true for @Max33Verstappen as he crosses the line in Abu Dhabi 👀

And becomes F1 World Champion for the first time! 👑 🏆#AbuDhabiGP 🇦🇪 #F1 pic.twitter.com/DIF51TL6Sk

— Formula 1 (@F1) December 12, 2021
Max was understandably emotional, screaming and shouting over the radio in pure joy. However, for his championship rival, it was a very, very bitter ending to his season- Lewis and Mercedes were shocked to their very core at the end. Lewis had dominated the entirety of the race. It was like one driver of the team was better but was asked to shift to P2 for the main driver due to team orders. The orders coming from FIA. Max fans and Lewis fans were in sync saying what happened was wrong and it was NOT the way for either champion to win. Although, the embrace between both the drivers at the end and the words of praise was heart warming.
Mercedes did clinch the constructor's championship for the 8th consecutive year– which is an incredibly remarkable feat. Though the conclusion may not have been as apt as some wanted, we all have to agree on one thing- this is not a season which will be forgotten with ease at all!
A title battle we will never forget

Thank you#AbuDhabiGP 🇦🇪 #F1 pic.twitter.com/aDYvg00KuQ

— Formula 1 (@F1) December 12, 2021
A few notable performances which went under the radar under all this drama:-
Checo Perez, who played the team game in such a beautiful manner that he'll be applauded by Red Bull for eternity! Even though he was forced to retire with less than 2 laps to go, he went well and above the call of duty for his team.
Yuki Tsunoda, who sneakily went from P8 at the start to P4 at flag with almost no one noticing, achieiving his best result in F1 to date!
Pierre Gasly, who jumped from P12 at the start to finish P5, making it an AlphaTauri 4-5, and a magnificent points haul in the process!
Carlos Sainz, who finished a remarkable P3 and jumped from P7 to P5 in the Driver's standings as well! His remarkable consistency has gone under the radar, and in his debut season he has beaten teammate Leclerc in the standings as well!
This has been a championship finale which will be remembered for years to come, and such a finish has been something which we F1 fans have been begging and dying for since a long time- and we finally got it! Now, let;s look at each team's race in detail.
Ferrari
After how 2020 played out, Ferrari became somewhat of a joke. However, their remarkable progress in 2021 to step right up, bring the fight to McLaren and win it out as well was just unbelievable. Carlos had a quiet but stunning race, finishing a surprise P3 in the race to clinch 5th place in the driver's championship, just 4 points ahead of ex-teammate Lando Norris!
Charles' race was compromised when he and the team stopped behind the Virtual Safety Car, as he got stuck in traffic. He finished P10, but it was down to poor strategy by Ferrari. He finished 7th in the standings, just 1 point behind Lando and 5 points behind Carlos despite missing a race this year, while either of them didn't miss a race! Ferrari also comfortably bagged P3 in the standings, and will certainly come back fighting in 2022 with the ambition to win!
AlphaTauri
Yuki has not had a great debut season for the most part- it has been riddled with frequent crashes, mistakes and retirements. However, he showed a glimpse of his true pace, finishing a stunning P4 after overtaking Bottas on the very last lap to record his highest finishing position to date! All he needs to do is carry this momentum into 2022, and if he does so then he'll become a force to be reckoned with!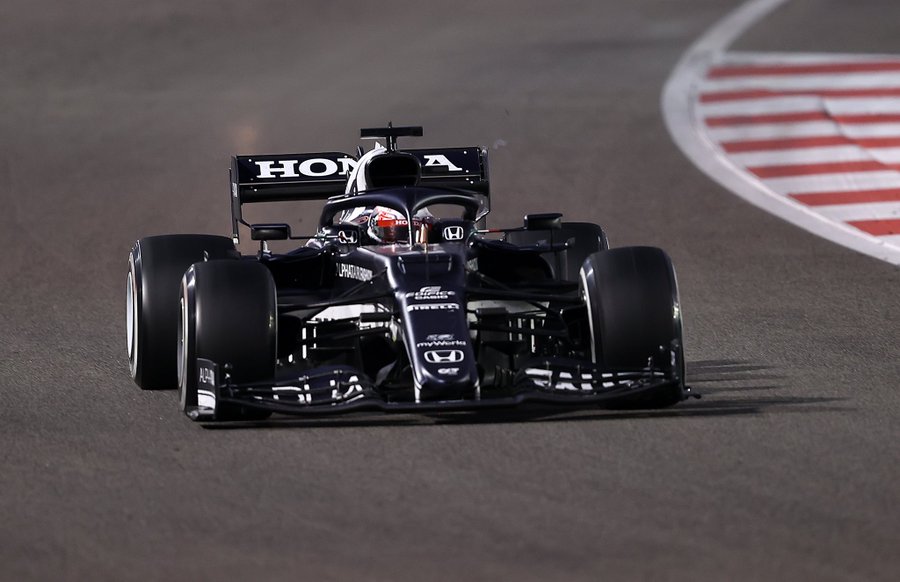 Pierre also recovered well from a disappointing qualifying, and finished P5 after also overtaking Bottas on the last lap. It wasn't enough for AlphaTauri to overhaul Alpine in the standings at the end, but was nonetheless a fantastic conclusion to the season for the Faenza-based team!
Alpine
The French team had a underwhelming race, as even with a double points finish they scored lesser points than their rivals AlphaTauri. Fernando had a good race, and was battling Gasly up until the pitstops, from where he fell back a fair bit. He did finish P8 to cap off a brilliant comeback season to F1!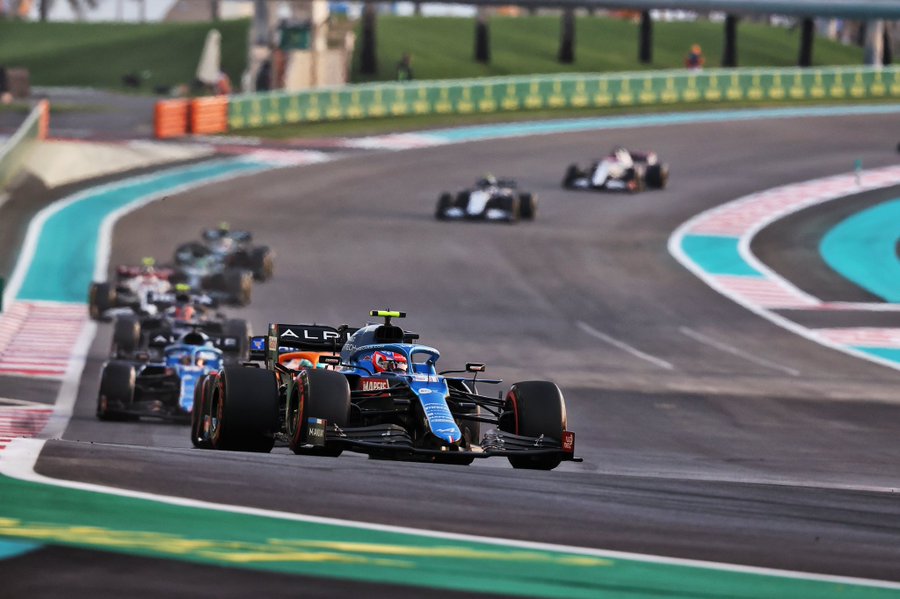 Esteban was quite invisible, and finished in P9 at the drop of the flag. Despite this disappointing performance, Alpine achieved P5 in the standings, though a long way off McLaren in P4. Like every team, they're hoping for 2022 to be their year!
McLaren
Lando was running very well, in a net P5 until a slow puncture ruined his race as it forced him to make an extra stop. This dropped him to P7, where he finished the race. It also saw him lose P5 in the driver's standings, after a not-so-great conclusion to what was most certainly his best F1 season to date- though he'll be pushing for a better 2022 from here on!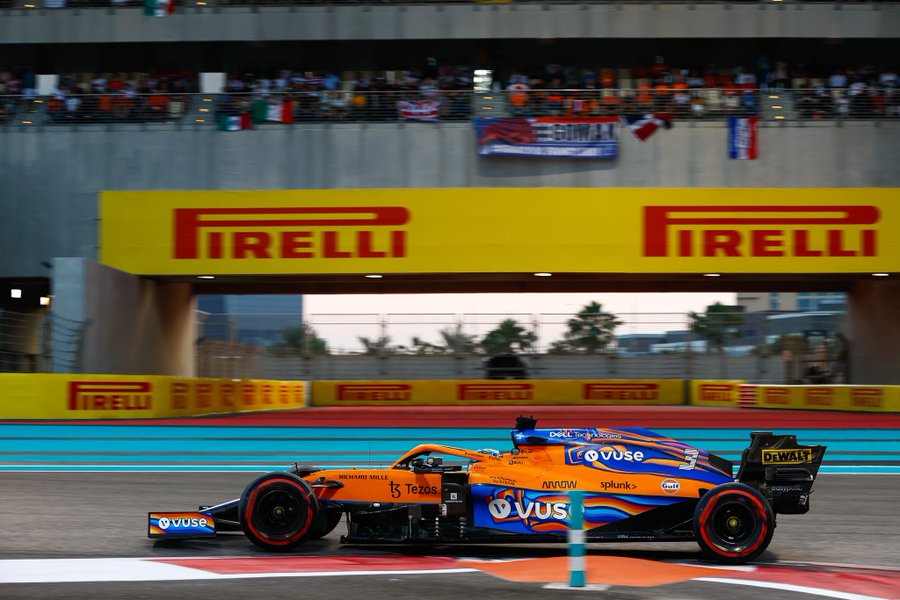 Daniel was just not that involved in the running, finishing P12 in the end and outside the points. This poor result cemented Ferrari's P3, and saw McLaren finish only P4 in the constructor's standings at the end. They'll also be pushing for a better 2022, but there's no doubt that 2021 has been a good season for the team- they did achieve their first win and 1-2 since 2012 and 2010 respectively!
Alfa Romeo
Disappointment and sadness was overflowing at Alfa Romeo, with a double retirement for both of their departing drivers. Kimi's last-ever F1 race ended with retirement after a braking system failure, calling it curtains in the most anti-climactic manner.
The same fate befell Antonio, who had to also retire, but he had to stop his car on track. As of now, his F1 career seems to have ended, though we never know what the future holds! Alfa finished 9th in the constructor's championship in the end, as they failed to capitalise effectively on many of the opportunities they got this season, like at Hungary, Spa, and Monza as well. A sad end to Alfa's 2021 campaign then, as neither car finished the race!
Williams
Williams had a disappointing end to the season, with Russell retiring with gearbox issues in his last race for the team. His 16 points alone were enough to beat Alfa in the standings, which goes to show how well he drove this season!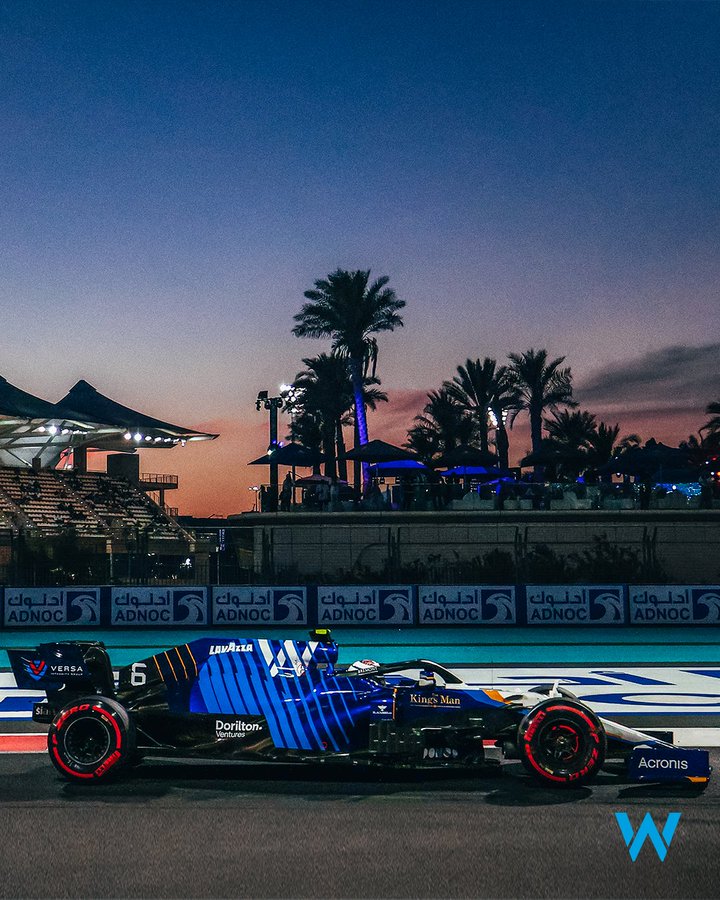 Nicholas also didn't get the most ideal end to his season, where he scored 7 points in total. He crashed with just a few laps to go, which resulted in the dramatic conclusion to the race we got! This sees Williams sit on 23 points at the season's close, their largest haul since 2017, and 8th in the team's standings as well!
Aston Martin
Yet again, Aston had a disappointing race, with Seb Vettel finishing 11th and Stroll finishing 13th. Vettel drove decently well, though in the end 11th was all he could manage. He did manage to bag the Crypto.com Overtake Award for making the most overtakes this season, about which you can read more here!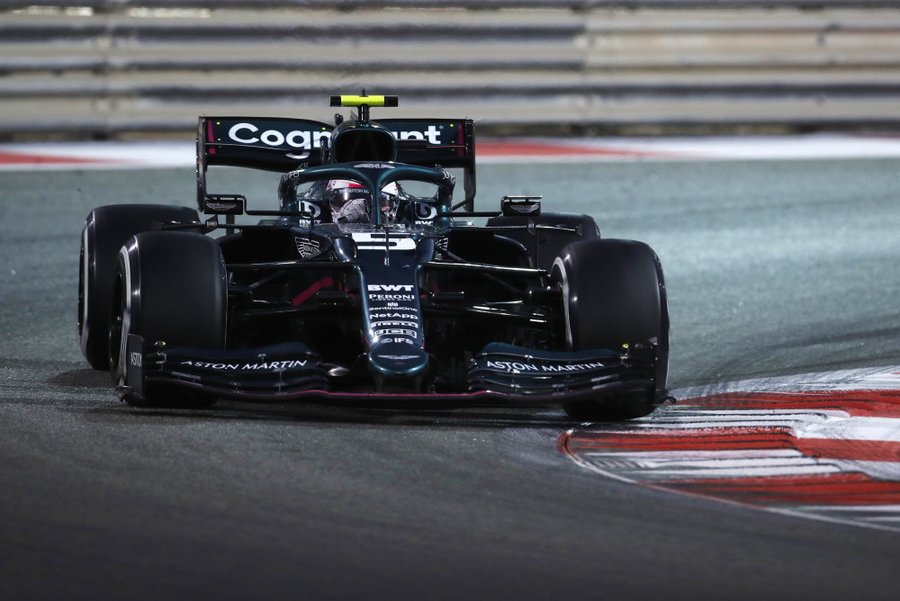 Lance had a tough race, with him being quite angry on the radio as well at the end. Aston finished the season an incredibly disappointing 7th in the standings, being closer to Williams in P8 than AlphaTauri in P6 at the end! It's a massive step down from their 4th place in 2020, and all they can hope for is a better 2022.
Mercedes
Words can't express the emotions that Mercedes went through at the flag. They had just achieved 8 constructor's championships in a row, but their star driver Lewis Hamilton had lost the Driver's World Championship on the very last lap after a very late call by the stewards screwed them over! Their appeal to the stewards was shot down in the end as well, so not a great overall conclusion to the season for the team from Brackley! Although there is more to that story and we'll keep you posted. But, if a driver wins his record breaking 8th championship in the court then, there is something seriously wrong with the FIA.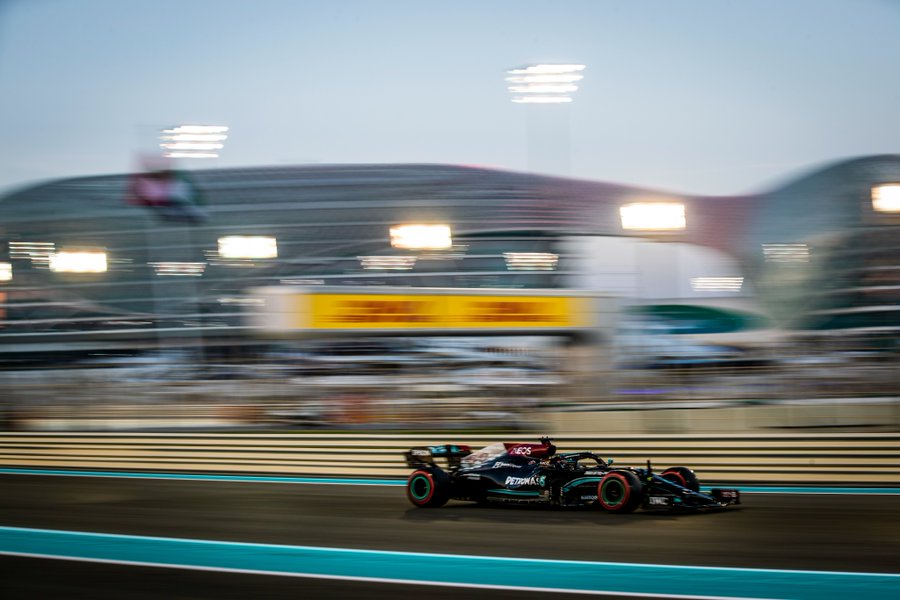 Lewis drove a stellar race- never once did it seem like he would fall into Max's clutches until the very last lap. It must have been sheer heartbreak, fighting at your highest level all year only to lose out on the last lap of the last race of the season! Lewis is a true fighter though, and there's no doubt he will come back guns drawn in 2022!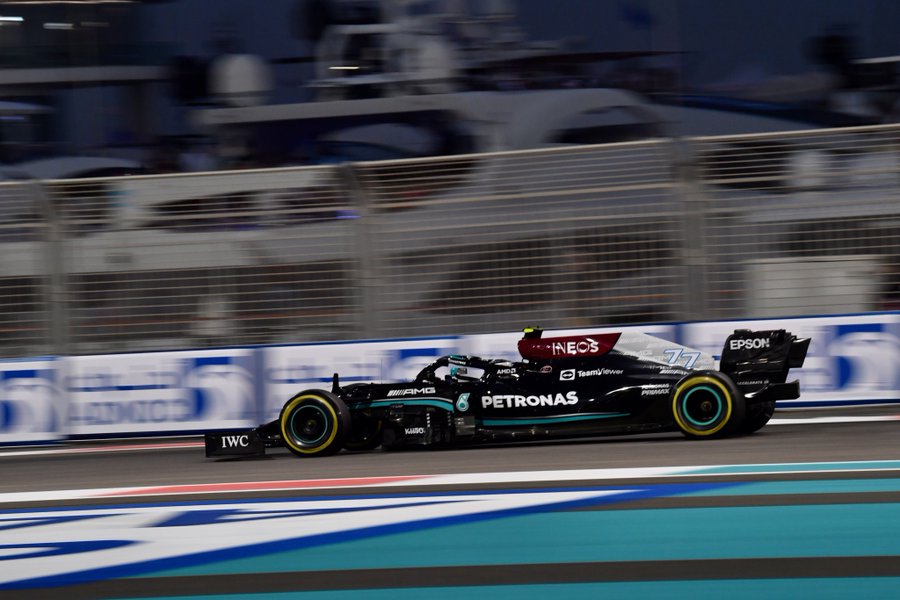 As for Valtteri, he had a disappointing end to his time at Mercedes. His 101th start for the team resulted in a 6th place finish, something he won't be all that happy about. He struggled at the start and end of the race to retain his position, and was overtaken on the very last lap by both AlphaTauri's, and finished an anti-climactic P6 in the end.
Red Bull
It was absolute delight for Red Bull- their Christmas gift came early for them! Max has driven like a true champion all season, and he received his reward for the same as well- with the Driver's World Championship of 2021 being his and his alone! When Christian Horner was asked during at around the 50 lap mark, we heard him say they needed a miracle for Max to win. And miracle it was. After Checo's slingshot help in the quali and him taking on Lewis for Max, there literally was nothing else they could throw at Lewis and Mercedes. But, then came in the miracle.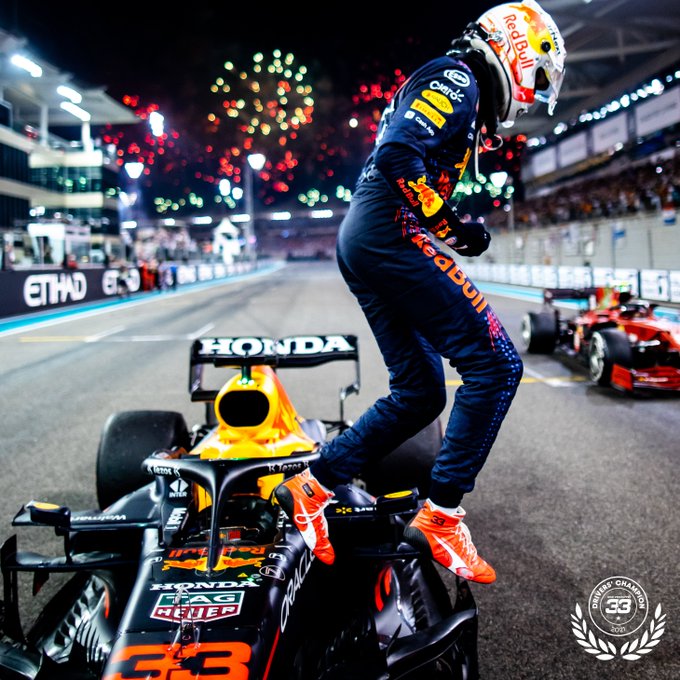 Max's race pace was just not enough to catch Lewis, but that last Safety Car along with the unlapping of cars just between Lewis and Max, which is still being questioned by Mercedes, saw him take the race win, fastest lap and the championship as well. A wholly thrilling end to a fantastic championship- now that's what we wanted to see, don't we? Yes! I agree it wasn't EXACTLY what we wanted to see but hey, at least we got that.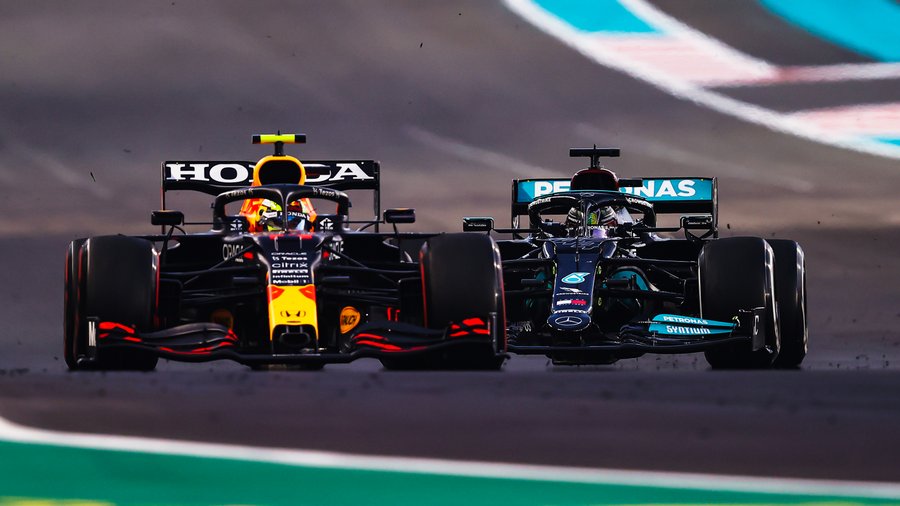 Checo Perez was no slouch either. He held off Lewis to help out Max in a heroic display of being a team player, and he had tremendous pace as well. He was forced to retire on Lap 56, though his efforts this year in a brand new car, brand new team and in such a competitive field have been nothing short of legendary. Vamos, Checo!
Haas
For one last time this year, we can take the mickey out on Haas. They were easily the slowest of the bunch as they have been for the entire year, and with only one car running thanks to Nikita's COVID positive test, their conclusion to the season wasn't great.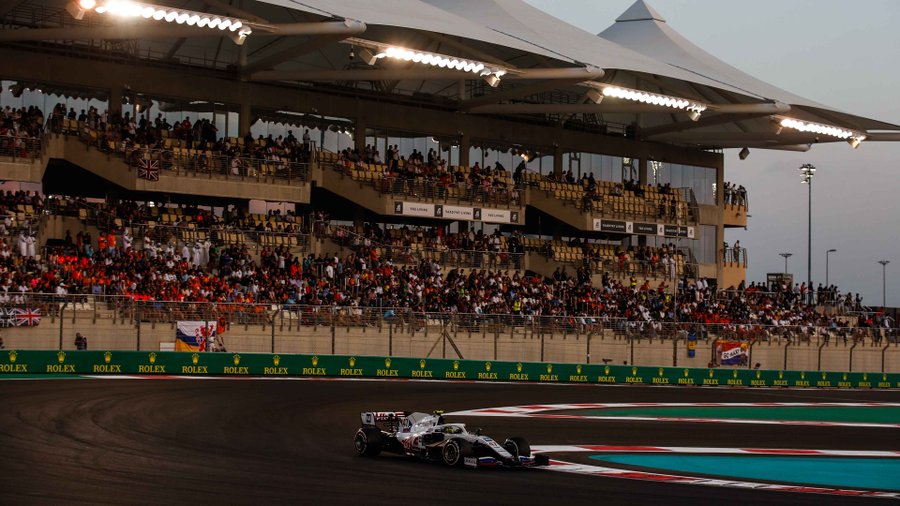 Mick drove alright, battling with Latifi hard before the Canadian's crash late in the race. It capped off a miserable season for Haas, which sees them finish without any points on the board for the first time in their short F1 career. I do seriously hope 2022 is better for them, so let's see what they manage to do next year!
In Conclusion
Regardless of who you supported this year, the 2021 F1 season was one which will reside in people's memory for a long, long time to come! We saw a titanic battle between two heavyweights of the grid, and it resulted in a victory for the young gun in Verstappen dethroning Hamilton, much akin to how Fernando dethroned Schumacher back in 2005.
The season has drawn to a close with this race, and with 95 days until F1 returns next year in Bahrain, the teams have their work cut out for them! As for us fans, the winter break is one of the saddest parts of the year, but we are absolutely blessed to have an absolute plethora of F1 content which we can binge watch till F1 returns! Next year's rule changes are also certainly something to be excited about- for they'll result in even closer racing than we've seen this year!
And finally, a thank you to all the teams and drivers for giving us such an exciting season, with special thanks to Lewis and Max. This has been the best season in recent memory, and all we as F1 fans hope for is such dramatic endings to become commonplace in modern-day F1 yet again! With that, what should we say? Bring it on, F1 2022!