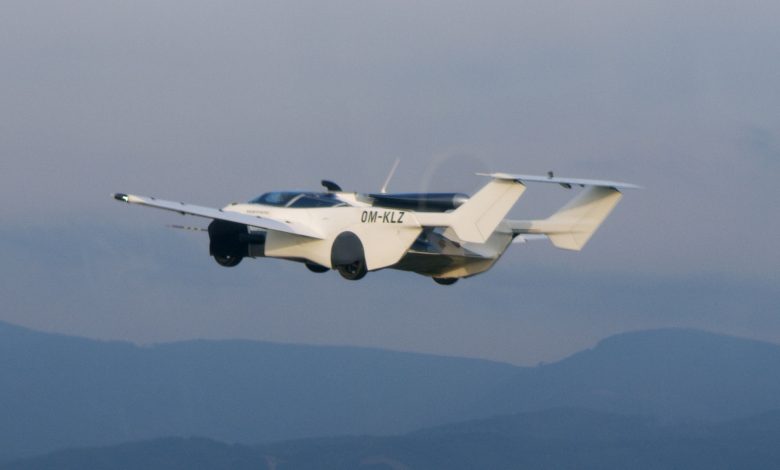 We've seen such stuff only in futuristic movies and similar, wherein drivers of the future fly instead of drive on the roads like us mere mortals. Well, think twice for the future might have exactly this become commonplace! A company called Klein Vision has just received a certificate of airworthiness by the Slovak government, which means that the car is fit to fly!
The car was rigorously tested for over 70 hours, and was tested under the supervision of EASA (European Aviation Safety Agency) members, and completed over 200 takeoffs and landings. The car was designed by 8 specialists, and needed over 1,00,000 man-hours to be built! The car has already flown domestically within Slovakia by completing a 35-minute flight last year, though the company won't stop there- they have plans to fly the AirCar between London and Paris!
The car is propulsed by a 15kW engine for the flying part of the car and the car has flown above 8,000ft as well, and is powered by a 1.6L BMW-sourced engine for the driving bit of the car. There is autonomy of 1,000KM on a single charge as well! Here's what key members of this project had to say:
"AirCar certification opens the door for mass production of very efficient flying cars. It is official and the final confirmation of our ability to change mid-distance travel forever,"

-Stefan Klein, inventor and founder
"50 years ago, the car was the epitome of freedom. AirCar expands those frontiers, by taking us into the next dimension; where road meets the sky."

–Anton Zajac, the project cofounder
"Transportation Authority carefully monitored all stages of unique AirCar development from its start in 2017. The transportation safety is our highest priority. AirCar combines top innovations with safety measures in line with EASA standards. It defines a new category of a sports car and a reliable aircraft. Its certification was both a challenging and fascinating task,"

-René Molnár, the director of the Civil Aviation Division of Slovakia
The founders of the project are quite interested in bringing this car to the whole world, and the AirCar could well end up being the pioneer of air travel in vehicles, which could well be the next big thing. Imagine getting fed up of the traffic and then deciding "y'know what, I'll just fly over all of this", and then be able to beat all the traffic by just flying above it all! Be ready, for this dream could well end up becoming a reality for the masses in the future- and we can't wait to see what comes of it!