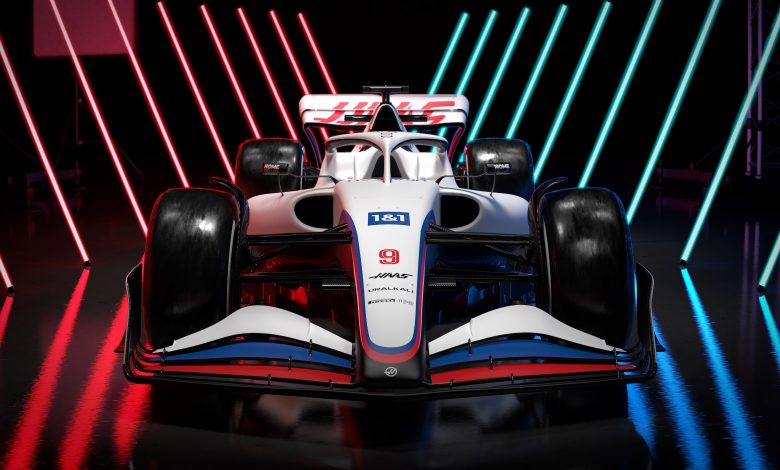 Haas have revealed their 2022 F1 challenger, and it is called the VF-22. This will be Haas' 7th F1 car since their debut back in 2016. Now, we will see the difference in the car in detail later on though the livery is just "functional."  The 2021 Haas livery was one of the most disliked liveries on the F1 grid by the fans both online and in-person so, this being an "evolution" of the same design, it's safe to say that this might not be as well-received by the F1 community as they were hoping for! What's more important is a team like Haas need all the good looks they can get and strive to be well liked for the sponsors in order to survive.
Regardless of how it looks, what matters mostly is how it drives. Haas were the only team to completely forego 2021 in anticipation of the new 2022 regulations, and are hoping that this car gets them back to the midfield at the least. The actual car will be unveiled at Barcelona on February 23rd when pre-season testing begins, and will be the first car designed by new technical director Simone Resta, who arrived from Alfa Romeo in 2021.
Here's what key team personnel had to say about the car:
"It's that time of year where you're naturally optimistic that the hard work and effort of everyone will translate to a competitive entry on track,"

"We made the decision back in 2020 to really channel time and resources into the VF-22, foregoing anything track-related for 2021 – which wasn't easy to watch. Hopefully that decision bears fruit and we return to challenging for points and taking something from the weekends."

-Gene Haas, Owner, Haas F1 Team
"We all know what the team is capable of, we've proved that in the past, and with this new car – born out of a completely new set of regulations and with our new design team in place – I'm confident we can showcase once again that we can compete on weekends.

"It's been a tremendous effort by everyone involved and now comes the fun part of getting the new car to the circuit and dialling in all the elements. Last season was a long one but I'm confident that 2022 will see us back in the mix with the VF-22."

-Guenther Steiner, Team Principal, Haas F1 Team
"This is probably the most complex project the Uralkali Haas F1 Team has dealt with to-date for many reasons. It's a completely new set of regulations and this season we've brought in a new team to manage the creation of the VF-22.

"Not everyone is new but a good chunk of people have joined with a revised structure now in place. I consider this as a great success in the process. We're still early in the project and going through a transitional season of working together on a car for a full year, but if we look back where we started, this team is already a success."

-Simone Resta, Technical Director, Haas F1 Team
Haas spent all of 2021 at the bottom end of the field and were the only team to end the year with no points to their name. Drivers Mick Schumacher and Nikita Mazepin are no longer rookies, having competed for an entire year in F1 in 2021. The actual car could look different to this digital render for the team's don't want to give away precious chassis and aero design cues to rivals now, do they? Let's see how the car fares when pre-season testing begins behind closed doors in Barcelona in approximately 3 weeks' time!