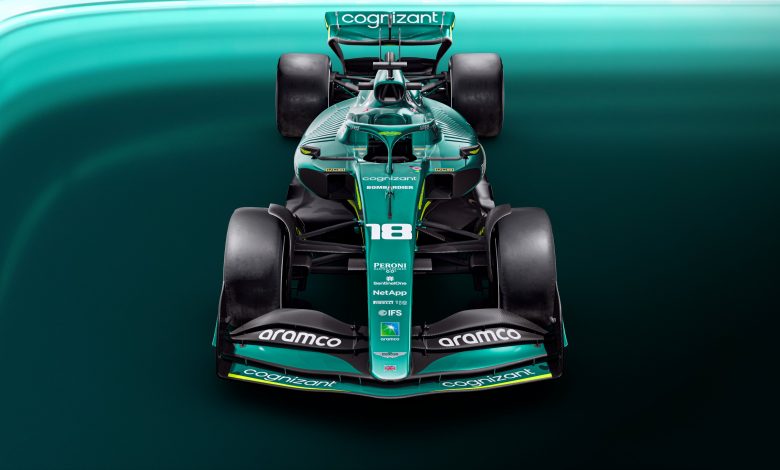 Aston Martin has taken the wraps off their 2022 F1 contender, the AMR22 and upon first glance, it immediately looks much more appealing than their 2021 car! There's another surprise here- this is the first actual 2022-spec chassis design we've seen to date, given how the Haas and Red Bull cars were effectively mule cars. This is immediately apparent with the strakes on the bodywork, and a revised engine cover as well, which gives the car a fresh new look.
As for the livery, Aston have gone and evolved the 2021 livery's design and have gotten rid of the bit of pink on the car, which was there thanks to BWT. The arrival of Aramco has also seen them become the team's title sponsor, and the overall shade of green is now lighter as compared to last year's iteration. There are also some flourishes of lime-flouroscent around the car, which really do enhance the visual appeal of the car!
The driver lineup is the same as last season, with Sebastian Vettel and Lance Stroll piloting the AMR22 this year. Nico Hulkenberg is expected to remain as the team's official reserve driver, and the overall atmosphere at the team seems to be much better than last year. The recent appointment of Mike Krack as Team Principal should also further boost the team's chances of success in 2022!
Aston's new F1 facility is also under construction currently and is expected to be completed later this year. With a seemingly bottomless pit of funding available thanks to owner Lawrence Stroll's deep pockets, Aston has all the tools available for success- let's see how successful the season is for them! You can hear the car's fire-up here, and an actual first glimpse at the car will be seen at Barcelona testing later this month.