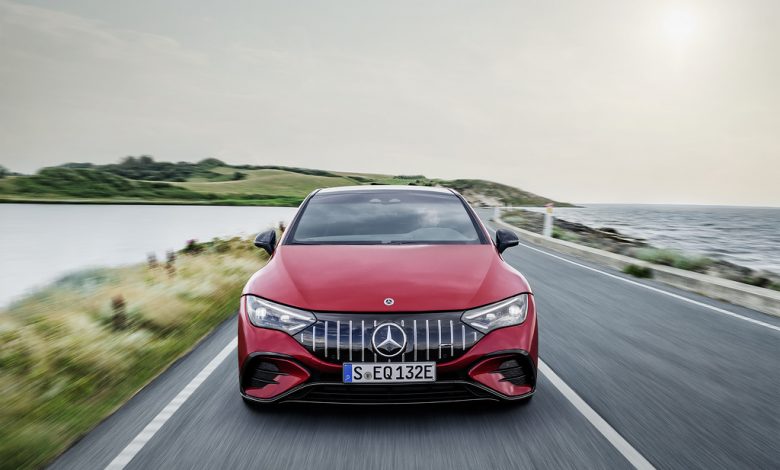 Mercedes AMG have launched another high-performance EV which will inevitably replace the E63 in the near future as Mercedes plans to go all electric by 2030. Enter the AMG EQE. There are quite a few things you should know about it. Let's find out
Interior and exterior design
As I said before, Mercedes have played it safe. You can be forgiven if you don't find much of a difference between the AMG Line version and the AMG EQE on the outside. The blank grille is the same as before with vertical chrome bars instead of the 3-pointed star design and the big three star logo sits proudly in the middle. Too proudly to be honest. Oh! and I'm not sure about the vertical slats either. There are absolutely no changes on the side of the car apart from new alloy wheels and yes Mercedes still has those fake louvers and openings both at the front and back. There is thicker black cladding at the rear to compensate for its looks but it simply doesn't match up to the E63.
On the interior front, this one has similar 'sentimental' and missable upgrades just like the EQS 53 got over the regular EQS. Meaning it has better and 'sportier' seats, a flat bottom steering wheel with switches for driving modes and some older AMG logo crests on headrests. Of course you also get the big, flashy hyper-screen infotainment system with some AMG specific menu options. Unfortunately, it is STILL an optional extra just like the regular EQE. Wait till I tell you the price.
Engine Electric Performance and weight
The AMG EQE comes in two variants, the EQE 43 and EQE 53 and BOTH have quite some numbers put out. For starters, the EQE 43 AMG still comes with dual motors like regular EQE/EQS but AMG worked their magic on the control systems to churn out 858 NM of torque and 476 HP with a 0-60 of 4.2 seconds in the EQE 43 AMG. As it is inevitable, if I compare it to the Tesla Model 3 performance, it has 14 HP less than that but has 200 NM more torque. Still, the Model 3 Performance does 0-60 quicker by 0.9 seconds.
So, if you want to beat one of your friends in a Model 3 performance for some reason, you need to grab the EQE 53 AMG. This one puts out a massive 626 HP and 950 NM of torque. NINE HUNDRED AND FIFTY NEWTON METERS! This is done by using different electric motors with different windings and inverters to allow the motors to take more current AND spin faster. Though, the 0-60 is STILL higher than a Tesla Model 3 Performance but, I am quite certain this would beat it in a 1/4 mile drag race.
But, if you're still not convinced somehow, Mercedes offers you an AMG Dynamic Pack that takes the figures up to 687 HP and 1000 NM of torque. That's a CHONK more power and torque than the Model 3 performance and this upgrade pack offers a boost mode which equals the 0-60 time of the EQE 53 to the Model 3 performance. Confusing on why this is not as quick off the line as the Model 3 performance? Well, this weighs in at 2.5 tonnes which half a tonne more than the Model 3 performance.
When it comes to battery and range, the EQE AMG comes with a 90 Watt/Hr battery giving around 325 miles of range which is almost 520 Kms. That is a lot less than the regular EQE with 410 miles (650 KMS) which was more than the standard Tesla Model S and gave a start for EV makers other than Tesla to have great range. The culprit with the AMGs is the AWD. Obviously, AWD won't be as efficient as RWD and hence the dip in range. The AMG still charges with 170 KWh charges giving you around 115 miles of range in 9-12 minutes. Not bad!
Driving comfort and heat management
Mercedes have added rear wheel steering to keep this big bulk easy to park and both the EQE 43 and 53 models come with air-suspension allowing for a ride quality akin to cloud rides as they say. Mercedes have also added another neat and very German engineering trick. Most electric cars, especially Teslas, don't have the ability to do multiple drag races one after the other.
That's because of the not so good heat management of the electric motors and batteries. Hence, the system reduces power until those cool down and doesn't affect the range by much. While everyone circulates water-cooling around the motors, Mercedes have added internal cooling of the motors and batteries by circulating water via the shafts themselves and has some fancy fins on the converter to dissipate the heat.
Pricing
No pricing info is available for even the standard EQE and hence, Mercedes have not revealed the exact pricing for these either. But, we expect the EQE to start at around $75000 and the EQE 43 and 53 could START from somewhere around $90000 and $115000. Ouch! I guess you should not try to compete with your friend's Tesla after all! But, in all honesty, the EQE has far more character and presence than the bland, boring and abysmal minimalism of a Tesla. Moreover, the Germans know quality as much as Tesla knows crashes and recalls.