Auto Business
Launch
A new Ford Everest (Endeavour) is on the way! Debut on March 1st
Better known as Endeavour in India, this one deserved the Indian market. Unfortunately, that seems like a no go for now.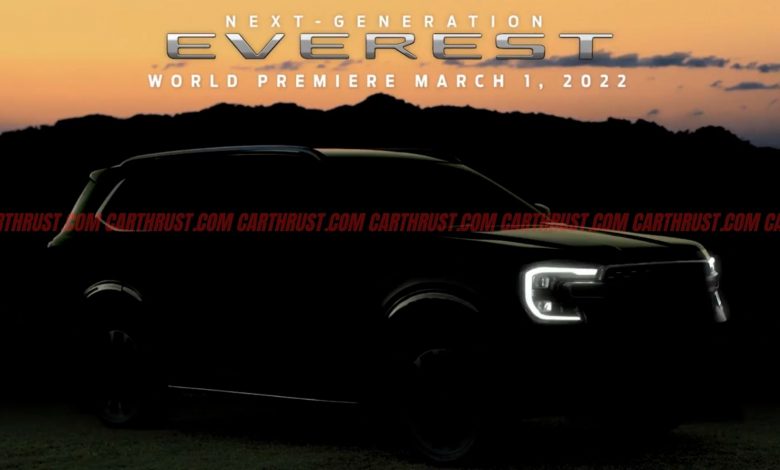 Ford made sure that no matter what happens, its name leaves a mark in India. And boy did they do that. From the Ford Ikon, Ford Fiesta to the Ford Ecosport, from Punjabi music's addiction with the Mustang to the legendary Ford Endeavour, it has been an immensely popular brand in India. But, out of all these cars, the Endeavour stands out both literally and figuratively.
The Ford Endeavour made a dent in the sales of the Fortuner by enough that Toyota had to be up on their toes. Always. The Endeavour was, is and will continue to be known as a more capable off-roader than many and now, when Ford has wound up manufacturing operations in India, we hear there's a new model for the Endeavour coming. Known by its international name "Everest", Ford's South African subsidiary has teased the upcoming Everest's debut on March 1st, 2022.
The teaser shows a design inspired from Ford's new design language seen in the Ranger. In fact, I am spotting some Bronco as well! That's a really good thing but, the important question is will the Everest come to India? You must be thinking what's the point of this article since Ford broke up with India. Well, technically, India and Ford are 'still friends.' Ford has an approval under the recently green lit INR 26000 crore PLI scheme for the automotive sector. Ford also continues as a company only selling CBUs of cars like the Mustang and the Mustang Mach-E. So, it won't be a big deal if Ford restarts its manufacturing operations looking at the popularity of high-end SUVs.
Here's the teaser from our YouTube channel. Take a good look: