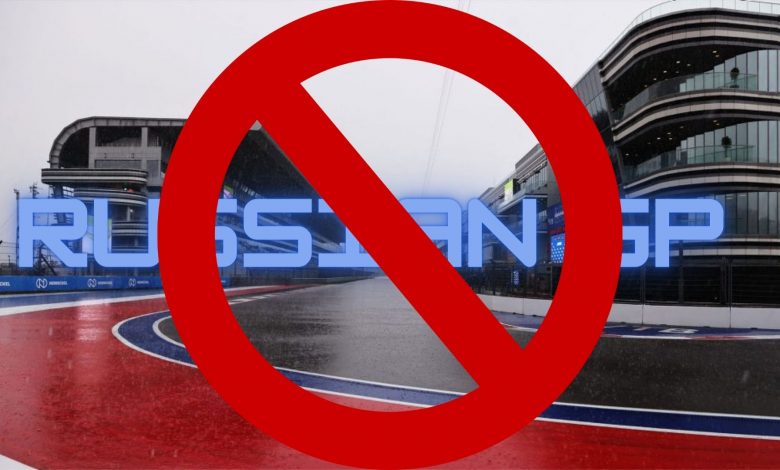 Make peace, not war! There has been extremely strong backlash against F1 since yesterday when footage of the country of Ukraine being converted into a battlefield showed up on social media, and today the F1 and FIA have released a statement condemning the actions of the Russian Government while adding that there is no Formula 1 can race in Russia in light of the current circumstances.
The teams had been in deep discussions with the FIA since yesterday, and have come to this conclusion unilaterally. It's good to see the FIA taking notice and being apt and prompt with their choices to not encourage such choices made by a global power.
To say that is the end of it is far from the case, for there is a part of Russia deep-rooted into the sport, and that is in the form of the Haas F1 team's title sponsor – Russian Government backed Uralkali. The chairman being Russian billionaire oligarch Dmitry Mazepin, the father of current Haas F1 racer Nikita Mazepin. Haas are running Barcelona Day 3 pre-season test sans any Uralkali branding, and measures are being taken to remove any influence of Russia from the car and the team.
Nikita was missing from the official afternoon media session as well. It is believed that team principal Guenther Steiner was also missing as he set out to go over the legal ramifications of the Uralkali deal and to find a solution. As a side note, the all-white Haas with the black front wing looks a great deal better than the official car, doesn't it?
It is certain that Uralkali won't be reappearing on the Haas VF-22 anytime soon, though Nikita's future is also uncertain and hangs in the balance. He might be forbidden to race, or would be more likely told to sit out a few races or such till the global situation gets better. Team principal Guenther Steiner has also stated that Nikita's future 'Needs to be resolved.' We also do believe that there is little hope of him continuing to be the driver even if allowed where Uralkali is no more a sponsor. It is almost over for the young Russian.
In this situation, it is also believed that there are multiple options available to Haas to fill what would become Nikita's vacant seat, though it is widely believed that the seat would be given to Haas' official reserve driver, Brazilian Pietro Fittipaldi. Haas could also opt at choosing a more experienced driver like Nico Hulkenberg or Kevin Magnussen, though the final decision should be reached soon.
To my fans and followers – it's a difficult time and I am not in control over a lot of what is being said and done. I'm choosing to focus on what I CAN control by working hard and doing my best for my @HaasF1Team . My deepest thanks for your understanding and support. 🙏

— Nikita Mazepin (@nikita_mazepin) February 25, 2022
Yesterday, 4-time F1 world champion Sebastian Vettel commented on how he would not race in Russia even if the GP went ahead. Later on the same day, 2021 world champion Max Verstappen had a rather diplomatic view stating that it is not possible to race in a country undergoing war.
Soon there was global pressure to remove the GP from the calendar. It will mean that there will likely be no more Russian GP, which will also mean that the upcoming 2023 Igora Drive GP will most likely never officially take place unless an agreement is reached in the future between the FIA and the Russian Govt, though the outcry would be so massive that it would probably be in the best interest of the FIA and F1's future to forego the Russian GP altogether.
It is being rumoured that Turkey will yet again be the host of the now-cancelled Russian GP, which will mark the third year in a row that Turkey has been announced as an interim race in place of a cancelled GP though it is yet to be confirmed. The sport as a whole doesn't have the cleanest track record though, with the sport often going to countries with shoddy human rights records- be it Saudi Arabia, China, the Middle East or more. The recent drive for money over morals by the FIA is really disheartening to see, but that has quite literally been the case for the entirety of F1's history, it's just not mentioned as frequently.
Consequences are incredibly unfavorable for the sport and the world as a whole, and the decisions taken by the Russian Government are being strictly punished by F1 and the FIA as they should be. Uralkali will most certainly be hit with a bus load of sanctions and will not be able to promote themselves via the medium of F1 anytime soon, and the future of Russia and F1 hangs in the balance, tipping toward the point of possible no return.
It must be made quite clear now, that there is no room for such henious acts being allowed in the world of F1, no matter how profitable it might be for the governing body and the sport as a whole. Could we possibly see a new title sponsor for Haas? Is Mazepin's F1 career over? We should get answers to all this over the due course of time.