Formula 1
Brief rundown from Day 3 of F1's 2022 pre-season testing
Multiple red flags, a wet track and even a crash made this the most drama-packed day of pre-season testing in 2022 yet!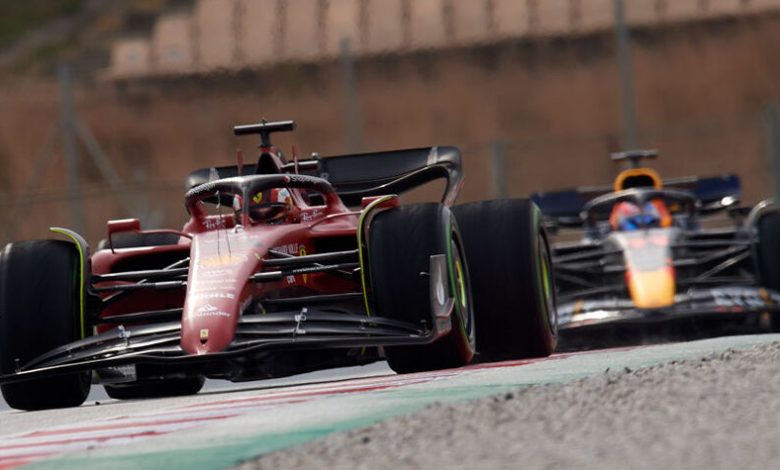 Day 3 of F1 pre-season testing was filled with a flurry of red flags- to be more specific, 5 in the morning session to  and the afternoon session saw the cars having to navigate their way through artificially wet track as well before they got going again. Reliability was a massive concern for the teams, as multiple teams and drivers had stoppages today, with certain teams not being able to run the afternoon sessions at all!
We also had the first crash of this test, though thankfully it wasn't a severe one. Pierre Gasly went off at Turn 5, damaging the front wing and suspension in the process. Mercedes were finally back on top in the morning session, with George Russell on top. Ferrari's pace seems promising, though Red Bull was also near the top though Mercedes occupied the top two spots by a comfortable margin. Let's take a look at the day's running in a bit more detail!
Who's Driving?
Today was the first day that all the teams decided to give both their drivers run time in the car. Here's the list of drivers who drove in today's sessions:
Mercedes: George Russell in the morning and Lewis Hamilton in the afternoon.
Ferrari: Charles Leclerc in the morning and Carlos Sainz Jr in the afternoon.
Red Bull: Max Verstappen in the morning and Sergio Perez in the afternoon.
Alpine: Fernando Alonso in the morning and Esteban Ocon in the afternoon.
Aston Martin: Sebastian Vettel in the morning and Lance Stroll in the afternoon.
McLaren: Lando Norris in the morning and Daniel Ricciardo in the afternoon.
AlphaTauri: Pierre Gasly in the morning and Yuki Tsunoda in the afternoon.
Haas: Nikita Mazepin in the morning and Mick Schumacher in the afternoon.
Alfa Romeo: Guanyu Zhou in the morning and Valtteri Bottas in the afternoon.
Williams: Nicholas Latifi in the morning and Alex Albon in the afternoon.
There were reliability concerns in the morning session for 3 teams- namely Haas, Aston Martin and Alpine and all 3 elected not to run in the afternoon session, which meant that Mick Schumacher, Lance Stroll and Esteban Ocon didn't get the opportunity to drive at all today. Today's running was crucial given how it is the last day of testing at Barcelona, and how the next opportunity to drive will only come in two weeks' time in Bahrain.
A Brief Rundown Of Events
Morning session
George Russell brought Mercedes back to the top in terms of both mileage and lap time, with a time of 1:19:223 seeing him at the top of the timing charts. Reigning world champion Max Verstappen took P2, though over 5 tenths off Russell's Mercedes. Sebastian Vettel was a promising third for Aston Martin, while his former teammate Charles Leclerc was a few tenths back in P4- the gap between the two just 7 thousandths of a second!
Nicholas Latifi was impressive with P5 despite completing just 5 laps, and switched with teammate Alex Albon, with the switch being repaid to him in the afternoon session. Lando Norris was a distant 6th, ahead of Fernando Alonso who was forced to stop on track after his car went up in smoke, and Alpine cited a hydraulics issue. Guanyu Zhou was P9 and brought out the red flags twice- one time for stopping in the gravel and later on after a suspected fuel flow issue.
Pierre Gasly was P9 for AlphaTauri, though crashed and damaged his front wing and suspension in the process, and also brought out a red flag for good measure. Alex Albon did the aforementioned switch with teammate Latifi and finished P10 in the end, while Nikita Mazepin finished the session in last place and P11, almost 7 seconds down on leader Russell, and also completed just 9 laps due to a suspected leak.
Afternoon Session
Due to the multiple reliability concerns and the one crash, the likes of AlphaTauri, Aston Martin, Alpine and Haas decided to not run in the afternoon session entirely. This saw 4 teams and cars eliminated on the spot, which meant only 6 teams took part in the second part of testing.
Lewis Hamilton was back on top, and with a time of 1:19:138 was the fastest driver today. His teammate George Russell was less than a tenth behind in P2 though his time was set in the morning session. Sergio Perez had a good showing to jump up to P3 in the dying stages, albeit being over 4 tenths off Hamilton's pace.
The track was made wet artificially by water tankers dumping water all around the circuit, which saw some we running as well. Carlos Sainz went P7 overall, while the Williams duo yet again split running, with Latifi taking part in the wet weather test while Albon ended the session in the car, and they finished a respectable P7 and P8 for Albon and Latifi respectively.
Daniel Ricciardo was a distant 10th, and just behind him was teammate Lando Norris in P11. Behind Lando were the four retirees- Alonso, Zhou, Gasly and Mazepin all of whose cars were deemed to be unfit to run again in the afternoon. Valtteri Bottas has had an absolutely shambolic start to his Alfa Romeo career, and he is among the drivers with the least mileage covered over the course of testing altogether!
Time Sheet: Barcelona Day 3
1. Lewis Hamilton, Mercedes: 1m19.138s, C5, 94 laps
2. George Russell, Mercedes: 1m19.233s, C5, 66 laps
3. Sergio Perez, Red Bull: 1m19.556s, C4, 74 laps
4. Max Verstappen, Red Bull: 1m19.756s, C3, 59 laps
5. Sebastian Vettel, Aston Martin: 1m19.824s, C5, 48 laps
6. Charles Leclerc, Ferrari: 1m19.831s, C3, 44 laps
7. Carlos Sainz Jr, Ferrari: 1m20.072s, C3, 92 laps
8. Alexander Albon, Williams: 1m20.318s, C4, 94 laps
9. Nicholas Latifi, Williams: 1m20.699s, C4, 13 laps
10. Daniel Ricciardo, McLaren: 1m20.790s, C3, 86 laps
11. Lando Norris, McLaren: 1m20.827s, C3, 52 laps
12. Fernando Alonso, Alpine: 1m21.242s, C3, 12 laps
13. Guanyu Zhou, Alfa Romeo: 1m21.939s, C3, 41 laps
14. Pierre Gasly, AlphaTauri: 1m22.469s, C2, 40 laps
15. Nikita Mazepin, Haas: 1m26.229s, C3, 9 laps
16. Valtteri Bottas, Alfa Romeo: 1m30.433s, C3, 10 laps
To say it was a straightforward day would be wrong, for almost every team had something to worry about. Mercedes was back on the pace and took a 1-2, though their best times were set on the C5 tyre, one which wasn't used all that much by the other teams. Ferrari looked to be strong on the C3 as they have been all throughout the test, while Red Bull's performance was also much more indicative of their actual pace.
The reliability woes continued for Alfa Romeo, who have easily completed the least number of laps over these 3 days. Valtteri Bottas has had an absolutely woeful beginning to his time at Alfa Romeo, and will be hoping that the reliability issues can get fixed in time.
Mercedes and Williams both covered some great mileage today, with Albon and Hamilton sharing the day's record for mileage as both did 94 laps overall. Ferrari also had some impressive mileage covered over the duration of the test, as did their 2021 rivals McLaren.
With this, we end the first pre-season test. We got our first glimpse at the new cars, we saw multiple drivers on top of the timing sheets and also saw some teams have reliability woes which limited their running. We will be back in Bahrain in 2 weeks' time, so let's see how the cars perform around there! There's also less than 4 weeks left to the start of the 2022 F1 season- and the excitement can barely be controlled! Do stay tuned, for we will being you updates of the Bahrain test as well.