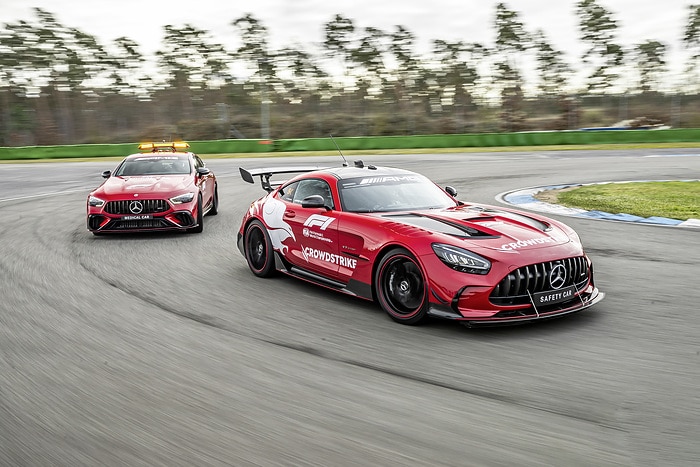 Mercedes-Benz has unveiled the new F1 Safety Car and the F1 Medical car for 2022, and one word can sum up most of our reactions to it – gorgeous. The new F1 Medical and Safety cars are both beautiful and at the same time incredibly environment-conscious as well. Rest assured they are ferociously fast as they should be to head the F1 field as and when necessary during the season.
The cars in question are the Mercedes AMG GT Black Series as the Safety Car, and the Mercedes-AMG GT 63 S 4MATIC as the medical car – the first time we'll see it being used for F1 purposes. The variants of these cars are the most powerful ones available, and will both be seen in the flesh for the first time at next week's Bahrain GP weekend. A black series does make sense in 2022 considering the new F1 cars are stunning to look at.
From the outside, they may look like any ordinary Merc with a few extra labels and branding, but that couldn't be further from the truth. These cars are absolutely loaded to the brim with tech and gadgets, which help the safety car driver communicate with the FIA and the race director, all while leading the world's fastest machines right behind him! There are lights and other indicators to notify the stewards and drivers of the next move being made by the Safety Car. The light bar on top of the car can be green and yellow in colour, though can be dimmed as and when the need arises such as when the Safety Car has to come out in the daytime.
On the inside, both are fitted with the AMG Track Package, which adds a roll cage, mainframe, belt brace and more to stiffen up the car's suspensions. There is also a monitor for the co-driver to watch and have a look at the events going on all around the field while contact is being maintained with race control. Both the Safety as well as Medical cars are the most powerful of their kind ever seen in F1.
Mercedes has also confirmed that the Safety Car and Medical car duties will be shared between them and Aston Martin, as was the case last year as well. Mercedes has been supplying the Safety and Medical cars to F1 since 1996, and through the ages they've gone through almost as many guises as the F1 cars themselves! Do keep an eye out for when they actually appear on track this season- for how can your eyes miss these jewels?