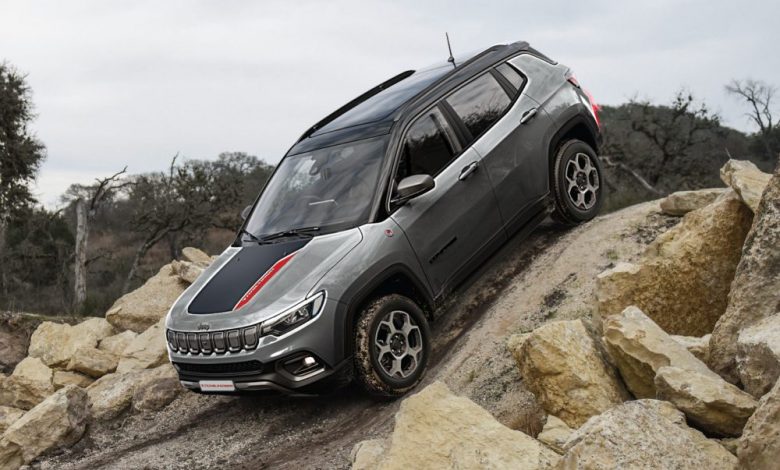 Jeep has finally launched the Trailhawk version of their popular Compass, and prices start from Rs 30.72 lakh. As was the case with the pre-facelift Compass Trailhawk, the car is priced higher than the top-end version of the regular Compass and has a few offroad-specific features and gear as standard.
The Trailhawk has most of the updated design cues from the facelifted Compass, with a new bumper and grille being the most obvious changes. There is also an anti-glare strip which starts on the bonnet and runs along the entirety of the car, giving it the unique appeal of always being offroad ready! Black cladding and bumpers also further ascertain the rugged nature of the car.
On the inside, modernity has been retained by Jeep thanks to the large touchscreen, panoramic sunroof, Trailhawk badged seats, 360-degree cameras, climate control and more all raise the comfort level of the car up a notch. There is also a 4X4 system and the wheels are 17″ as opposed to 18″ on the standard Compass which offer better stability and comfort, Jeep say. The 4X4 system also has terrain-specific settings which can be activated at the touch of a button to adapt the car's various parts to the surroundings so as to provide for the best driving experience.
The engine is the same 2.0L diesel engine producing 170HP/350NM and it is paired to a 9-speed automatic. With such pricing though, it can't be said for sure whether it will be a bestseller or not, for the audience to which it is aimed at will be classified as a "niche" segment! Regardless of this, its nice to see Jeep and parent company Fiat taking the efforts to make further strides in the Indian auto market.