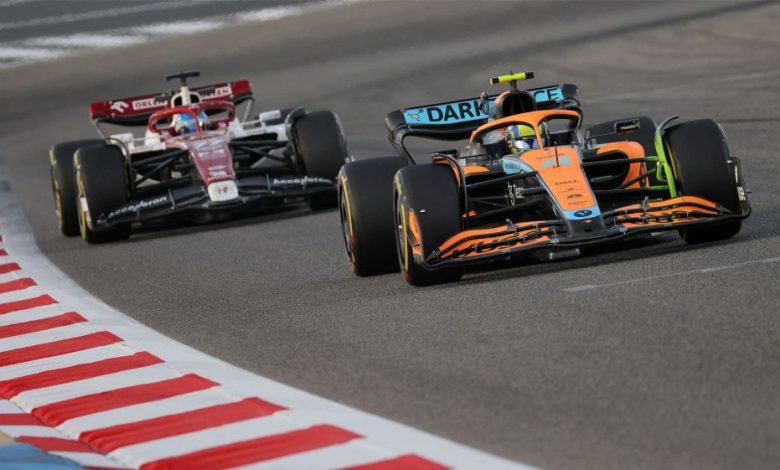 The final day of 2022 testing at Bahrain had a lot less drama than day 2. There were a few red flags thrown out during the entirety of the day but, the drivers kept it clean and focussed on mileage today for this was the final day of testing, with the first race weekend taking place at the same venue just next week!
This last chance to get all the information and data they could extract was not missed by the teams, who all ran high-mileage runs overall throughout the tests. The pecking order might be quite different from what we are seeing now though as we have seen more often than not. This is Formula 1 after all! Let's now delve into the events of day 3 of Pre-season testing in Bahrain.
Who's Driving?
The only teams to field one driver today were McLaren and Alpine, with Esteban Ocon and his ex-teammate Daniel Ricciardo not running today. Every other driver drove today in what was the final testing session ahead of the 2022 season. Daniel, if you don't know, came out COVID positive and was out of day 3 testing.
Mercedes: Lewis Hamilton in the morning and George Russell in the evening.
Ferrari: Carlos Sainz Jr in the morning and Charles Leclerc in the afternoon.
Red Bull: Sergio Perez in the morning and Max Verstappen in the afternoon.
Alpine: Fernando Alonso was in the car the entire day.
Aston Martin: Lance Stroll in the morning and Sebastian Vettel in the afternoon.
McLaren: Lando Norris was in the car the entire day.
AlphaTauri: Pierre Gasly in the morning and Yuki Tsunoda in the afternoon.
Haas: Kevin Magnussen in the morning and Mick Schumacher in the afternoon.
Alfa Romeo: Guanyu Zhou in the morning and Valtteri Bottas in the afternoon.
Williams: Nicholas Latifi in the morning and Alex Albon in the afternoon.
A Brief Rundown Of Events
Morning Session
Red Bull were back on top with Sergio Perez taking a comfortable P1 on C3 compound tyres, ahead of rookie and debutant Guanyu Zhou in the Alfa Romeo taking a surprise P2! Pierre Gasly in the AlphaTauri occupied P3, completing the most laps in the morning session with 91 laps covered.
Ferrari's Carlos Sainz took P4, and was followed by compatriot Fernando Alonso just behind in P5! Lando Norris was the sole McLaren driver to run today, finishing P6 in the morning though still having some brake issues. He was followed by Nicholas Latifi in P7, the Canadian having a much better session than yesterday.
Lance Stroll focussed on mileage and finished P8 in the end, ahead of Lewis Hamilton who finished P9. Rounding off the top 10 for the morning session was new Haas signing Kevin Magnussen, who had a few hiccups on his way to finish P10 at the close of the morning session.
Afternoon Session
Reigning champion Max Verstappen took top honours in the evening session, capping off a good day for the Red Bull team overall. Charles Leclerc took P2, while Fernando Alonso went quicker to finish testing with a P3.
George Russell was fourth for Mercedes and his predecessor Valtteri Bottas was 5th, the Finn going for a spin and causing a red flag toward the end of the session as well. Yuki Tsunoda was an impressive P6, while Mick Schumacher went P8 on his best attempt! The German will get an extra 2 hours of running, much akin to how his new teammate Kevin Magnussen did yesterday. Lando Norris meanwhile improved to P9.
Sebastian Vettel finished P10, while Alex Albon finished P14 after limited running halted his progress. And with that, we end the final day of testing. It was hectic with a few red flags, but everyone made it through in the end!
Time Sheet: Bahrain Day 1
The final day of testing was eventful, though did not provide us with as much action as yesterday did. Red Bull look to be strong with their new chassis concept and sidepod design, finishing both sessions on top and bagging P1 and P7 in the overall standings as well!
Mercedes looked weirdly off the pace, while Ferrari looked to be well in control. However, as we have come to know over the years, Mercedes love to troll us fans by doing a bit of sandbagging and hiding their true potential until when it really matters. The entirety of the team had the exact same answers for the press i.e. Ferrari are the pace cars and Mercedes have a lot to figure out with the porpoising. That end part could be true as Mercs look to be struggling for real with porpoising but knowing them, it probably wasn't an issue in reality. Don't let the tense face of Russell fool you either.
McLaren will be hoping for the situation to get better in their driver camp, for Daniel Ricciardo has been contracted with COVID and unless he gets a negative report he won't be able to race next week – a devastating blow to the start of his campaign. He is expected to join Thursday of the coming week as per the guidelines in Bahrain according to Andreas Seidl. If he is to not take part, Alpine reserve Oscar Piastri has been given permission by the team to take up the Aussie's place, though Alpine will still have first dibs on the young Aussie and reigning F2 champion's services should they need it!
With that, testing comes to a close. We've seen reliability concerns, tyres which seem to be challenging to get used to and also drivers generally finding driving these beasts to be a challenge. With race weekend in less than a week, it is showtime for all teams and drivers- and we can certainly assure you that it won't disappoint. Stay tuned, for after over 3 months, F1 IS BACK NEXT WEEK!