Connected Car
Electric
Volvo and Starbucks could revolutionize the EV charging network
Both the giants have teamed up to create the perfect blend of stop-and-charge for US locations. Genius!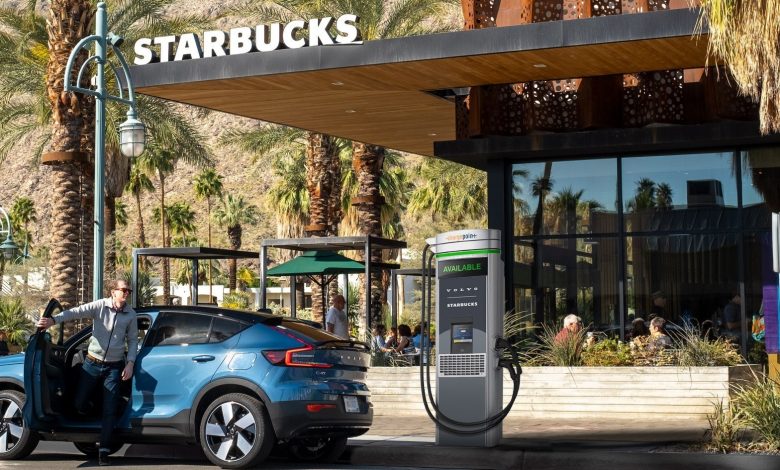 Volvo Cars USA and coffee stop giant Starbucks are working to bring for the people of US, a charging network at 15 locations along a 1350 mile corridor from Seattle to Denver. There would be approx 60 Volvo branded DC fast chargers powered by ChargePoint placed at various Starbucks locations. The distance separating the charging stations would be an appropriate 100 miles which is more than most of the lowest specified range offered by EVs in America.
These DC fast chargers would take 40 minutes to charge something like a Volvo C40 from 20% to 90%. That's actually less than the amount of time we spend on an average at Starbucks. Now, you can plan your trips accordingly. Apart from being a great idea for Volvo's business, this is a gold mine opportunity for Starbucks as well.
The footfall would significantly increase owing simply to the chargers. And not just for road trip goers but for EV owners who would otherwise go to some other place would now come to a Starbucks location featuring the charger. This is because the chargers are available for ALL electric vehicles but, Volvo vehicles would charge for free. I guess Volvo owners will finally not be overpaying for their coffee as they are getting electricity for their cars on the go.
Volvo's Recharge models fitted with Google embedded can use the ChargePoint app to reach the Starbucks-located charging stations along the route and access it as well. The ChargePoint app is also integrated into all the Volvo Recharge models' in-dash system.
Installations of the all the new EV chargers are expected to be finished by the end of 2022 and these locations are smartly positioned for panic-free travel between the Rocky Mountains and Pacific Northwest in a chain of places that are familiar, safe, reliable and clean for owners to recharge themselves and their environment friendly EVs, Volvo said in a statement.
Anders Gustafsson, Sr. Vice President Americas and President and CEO for Volvo USA, said "Volvo Cars wants to give people the freedom to move and lower their impact on the environment. Working with Starbucks we can do that by giving them enjoyable places to relax while their cars recharge."