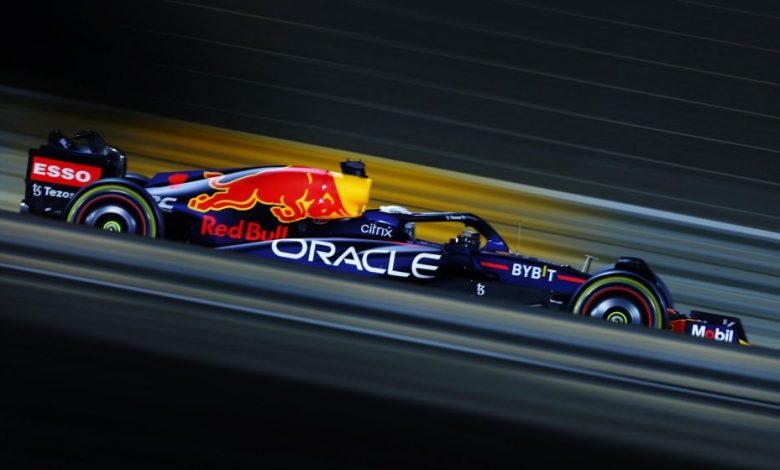 These past 96 days have seemed like an eternity for us F1 fans, and we have been rewarded for the same- for F1 is finally back! The Sakhir circuit in Bahrain is the venue this weekend for F1, and we had a fair bit of entertainment and excitement on this Friday evening, for it was the first official F1 practice session since 10th December last year!
We have one major change to the driver lineup this weekend- Nico Hulkenberg will be deputizing for Sebastian Vettel after the 4-time champion tested positive for COVID yesterday. The "super sub" as he is now known, Nico will as always be on the hunt to get that coveted F1 podium which has eluded him since his debut all the way back in 2010! It will be a tall mountain though, as he has not had as much running in the car as the regular drivers have.
Without any further ado, let's get straight into the events of Friday!
FP1
Not more than 10 minutes from the start of the session we had our first red flag of 2022, and it was thanks to Esteban Ocon's Alpine losing a big chunk of the sidepod. The car was almost sentient – it saw Mercedes's dramatic no sidepod concept and decided to take it upon itself to get rid of the sidepod and shed some weight!
Esteban Ocon's first practice session of 2022 didn't start quite how he would have wanted 😮#BahrainGP #F1 pic.twitter.com/UAO2Iadz7M

— Formula 1 (@F1) March 18, 2022
The session resumed, and we got our first glimpse at the new-for-2022 TV graphics, which have surprisingly not received as much flak as the ones introduced in 2018 did! We also saw some great new helmet cam shots from various drivers, and thanks to it we really got to see the sense of speed of these marvels of engineering.
Hulkenberg had a tough session, trying to get to grips and up to speed with the AMR22 but he was not the only driver who was struggling. There were countless lockups, track extensions, drivers losing the rear and also a spin by Ferrari's Charles Leclerc all throughout the session!
This quick spin didn't stop @Charles_Leclerc taking second in FP1! #BahrainGP #F1 pic.twitter.com/YLggfWbnQz

— Formula 1 (@F1) March 18, 2022
The session ended with AlphaTauri's Pierre Gasly on top, followed by both Ferrari cars who seem to be incredibly strong around the dunes of Bahrain. George Russell was a promising fourth in his first FP1 for Mercedes while Lance Stroll was also an impressive 6th. What must be noted is that the Ferrari pair set their best time on the medium compound as opposed to all others around them setting their best time on the softs!
Valtteri Bottas had a shocker with car issues halting his progress, while McLaren were well below the order- a trend they had in 2021 and are seemingly continuing to have! Rookie Guanyu Zhou was also a promising 11th, though these times usually have less relevance and don't really have much value in terms of the big picture.
FP2
FP2 was the first dusk-night session of the year, and we saw many drivers trading the top spot at various times during the session! That is not an exaggeration- Haas were at one point second courtesy of Kevin Magnussen, while the top spot kept changing hands between teams and drivers.
Magnussen charges up to second with a 1:33.183! 💪#BahrainGP #F1 pic.twitter.com/U5yTW7zBtf

— Formula 1 (@F1) March 18, 2022
Drivers and teams were focussing on multiple practice programs during the course of this session, and hence we saw a flurry of drivers going quickest one after the other. High fuel and quali runs were both done by the drivers, though we still saw a handful of lockups and mistakes as the drivers pushed to find the limit.
Ferrari were yet again on the pace, with Sainz and Leclerc showing good promise and the SF-75 looking very racey especially in the slow corners. There were a few close calls- we almost had a few crashes during the session, as Gasly narrowly avoided a Red Bull on the run up to Turn 5, Sainz had a close call early on, Leclerc and Tsunoda had a very scary moment at the Turn 8 hairpin and at the very same corner Stroll and Tsunoda made contact AFTER the chequered flag dropped!
Pierre Gasly was kept on his toes during FP2 😮#BahrainGP #F1 pic.twitter.com/vbjFmCneDL

— Formula 1 (@F1) March 18, 2022
Reigning champion Max Verstappen took top honours at the close of FP2, but was only marginally faster than Charles Leclerc! The top 10 had 5 Ferrari-powered cars, which is a remarkable feat given how long it has been since Ferrari were struggling in the midfield. Haas out of nowhere produced a P8 and P10 finish at the close of the session, indicating that their pre-2020 pace seems to have re-appeared. To put it into perspective Mick Schumacher finished a place ahead of Lewis Hamilton.
Lewis Hamilton was a lowly P9, and it must be asked at this point if Mercedes really are sandbagging as usual or is it a genuine concern? Right now, it definitely seems as real as it can get. Merc have not been able to solve the porpoising issue which is leading to a very dangerous and undriveable car at the moment. Russell has even gone as far to say that teams like Alfa Romeo and Alpha Tauri could be faster than them.
Mercedes are in trouble for sure. But it definitely has nothing to do with the porpoising. We certainly believe Merc already has a solution for the porpoising but it is at the cost of some performance. Maybe they could compete with the top teams with the lost performance, it isn't enough performance for Mercedes to get their 1.0 second lead and that's why they are trying out things especially considering they ran different floors for both drivers.
McLaren had more woes, with Daniel not being able to run for the majority of FP2 due to a car issue. Both Williams cars occupied the last row, and the entire grid was covered by just 2.8 seconds!
In Conclusion
Friday is over, and the talk resumes as to which team and driver combo is the quickest. Are Mercedes really that slow? Have Red Bull got it perfect with the reg changes? Have Ferrari finally got it all sorted out? The questions are aplenty, but the answers are far and few- we really have no real idea as to who is quickest, and we will only get to know the real picture after Qualifying tomorrow.
We saw many drivers lock up and spin, indicating that these cars take some getting used to and are not easy to drive by any means! No crashes thankfully, and a few surprises result-wise all indicate a thriller of a weekend ahead. As every person who's written a quote says: "This is just a trailer, the rest of the show is yet to come!" Do stay tuned, for we will bring you the day's updates from tomorrow's FP3 and Qualifying as well.