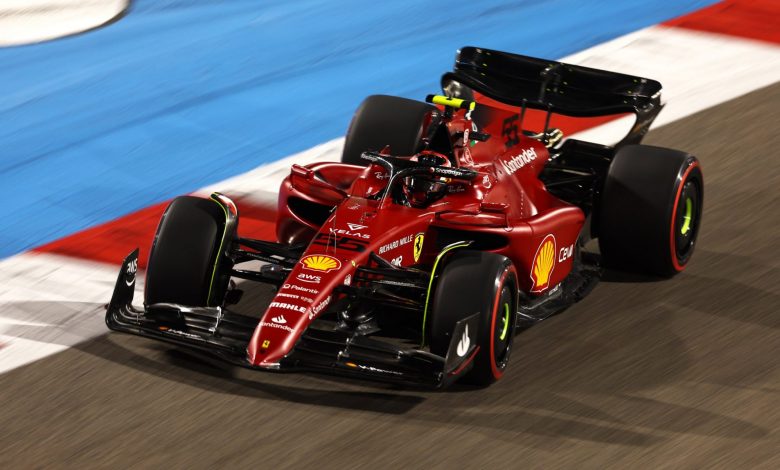 We'll give you time to pick up your jaws up from the floor, and to recover from that qualifying session, because WOW. Mercedes and McLaren in trouble, Ferrari on top, Bottas and Magnussen outqualifying Russell in a Mercedes and even more. Lando Norris had a good save, but finished the session way down in 13th. Haas looked uncannily fast with Magnussen in 7th and Schumacher in 12th, while the McLarens looked to be well off the pace. Tsunoda also had an issue with his steering system which forced him to sit out the session while his car was repaired. All in all, this qualifier really emulated the pace we saw in Pre-season testing and that is unheard of in F1 since a very long time. Anyway, without any further wait, here's a brief rundown of the 2022 Bahrain GP Qualifying.
Q1
Q1 was a straightforward session if straightforward meant unpredictable and surprising! Max set the pace early on, but Leclerc shot up to P1 as the session progressed. For the first time since Turkey last year, Haas got out of Q1 but this time with both cars, and that too by a comfortable margin!
As the session progressed, something became very obvious- we could likely see quite a few favourites eliminated in Q1 itself, and this doubt was not just a random thought! The clock struck zero, and with it took Tsunoda, both Astons, a rather surprising Ricciardo and Latifi as well. Tsunoda had a laptime deleted for track limits, and missed out on Q2 by the smallest of margins. It was a shocker for Ricciardo though in 18th, while Hulkenberg outqualified Stroll despite only having driven the car for a grand total of approximately 2 hours prior to qualifying!
🏁 ELIMINATED: Q1 🏁

Tsunoda
Hulkenberg
Ricciardo (📸)
Stroll
Latifi#BahrainGP #F1 pic.twitter.com/DxPj688oEC

— Formula 1 (@F1) March 19, 2022
Q2
Q2 was also a straightforward session for the most part, though Max was in control of the session right after he completed his fast lap. All the drivers set their laps, and Alex Albon got the track to himself to complete his one flying lap which netted him an eventual P14 as he did not come out again to improve his time, though he was quite content with the lap as he thanked the team over the radio.
The timer struck zero, and rookie Zhou made a mistake and ended up 15th. Ahead of him was Albon, but the shock was seeing Lando Norris eliminated and finish the session P13. Mick Schumacher's first timed lap took him to P12, the German making a mistake on his final hot lap which ruined his chances of a maiden Q3 appearance. It was happiness followed by immediate sadness for Esteban Ocon, who dropped down to P11 thanks to fellow countryman Gasly setting a great lap at the end of Q2 to get into Q3.
ELIMINATED: Q2

Ocon
Schumacher
Norris
Albon
Zhou

Pierre Gasly squeaks through with the last lap of the session 👏#BahrainGP #F1 pic.twitter.com/IHjWi88VwP

— Formula 1 (@F1) March 19, 2022
Q3
The session which matters the most was no different here! The early pace in Q3 indicated that Ferrari had a lot going for them, as they were 1-2 in the early part of the session thanks to Sainz setting a great lap to provisionally go P1 ahead of teammate Leclerc in P2.
At the drop of the flag, we saw something we usually don't see- Ferrari back on top! The Italian outfit bagged a fantastic P1 and P3 thanks to Charles Leclerc setting a fantastic lap to take the 10th pole position of his career, while Sainz finished P3 after Verstappen pipped him at the end of the session to nab P2 off the Spaniard, though the top 3 were covered by just under 0.13 seconds! Perez was a quiet fourth for Red Bull.
Just 0.129s between our top three in qualifying 🤯#BahrainGP #F1 pic.twitter.com/zhyI9sqbgW

— Formula 1 (@F1) March 19, 2022
Lewis Hamilton was P5 but almost 3 quarters of a second behind pole man Leclerc, and was followed by teammate Bottas in the Mercedes ex-teammate Bottas in the Alfa Romeo in P6, a stellar lap by the Finn in his first outing for the Swiss outfit! And by the way, he out qualified the upcoming talent george Russell who replaced him at Mercedes. An Alfa Romeo outqualifying a Mercedes. Boy did we miss Formula 1!
All rise to praise Kevin Magnussen, for he brought Haas back into Q3 for the first time since way back in 2019, a mega effort by the Dane! Fernando Alonso took eighth, while Mercedes new boy Russell was a very disappointing 9th the Briton will certainly be looking to do better tomorrow, while Pierre Gasly rounded off the top 10. Another extremely amusing fact is that Nico Hulkenberg, who literally jumped into the Aston in a few hours' notice, who doesn't even have a graphical image for F1 to display yet, outqualified Lance Stroll who literally owns the team indirectly and has been driving for a few years now in the same team. Hmm.
[toggle title="Qualifying Timings, Bahrain 2022" state="close"]
POS
DRIVER
Q1
Q2
Q3
1
16
 
FERRARI
1:31.471
1:30.932
1:30.558
15
2
1
 
RED BULL RACING RBPT
1:31.785
1:30.757
1:30.681
14
3
55
 
FERRARI
1:31.567
1:30.787
1:30.687
15
4
11
 
RED BULL RACING RBPT
1:32.311
1:31.008
1:30.921
18
5
44
 
MERCEDES
1:32.285
1:31.048
1:31.238
17
6
77
 
ALFA ROMEO FERRARI
1:31.919
1:31.717
1:31.560
15
7
20
 
HAAS FERRARI
1:31.955
1:31.461
1:31.808
12
8
14
 
ALPINE RENAULT
1:32.346
1:31.621
1:32.195
14
9
63
 
MERCEDES
1:32.269
1:31.252
1:32.216
17
10
10
 
ALPHATAURI RBPT
1:32.096
1:31.635
1:32.338
21
11
31
 
ALPINE RENAULT
1:32.041
1:31.782
12
12
47
 
HAAS FERRARI
1:32.380
1:31.998
11
13
4
 
MCLAREN MERCEDES
1:32.239
1:32.008
14
14
23
 
WILLIAMS MERCEDES
1:32.726
1:32.664
13
15
24
 
ALFA ROMEO FERRARI
1:32.493
1:33.543
12
16
22
 
ALPHATAURI RBPT
1:32.750
8
17
27
 
ASTON MARTIN ARAMCO MERCEDES
1:32.777
6
18
3
 
MCLAREN MERCEDES
1:32.945
8
19
18
 
ASTON MARTIN ARAMCO MERCEDES
1:33.032
6
20
6
 
WILLIAMS MERCEDES
1:33.634
8
[/toggle]
Conclusion
Well, that was an eventful day to say the least! If someone would've told you that a Haas would outqualify a Mercedes in qualifying yesterday or even today morning, you might've laughed at them but it is exactly what has happened- and Kevin certainly deserves a standing ovation. Someone else who deserves praise is Hulkenberg- going from couch to cockpit and having minimal run time, yet still outqualifying his teammate who had much more running than him- a stellar effort indeed.
Bottas was also no slouch, dragging the Alfa to P6 and starting alongside ex-teammate Hamilton. It is the best example of an "In your face!" by the Finn as he showed that given the chance to lead, he can really step up and take charge. Did you miss Lewis and Valtteri greeting each other after quali? I am aching to see Lewis and valtteri start next to each other without being teammates. As was clear from this session, it is not easy being Lewis' teammate. By no means is Russell underperforming, the pressure in a top team is getting to him. Vallteri's teammate Zhou also did well on his F1 debut despite what it seems on paper, as he did drive the car into Q2 on merit, a decent debut from the Chinese driver and confirmation that Alfa really do have pace.
McLaren and Mercedes seem to be struggling the most as of right now, with Ricciardo languishing down in a miserable 18th place while teammate Lando is in P13, a drastic step down from last year. Mercedes weren't running away either, as they qualified 5th and 9th only, a drastic step down from the absolute domination they've shown every year from 2014-2021- but you can be rest assured that they will come back fighting. The tables can turn just that quickly in Formula 1.
The storylines are many, but we can't be fawning over the amazingness of this qualifying session forever, can we? With the new tyre rules it will be very interesting to see which tyres the teams and drivers choose to start the race on. Strategy will be crucial given how close-knit these cars are so let's wait for tomorrow to find out who takes the top prize home from Bahrain! Who knows, as with how unpredictable this season could be, we could be in for an absolute thriller tomorrow!