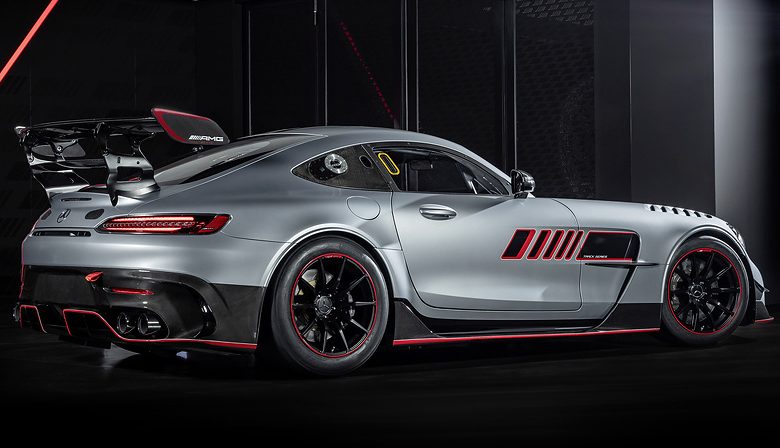 AMG, Mercedes' performance sub-brand turns 55 this year, and what better way to celebrate it than to launch the most powerful sportscar in the company's history? The car in question is the AMG GT Track Series, and ooh boy does it look absolutely stunning!
Building upon the foundations of the already established "Black" series, the Track Series uses the same engine though increases the power output to 734HP/850NM of power from the 4.0L V8 biturbo engine. This gain in power is enhanced further thanks to the Hewland 6-speed sequential gearbox which has adjustable differential transfer, while the suspension is individually adjustable for elements like ride height, roll-bars, dampers and more.
Most of the elements of the car are made of carbon fiber, such as the bonnet, wings, sills, back door and rear apron which all improve the car's driveability and bring the kerb weight down to a mere 1440KG. The front grille ensures optimum air flow, while the front splitter increases downforce. The car rides on 18″ rims, and has special MANUFAKTUR design elements with shades of anthracite and red, which is inspired by the Mercedes F1 car's colour scheme.
[tie_slideshow]
[tie_slide]
[/tie_slide]
[tie_slide]
[/tie_slide]
[tie_slide]
[/tie_slide]
[tie_slide]
[/tie_slide]
[tie_slide]
[/tie_slide]
[/tie_slideshow]
It gets more serious on the inside, as we get to see a chassis with a roll cage, and also a 5-point safety harness to keep the driver strapped in as they approach warp speed! There is little in the way of infotainment and entertainment- and the steering wheel isn't technically a wheel at all… it's a yoke! The stripped-down nature of the interior is specific so as to save weight, while the car is incredibly safe as well (FIA-certified safe!)
[tie_slideshow]
[tie_slide]
[/tie_slide]
[tie_slide]
[/tie_slide]
[tie_slide]
[/tie_slide]
[/tie_slideshow]
Only 55 units will be made, and the barrier for entry starts at a "mere" €369,000 plus VAT, and each model will have an embossed plaque in it signifying the uniqueness of the model. Mercedes is also giving owners the option to learn the technical details of the car prior to delivery and even arrange for special track days with individual engineer support and a dedicated service hotline, a privilege usually reserved only for Mercedes' motorsport and customer teams! For all I know, this service alone is worth $100k considering Mercedes have been the Constructors champion for 8 consecutive years in Formula 1. As far as exclusives go, this is certainly one of the most exclusive treatments any customer can get in the world- and for good reason as well.