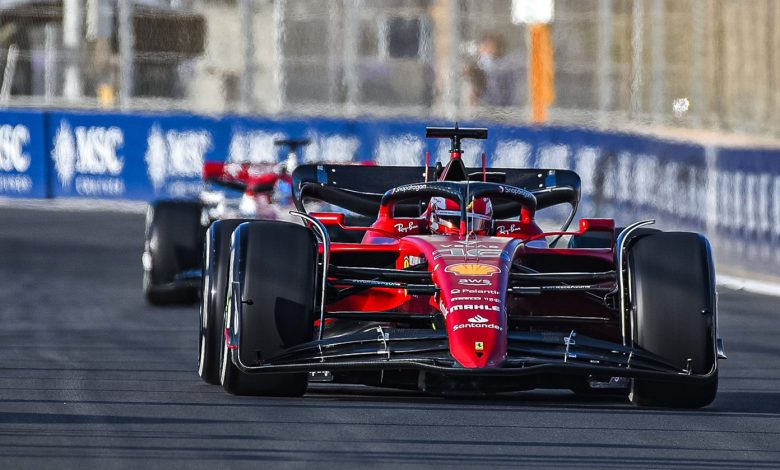 F1 is back in Saudi Arabia after just a 4-month break, and the teams and drivers have been pushing the limits over and beyond on Friday! We saw innumerable lockups, a few scrapes with the wall, mistakes and quite a few car issues, though there was a much more serious problem plaguing the teams and drivers' safety at the fast-paced Jeddah circuit.
Eagle-eyed viewers would have caught the sight of plumes of smoke billowing near the track, and that is because the Aramco oil depot near the circuit was on fire. No, that's not the story line of a bad movie, it is exactly what happened! The teams and drivers met after FP1 to discuss what the course of action should be moving forward, and all had unanimously decided to carry on with FP2. In fact, Formula 1 CEO Stefano Domenicali stated that the Saudi Arabia Grand Prix will go ahead after there was an attack at a nearby oil depot. He further stated they have received "total assurance" about safety from authorities. FIA president Mohammed Ben Sulayem has further stated they have received assurance from authorities to go ahead with the GP and that the rebels are not targeting them.
FP1
FP1 was the first time the new-for-2022 cars took to the Saudi Arabian street track of Jeddah, and it was the very first time that Kevin Magnussen and Nico Hulkenberg drove an F1 car around here, and while Guanyu Zhou has driven here last year in F2 he also drove an F1 car around these streets for the first time today.
We saw innumerable lockups at the final corner, as drivers had their laps ruined due to pushing a bit too much and overstepping the limit in the process. Kevin Magnussen had an early end to the session after car issues curtailed his running, and he was forced to sit out the entirety of FP1.
We had our first red flag of the session, as debris was scattered around Turn 1. It was later revealed through replays that Lando Norris had collided with the 50m board approaching Turn 1, and scattered pieces of it all around the track. Cleanup crews quickly removed the debris, and the session resumed, though nothing of note happened henceforth.
The session ended with Bahrain GP winner Charles Leclerc on top, followed by 2021 world champion Max Verstappen in P2. Bottas had a fantastic showing to end the session, while ex-teammate Hamilton finished the session a lowly 9th. Both Alpines and AlphaTauri cars were in the top 10, a great showing by them.
It was an incredibly disappointing session for Haas, who finished the session bottom of the pile much akin to how they did last year. George Russell was a lowly 14th, while Nico Hulkenberg on his first outing around the Jeddah Corniche Circuit went 16th.
FP2
FP2 began under the lights, though we had a flurry of drivers face issues with their cars at random. Some lost power, some had hydraulic issues and some even hit the wall during their fast laps! Drivers seem to be sliding around a lot, which suggests that putting the power down in these cars isn't as easy as it seems to be.
Kevin Magnussen just can't catch a break here, having yet another issue which forced him to stop on track! It brought out the red flag, and yet again restricted his running. The Ferrari duo both got a bit too affectionate with the wall, with Charles' touch ending his session early.
Lewis had issues with his seat, and asked for it to be changed in between the session. McLaren had a better showing this time out, with Lando Norris 7th though Ricciardo was still languishing in 15th. AlphaTauri's pace wasn't quite up to the mark of their FP1 performance while Mick Schumacher was an encouraging 13th for Haas.
Kevin has clearly covered the least mileage today, while Aston were struggling yet again. Williams don't look any better, finishing 18th and 19th at the end of the session. Yet again, Ferrari look strong though Max seems to have something in the bag which if he unlocks the potential he could be in for a good result this weekend.
In Conclusion
Putting performance aside, it has been quite a day for F1 today. Choosing to continue to be in a nation which is technically at war isn't the best look for F1 under any circumstances. Although it was said by FIA President that the track is the safest place to be and has been assured of the safety of the F1 guests by the local police and authorities. RedBull and Mercedes team bosses also reiterated that it was a unanimous decision to continue with the GP after having assurances from the authorities.
FIA boss Mohammed Ben Sulayem and F1 boss Stefano Domenicali confirmed to the F1 paddock and to viewers that these attacks were common, and that they had talked with local security forces and officials, and going as per their statements the race weekend will carry on as usual. The only unusual part is neither F1 nor its teams ever confirmed via social media that there has been a fire at an oil depot near the Jeddah circuit caused by the rebels. The race weekend is a go as the drivers had a meeting of their own till about 0100 HRS of the Saturday morning.