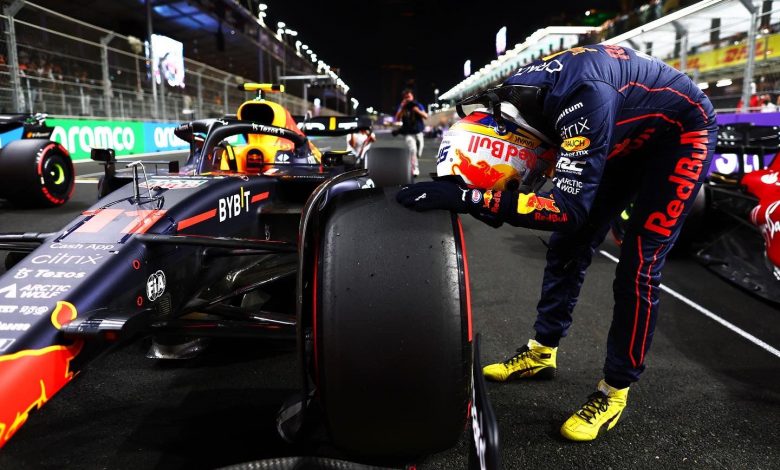 Sergio Perez has just taken the first pole position of his F1 career, and all of Mexico has certainly erupted into joyous celebration! The Red Bull driver had to wait 215 races to achieve his maiden pole position, and it just goes to show that perseverance always pays off! As Sebastian Vettel did last year, we wish Checo "Feliz Navidad" on this pole position- it was certainly a fantastic effort by the Mexican!
The qualifying session wasn't without controversy though we had two red flags and the truly unsafe nature of the track came to light in qualifying. Mick's crash sent shivers down the spine and we are so incredibly happy to report that he is alright and safe. Although, it was confirmed that Mick will not be racing. Formula 1 is facing heavy backlash for racing here especially given the current conditions. Cash is king has had a whole new meaning this weekend.
Q1
Q1 began under the lights, and the drivers all filed out one after the other to set their banker laps. A few drivers had set their laps, though as the Ferrari pair were about to finish their laps, we saw double waved yellows in Sector 2, and then a subsequent red flag due to Nicholas Latifi crashing heavily into the barriers at Turn 13.
His crash was a violent but unique one. He lost the back end at the steeply banked Turn 13 and hit the wall, before ending up at the marshal post. He was thankfully unhurt, but the red flag was put out to clear his car and repair parts of the track which had been damaged. One of the worst parts about this track is its width and the scarcity of run off areas. A crash like that takes at least half an hour to clear and resume the sessions.
Upon resumption of the session, Carlos Sainz shot up to P1 though it was game over for Tsunoda, the Japanese rookie having to sit out Q1 due to an issue with fuel. This felt complete now since he was the only RedBull driver to not retire at Bahrain due to the fuel issue. But, the biggest news story was that SIR LEWIS HAMILTON was out of Q1. That is the headline news for the weekend, most certainly! It was apparent that his car's setup was different than Russell as he was swerving around with the medium tyres but P16, being outqualified by Lance Stroll was a shocker. Lewis got strolled! He will certainly be fighting back guns blazing, but such an early exit was enough to have the entire paddock stunned and dumbfounded. Moreover, unless Mercedes really have Dr. Strange with them, I don't see how Lewis can fight back with an almost undriveable car.
❌ ELIMINATED FROM Q1 ❌

Hamilton 📸
Albon
Hulkenberg
Latifi
Tsunoda #SaudiArabianGP #F1 pic.twitter.com/XRjPqmjArx

— Formula 1 (@F1) March 26, 2022
The 7-time world champ had a terrible session, not being able to extract anything out of the car. It was his first Q1 elimination since way back in Brazil 2017, and his first Q1 elimination on pure pace since waaaaay back at Silverstone 2009! He was joined in the elimination zone by Nico Hulkenberg, both the Williams and Tsunoda.
Q2
Q2 was going pretty straightforward as drivers set their lap times and were coming out onto the track to do their second runs. Mick Schumacher in the Haas passed the Ferrari duo of Leclerc and Sainz, and set out to do his hot lap when the tragedy struck. We had our first major crash of 2022, and it was a heart-stopping moment as Schumacher's VF-22 slammed into the wall at speeds upwards of 200kph, and then ricocheted off the wall it made contact with to hit the wall on the opposite side, the Haas car in tatters.
The session was red-flagged immediately, and cars returned to the pits. The Medical Car and ambulance both reached the scene in no time, and got to tending to Mick immediately. Charles Leclerc checked if Mick was alright passing him by. We had to wait almost an entire hour, as the track was cleared up and prepped up for the remaining 5 minutes of Q2. With great relief we can say that Mick is fine and well, but he will not be racing tomorrow as Haas confirmed that they would run only one car tomorrow. It really goes to show the terrible design of the Saudi circuit and just how truly unsafe it is.
Mick Schumacher will miss the Saudi Arabian GP after a huge accident in qualifying.

That Mick is physically well after the crash is another reminder of the strength and safety of modern F1 cars for which we are incredibly thankful#SaudiArabianGP #F1 pic.twitter.com/qhLcw0elb7

— Formula 1 (@F1) March 26, 2022
❌ ELIMINATED FROM Q2 ❌

Norris
Ricciardo 📸
Zhou
Schumacher
Stroll#SaudiArabianGP #F1 pic.twitter.com/M1FRMc6oBc

— Formula 1 (@F1) March 26, 2022
Regardless, Q2 went on. The drivers all set their final laps, and at the end it was the McLaren duo, Zhou, Schumacher and Stroll who were eliminated from the running, as the Ferraris looked strong yet again. All focus and thoughts shifted to Mick, who was at this point in transit to the nearby hospital. Daniel Ricciardo received a 3-place grid penalty for impeding ex-teammate Ocon while the Frenchman was on a hot lap, and the Aussie has received an additional 10,000 euro fine and one penalty point on his licence for the same.
Q3
Despite such a dramatic Q2, Q3 proceeded on forth. Carlos Sainz had a fantastic lap on worn softs and took provisional pole, with teammate Leclerc not far behind. Sergio Perez slotted into a provisional P3, while reigning champion Max Verstappen could only manage P6 on his first run.
On their second runs, the Ferrari duo had contrasting fortunes- Charles Leclerc improved and went up into P1, while Sainz had a bad lap and finished the session P2. Then, out of nowhere Checo Perez stormed up to the line to steal pole from the Monegasque driver, by a margin of just 0.025 seconds- the closest finish to qualifying here in Saudi Arabia! Verstappen could only manage P4, not finding the grip he so dearly wanted on his fresh rubber.
George Russell squeezed out P6 from his W13, while Esteban Ocon was a fantastic P5 at the end. Fernando Alonso took P7, Valtteri Bottas made it 103 consecutive Q3 appearances in a row with his P8 while Pierre Gasly and Kevin Magnussen rounded off the grid with P9 and P10 respectively. Bottas is now just behind Alain Prost and Ayrton Senna with his 103 consecutive Q3 appearances!
[toggle title="Qualifying Timings, Saudi Arabia 2022″ state="close"]
POS
DRIVER
Q1
Q2
Q3
1
11
 
RED BULL RACING RBPT
1:29.705
1:28.924
1:28.200
20
2
16
 
FERRARI
1:29.039
1:28.780
1:28.225
22
3
55
 
FERRARI
1:28.855
1:28.686
1:28.402
23
4
1
 
RED BULL RACING RBPT
1:28.928
1:28.945
1:28.461
22
5
31
 
ALPINE RENAULT
1:30.093
1:29.584
1:29.068
19
6
63
 
MERCEDES
1:29.680
1:29.618
1:29.104
21
7
14
 
ALPINE RENAULT
1:29.978
1:29.295
1:29.147
20
8
77
 
ALFA ROMEO FERRARI
1:29.683
1:29.404
1:29.183
22
9
10
 
ALPHATAURI RBPT
1:29.891
1:29.418
1:29.254
22
10
20
 
HAAS FERRARI
1:29.831
1:29.546
1:29.588
24
11
4
 
MCLAREN MERCEDES
1:29.957
1:29.651
16
12
3
 
MCLAREN MERCEDES
1:30.009
1:29.773
17
13
24
 
ALFA ROMEO FERRARI
1:29.978
1:29.819
17
14
47
 
HAAS FERRARI
1:30.167
1:29.920
13
15
18
 
ASTON MARTIN ARAMCO MERCEDES
1:30.256
1:31.009
15
16
44
 
MERCEDES
1:30.343
11
17
23
 
WILLIAMS MERCEDES
1:30.492
9
18
27
 
ASTON MARTIN ARAMCO MERCEDES
1:30.543
10
19
6
 
WILLIAMS MERCEDES
1:31.817
4
NC
22
 
ALPHATAURI RBPT
DNS
2
[/toggle]
Conclusion
It was an incredibly dramatic and emotional day, with two massive crashes, a headliner getting knocked out in Q1 and an unexpected driver taking pole position! The drama was present up and down the field, as we had multiple shake-ups, though the main talk has to be about how unsafe the Saudi track really is.
Yesterday and today was filled with drivers struggling to keep the car under control on this incredibly unsafe track, where the wall comes quicker at the drivers than the 2019 Ferrari engine on the straights! How and why F1 chooses to race at a venue like this is unbelievable, and just goes to show how low F1 is willing to stoop just to earn a tidy profit.
It was sunshine for Perez though- his first ever pole position came after what was the longest wait in F1 history to date. He is not usually the best qualifier, but has outqualified world champion teammate Verstappen and also the supremely rapid Ferrari cars to have the best seat in the house for tomorrow. Where will he end up? Don't miss tomorrow's race, for it will certainly be one to not be missed!