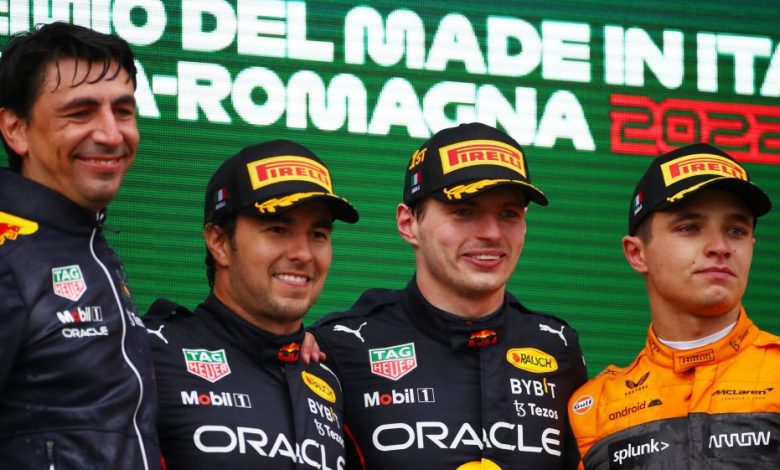 Max Verstappen took a flawless victory at the Imola circuit right as the tifosi witnessed one of the worst Ferrari races of this season. A slight shunt from Daniel Ricciardo ended luckless Carlos Sainz's second race in a row. George Russell grabbed massive points finishing P4 as Lando Norris stood on the podium for the second consecutive year at Imola. There was much more than that so, without further ado let's get into it!
The first phase
All the drivers started on the grid on the inters with two main focus points on the grid. The top four and P11-14. The top 4 was a battling start between RedBull and Ferrari while P11-14 involved some top mid-fielders and Mercedes' Russell and Hamilton. It was a bad start for both the Ferrari drivers as Checo quickly took away P2 from Leclerc who was then hunted down by Lando Norris right on his tail with a brilliant start overtaking his ex-teammate Carlos Sainz. Amids the flare-like water splashes emerged a chaotic end to Carlos Sainz second race in a row as an unintentional slippery shunt from Daniel spun him around putting him on the gravel… beached!
This incident quickly got in a safety car and the field was supposed to be bunched up back again giving those who had a bad start, a restart! With Verstappen protected by the minister of defence Sergio Perez, Leclerc couldn't do much. It was George Russell who took major advantage from all the chaos and shifted five places up into P6. His battle with Bottas got him into P5 eventually leading him to P4 owing to a late mistake by Leclerc. Lewis Hamilton on the other hand had "a weekend to forget" as he finished P13. Lewis had a terrible start and was stuck behind Lance Stroll at P12. He'd soon then get into P11 right as lap 19 came by and Daniel shifted to medium tires initiating a train of pit stops.
The pit stops and top drives
If you're someone who believes in destiny, I have a theory for you. Lewis Hamilton must have lost some good luck charm since the 2021 Abu Dhabi GP as it has been nothing but downhill for him ever since. Most of it has to do with luck and a lot of that bad luck involves safety cars. It wasn't a safety car that got him today though, it was Esteban Ocon. A really really unsafe release from the Alpine team along with a terrible 4.9s pit stop from Mercedes saw Lewis join the grid behind Gasly in P14. Moreover, there was no DRS available during the majority of the race so the scope for a Mercedes overtaking was scarce.
This was a DRS train and the wildly bouncing W13 of Lewis had no shot of shooting past the Alpha Tauri. Nevertheless, it simply cannot be stated that the Mercedes car was fully at fault. Sure Mercedes is experimenting more with Lewis' setups because he is the experienced one but, Lewis just didn't seem to be the one we all remember from Silverstone or Brazil or Abu Dhabi last year. He was an average driver for the day and his post race comment about him being out of the championship reflected it even more.
Maybe Verstappen and Perez lapping him put the final nail in the coffin. Or was it Alex Albon in a Williams overtaking Lewis Hamilton in a Mercedes? This was a very similar drive to the 2021 Monaco GP and therefore, don't write off Hamilton just yet. If the car sees an improvement by Barcelona, Hamilton will not make it easy for either RedBull or Ferrari and who knows, maybe have the most unexpected and dramatic world championship titles in history by making history with an 8th title!
George Russell on the other hand drove impeccably. His car had an understeer issue due to a fault before the start of the race and he had to drive an understeering W13. He maintained that at P4 and earned our driver of the day award for sure. George's experience with Williams has surely put him in a better place in handling an underperforming car better. At Imola, George was simply better than Lewis and is currently one of the most underrated drivers on the grid.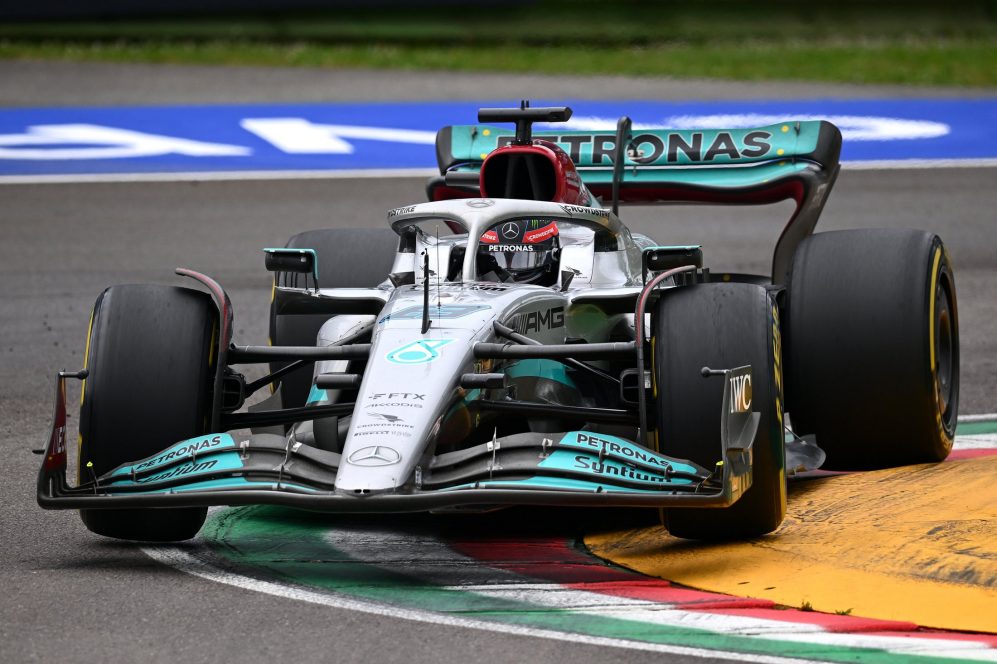 Talking of top-class drivers, Lando Norris gave the top dogs a serious run for their money as he finished on the podium. Alex Albon was also a top of the class driver today. Albon's solid showing put him 11th, ahead of AlphaTauri's Pierre Gasly – who couldn't pry his way past even with DRS activated from Lap 34. Moreover, K.Mag yet again proved why he belongs in F1 and is deserving of a good seat now that he is constantly putting the Haas in points. His battle with Russell was not of a midfield or backmarker car and so have they been all along. In my opinion, K. Mag is currently better than Daniel Ricciardo and should at least have a shot at one of those top seats!
Sergio Perez too was on his usual high octane defensive self. No matter how much Leclerc tried, Perez was not going to concede and he didn't. It was over-eagerness and a little lack of experience from Leclerc trying to cut and spun and tapped the wall at Variante Alta on Lap 53. He then fell down to P9 and recovered to a disappointing P6. This was not a good weekend for the tifosi!
But, it was the phenomenal champion's drive by Max Verstappen that got everyone's praise. He secured the first grand slam of the sprint race weekend meaning he sat on pole for the qualifying for sprint, grabbed P1 from Leclerc in the Sprint quali AND finished the race P1 along with the fastest lap. This was a dream weekend for RedBull who look to be in the form they had back in Sebastian Vettel days.
Talking of Sebastian, Vettel put what was an undriveable Aston Martin into P8 as his teammate secured P10 rounding of a double points finish for the team who are apparently looking to sell to Audi. Here are the final standings:
| | | | | | | |
| --- | --- | --- | --- | --- | --- | --- |
| Pos | Driver No. | Driver Name | Team | Laps | Time/Retired | PTS |
| 1 | 1 | Max Verstappen | Red Bull Racing RBPT | 63 | 1:32:07.986 | 26 |
| 2 | 11 | Sergio Perez | Red Bull Racing RBPT | 63 | +16.527s | 18 |
| 3 | 4 | Lando Norris | McLaren Mercedes | 63 | +34.834s | 15 |
| 4 | 63 | George Russell | Mercedes | 63 | +42.506s | 12 |
| 5 | 77 | Valtteri Bottas | Alfa Romeo Ferrari | 63 | +43.181s | 10 |
| 6 | 16 | Charles Leclerc | Ferrari | 63 | +56.072s | 8 |
| 7 | 22 | Yuki Tsunoda | AlphaTauri RBPT | 63 | +61.110s | 6 |
| 8 | 5 | Sebastian Vettel | Aston Martin Aramco Mercedes | 63 | +70.892s | 4 |
| 9 | 20 | Kevin Magnussen | Haas Ferrari | 63 | +75.260s | 2 |
| 10 | 18 | Lance Stroll | Aston Martin Aramco Mercedes | 62 | +1lap | 1 |
| 11 | 23 | Alexander Albon | Williams Mercedes | 62 | +1lap | 0 |
| 12 | 10 | Pierre Gasly | AlphaTauri RBPT | 62 | +1lap | 0 |
| 13 | 44 | Lewis Hamilton | Mercedes | 62 | +1lap | 0 |
| 14 | 31 | Esteban Ocon | Alpine Renault | 62 | +1lap | 0 |
| 15 | 24 | Zhou Guanyu | Alfa Romeo Ferrari | 62 | +1lap | 0 |
| 16 | 6 | Nicholas Latifi | Williams Mercedes | 62 | +1lap | 0 |
| 17 | 47 | Mick Schumacher | Haas Ferrari | 62 | +1lap | 0 |
| 18 | 3 | Daniel Ricciardo | McLaren Mercedes | 62 | +1lap | 0 |
| NC | 14 | Fernando Alonso | Alpine Renault | 6 | DNF | 0 |
| NC | 55 | Carlos Sainz | Ferrari | 0 | DNF | 0 |