Formula 1
Verstappen takes his first pole in 2022 at Imola! FP1 and Qualifying highlights
A damp and wet Imola saw driver errors aplenty, crashes and red flags, and they all culminated with reigning champion Max Verstappen taking his first pole position of the season.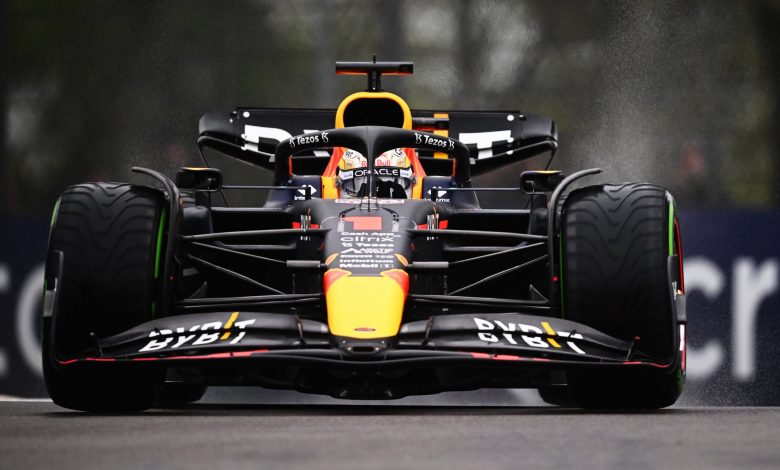 Friday at Imola was an entertaining one, as both FP1 and Qualifying for Sprint were being held today. Back in their home country, Ferrari and AlphaTauri have had a mixed start to their weekend, while rival teams have either had a very good Friday or a very bad one! So, without any further ado, here's the rundown from Friday at Imola.
FP1
FP1 started in wet conditions, meaning that it was the first time we saw the 2022 cars in wet weather. The Turn 14-15 chicane was straight-lined by almost every driver as they all struggled to cope with the conditions. Nearly every driver spun, however championship leader Leclerc was the first one to spin which just went to show how treacherous the conditions were.
The track slowly evolved from wet tyres to intermediate tyres, but the drivers all still had difficulties keeping it on track. The gravel trap and grass run off made light work of many drivers, as those who pushed a bit too far beyond the limits found themselves in it. Traffic was also a concern, as a few drivers were impeded by others on slow laps who did not move or moved at the wrong time- though thankfully there were no crashes.
Our first practice session in Imola was….eventful! 😅#ImolaGP #F1 pic.twitter.com/xVp3L2WPbt

— Formula 1 (@F1) April 22, 2022
Lando Norris then had a moment at Acque Minerali and seemingly beached his car in the gravel and the Red Flag was brought out. However, when he rejoined the track soon after, it came off as being a hastily-timed red flag, and the session was set to resume with just a few minutes left. The turn was not any less forgiving though, as Valtteri Bottas had a very similar incident, which brought out the session-ending Red Flag. A Ferrari 1-2 was the result, and the gap between Leclerc and last place man Latifi was over 10 seconds!
Qualifying
Q1
Qualifying started with a damp track, with drivers and teams being split over their choice of tyre strategy. Many drivers came out on the intermediate tyres, only to complain that the track got too dry and that setting a time on the inters made little sense. They all peeled into the garage to pop on a pair of slick tyres.
A few minutes went by, as drivers familiarised themselves with the track surface and slick tyre combination, and slowly started setting fast laps. However, Alex Albon's Williams went no further than 12 minutes into the session, as his rear brake went up in flames, and exploded as he approached the Turn 14-15 chicane. The Red Flag was brought out to clear the debris, however Alex's day was over.
A dramatic end to Alex Albon's qualifying 😮#ImolaGP #F1 pic.twitter.com/CRAbCUVUHI

— Formula 1 (@F1) April 22, 2022
At the restart, times tumbled and the name at the top of the leaderboard kept changing, with drivers trading P1 on the regular. In the end however, both AlphaTauri cars, Latifi, Ocon and Albon were out. Ocon had a suspected gearbox issue, while Latifi went off onto the grass on his warm up lap, ending his afternoon there. Also, Lewis was P15, a mere 0.004 ahead of P16 man Tsunoda- talk about close calls!
📸 Hamilton finishes P15, and squeaks into Q2

❌ DRIVERS OUT IN Q1 ❌
Tsunoda
Gasly
Latifi
Ocon
Albon #ImolaGP #F1 pic.twitter.com/D5Z5RmIYss

— Formula 1 (@F1) April 22, 2022
Q2
Q2 started with engineers telling the drivers pretty much the same radio message, "You will get one timed lap before the rain is coming," effectively meaning "get on with it." All drivers came out on the soft tyre, and the lap they set early on would pretty much be it as the rain would obviously not let them set competitively fast times. Sainz may have had his Ferrari contract extended just before the weekend – however, the Spaniard went off on his flying lap on the softs, binning it in the wall and ending his and effectively the entire qualifying as the rain arrived, which ended all hopes for drivers to set quicker laps.
Agony for Sainz 😖#ImolaGP #F1 pic.twitter.com/6NtDKdsjdS

— Formula 1 (@F1) April 22, 2022
Both Mercedes cars were out, and this is the first time neither Mercedes reached Q3 for the first time since Japan 2012! For Lewis Hamilton, it seems like his luck shifted tides since the infamous 2021 Abu Dhabi incident. For him, a season like this would be very important considering he is in the last years of his career. George on the other hand is just starting and can wait for another season to be competitive at the top.
Lewis and Toto also had "some discussion" which David Croft was shaping up to be a controversial moment. Nothing serious to our eyes though! McLaren and Aston Martin have picked up a lot in Imola which states that the Mercedes powertrain is not that big of a problem for the Mercedes puzzle. Toto Wolff even stated that their porpoising is so bad they're lifting on the straights! This is after the W13 lost 5 Kgs of weight which is the most of any other team.
Also eliminated in Q2 sadly were Schumacher, Zhou and Stroll who were unable to go fast enough to set a time worthy of the Top 10 on their first flying laps. Aston Martin made it through to Q3 for the first time this season courtesy of Vettel, while Sainz's crash will mean that it will be the second week in a row that he has qualified P10 for a race- let's just hope it goes better for him than it did in Australia!
Q2 CLASSIFICATION #ImolaGP #F1 pic.twitter.com/jSd1ZdjrIE

— Formula 1 (@F1) April 22, 2022
Q3
Q3 began in wet conditions, and every driver came out on the intermediate tyres. As the drivers set their banker laps, Leclerc led from Verstappen by a margin of just 0.020 seconds. However, Kevin Magnussen had a spin quite similar to that which Valtteri Bottas had at the end of FP1, seemingly beaching his car after going into the gravel trap after the fast downhill Acque Minerali, in turn bringing out the Red Flag. He did manage to get going again quickly, but the red flag stood. The stewards seemed to be a bit too trigger happy with the red flags today.
After the resumption, drivers set out to find their footing once again. This time, as Max was on a hot lap yellow flags came out ahead of him- Bottas' Alfa Romeo had stopped by the side of the track before approaching Rivazza due to a crash, and Max was forced to slow down by lifting his foot off the throttle, however he crossed the line nearly 8 tenths quicker than Leclerc had. he Monegasque would certainly have wanted to give a reply for this- however he couldn't, as the red flag was brought out once again! Bottas was seen leaving in the truck after his crash which was adding to the already bizzare quali session. Something to note about the crashes was the drivers not being able to sit within the white lines. A lot of drivers spun out including Fernando Alonso.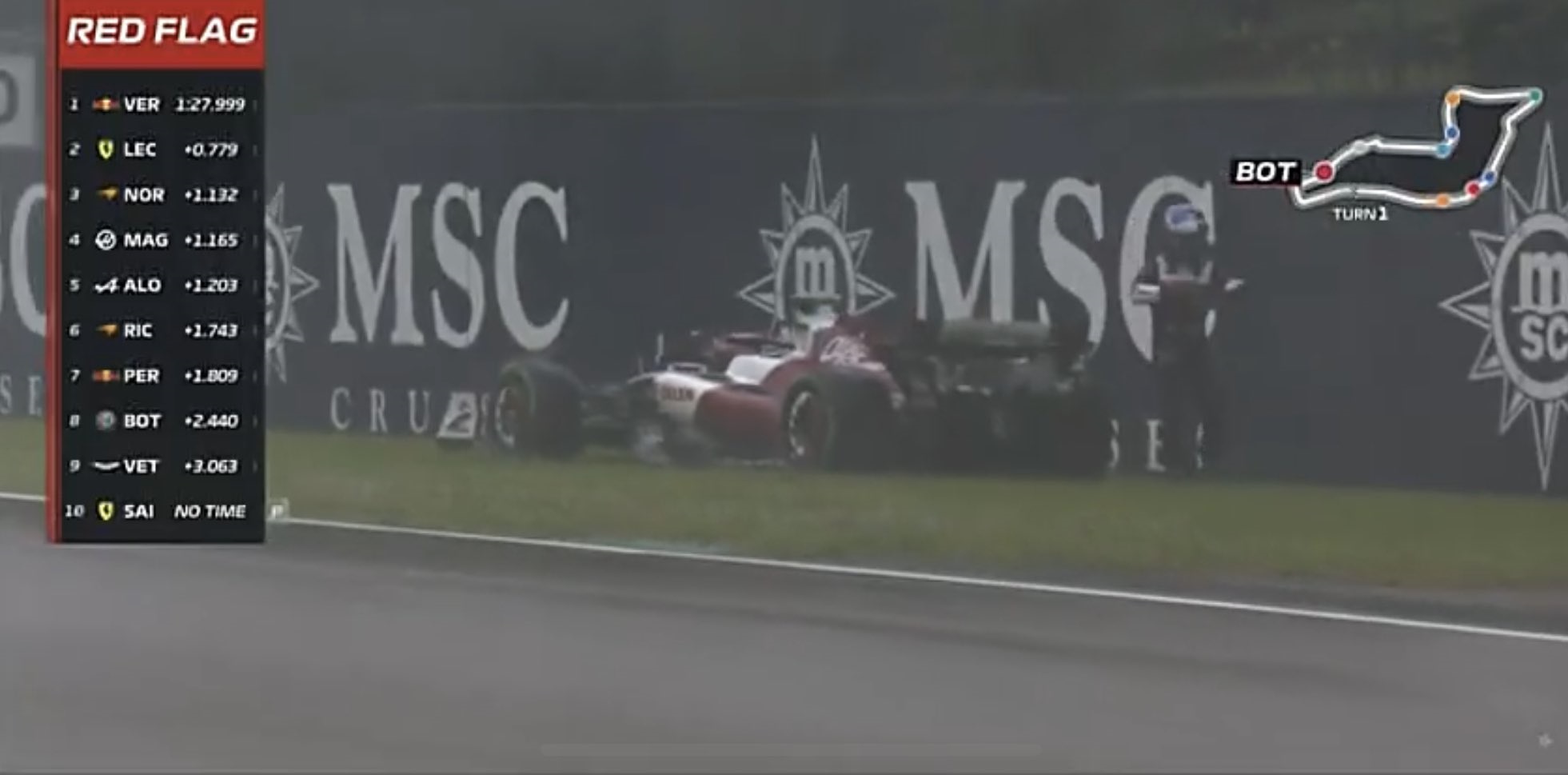 There was this site of Daniel Ricciarrdo topping Q3 for a very brief stint and did seem to be THAT much of a ray of hope for his fans. But, this quickly went away as Norris shined with a P3 lap time and then crashing leaving Daniel on P6 without any hope of recovery thanks to the red flag.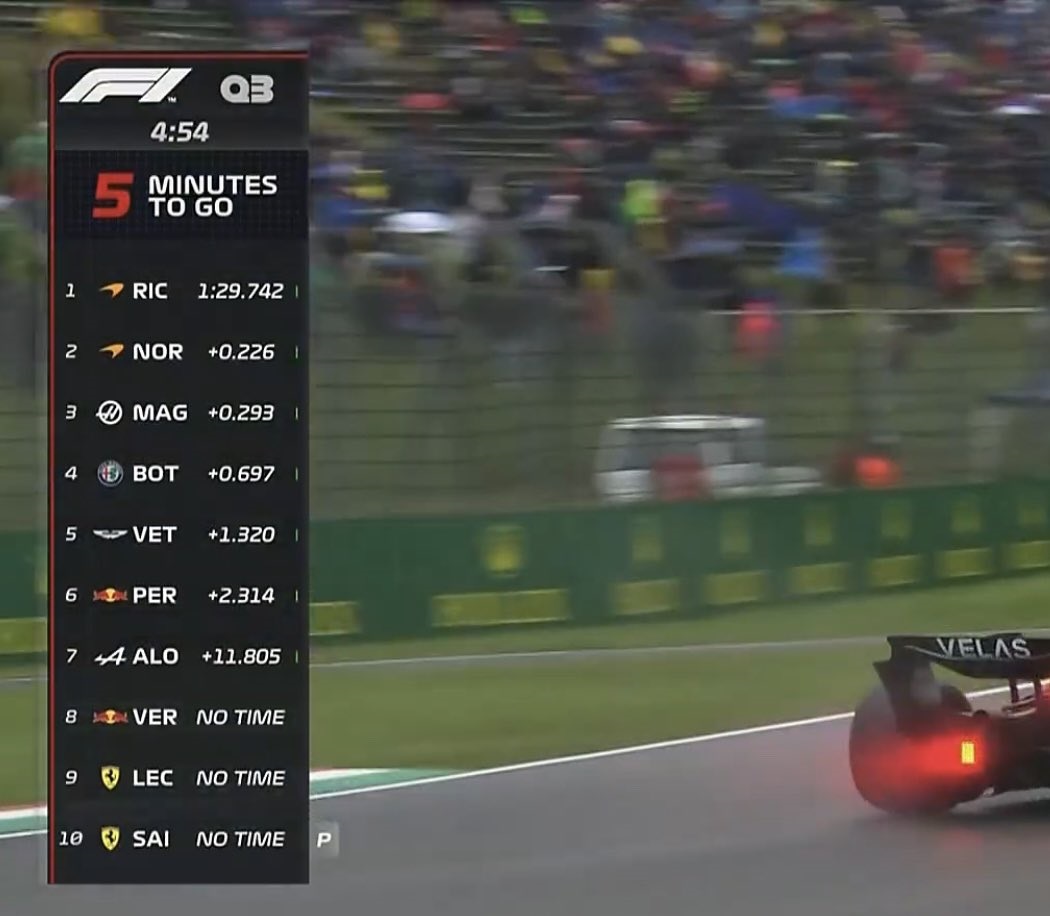 With just under 3 minutes left, it was crucial that drivers would not get time to have a leisurely lap to warm the tyres and such- effectively, it was a one lap dash to the finish. As Max and Charles started their laps, Norris went off at Acque Minerali on his warm up lap, bringing with it yet another red flag and as there was under a minute left at this point, the session ended and gave Max his first pole of 2022.
Max takes his first pole of the season! 🙌#ImolaGP #F1 pic.twitter.com/ku9l7naaT1

— Formula 1 (@F1) April 22, 2022
However, the full result might well shock you, as P3-P6 is pure mayhem and certainly unexpected! Norris secured P3 despite his mishap thanks to his earlier laps, while the Haas of Kevin Magnussen secured the team's best-ever qualifying position with P4! Fernando Alonso was P5, while Daniel Ricciardo took P6. Red Bull's Sergio Perez was 7th, Bottas was in 8th while Vettel ended the session P9 and Sainz was P10. 5 red flags set an F1 record, as a shuffled-up grid takes to the Sprint tomorrow!
[toggle title="2022 Imola Grand Prix: Qualifying Timesheet" state="close"]
POS
DRIVER
Q1
Q2
Q3
1
1
 
RED BULL RACING RBPT
1:19.295
1:18.793
1:27.999
22
2
16
 
FERRARI
1:18.796
1:19.584
1:28.778
22
3
4
 
MCLAREN MERCEDES
1:20.168
1:19.294
1:29.131
22
4
20
 
HAAS FERRARI
1:20.147
1:19.902
1:29.164
21
5
14
 
ALPINE RENAULT
1:20.198
1:19.595
1:29.202
26
6
3
 
MCLAREN MERCEDES
1:19.980
1:20.031
1:29.742
21
7
11
 
RED BULL RACING RBPT
1:19.773
1:19.296
1:29.808
25
8
77
 
ALFA ROMEO FERRARI
1:20.419
1:20.192
1:30.439
23
9
5
 
ASTON MARTIN ARAMCO MERCEDES
1:20.364
1:19.957
1:31.062
25
10
55
 
FERRARI
1:19.305
1:18.990
13
11
63
 
MERCEDES
1:20.383
1:20.757
16
12
47
 
HAAS FERRARI
1:20.422
1:20.916
16
13
44
 
MERCEDES
1:20.470
1:21.138
15
14
24
 
ALFA ROMEO FERRARI
1:19.730
1:21.434
16
15
18
 
ASTON MARTIN ARAMCO MERCEDES
1:20.342
1:28.119
14
16
22
 
ALPHATAURI RBPT
1:20.474
11
17
10
 
ALPHATAURI RBPT
1:20.732
11
18
6
 
WILLIAMS MERCEDES
1:21.971
13
19
31
 
ALPINE RENAULT
1:22.338
9
NC
23
 
WILLIAMS MERCEDES
DNF
3
Q1 107% time – 1:24.311
Note – Albon failed to set a qualifying time and races at stewards' discretion.
[/toggle]
In Conclusion
Rain shook up the F1 paddock today, as drivers and teams battled the elements to set a competitive time in Friday qualifying. Many drivers found the wall, and multiple red flags suggest that the track is challenging and will be challenging still for all the drivers as they battle it out to determine their starting position for Sunday's main race. With points being awarded to the top 8 finishers tomorrow, it will be very interesting to see how tomorrow's Sprint pans out!