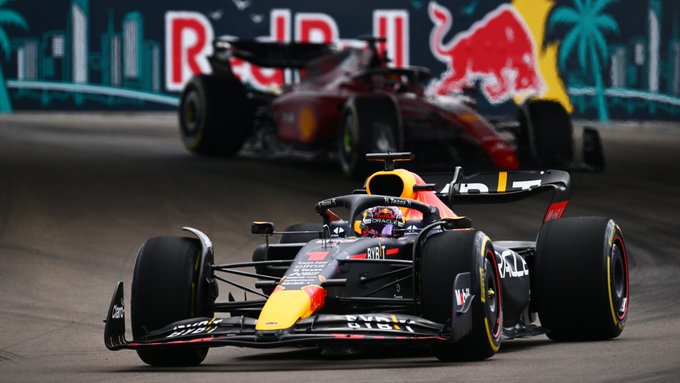 Miami was the host for the 5th round of the 2022 F1 season, though for the most part it was quite a predictable race. The first half of the race was one to forget- however, a flurry of collisions added some spice, and the ending to the race was quite thrilling! Without any further ado, here's the story of the 2022 Miami GP.
The Race Start and Initial Few Laps
Both Aston Martin cars started from the pitlane due to pre-race fuel temperature problems, which was a setback for them as they would've started P10 and P13 had they not encountered said issues. The cars lined up on the grid, as both Ferraris had a clear run down to Turn 1 in front of them. As the 5 lights went out and the race began, Leclerc got a decent start but Sainz didn't and was promptly overtaken by Verstappen around the outside of Turn 1 at the start.
Further back, Alonso made contact with Hamilton's rear-left tyre while Bottas and Gasly had good starts. Hamilton and Alonso were side-by-side, and further back the McLarens were attempting to claw their way into the Top 10. George Russell was on the path of damage limitation, and was the highest-placed runner to start on the hards, though he was 15th by the end of Lap 1.
Aided by DRS, Hamilton got past Alonso on Lap 3 and then a few laps later got past Gasly to get back to his original starting position of 6th. However, the battle for the lead was heating up- Verstappen got within DRS range of Leclerc on Lap 8, and as the duo started Lap 9 Max made a bold move down the inside on the Monegasque to take the lead, and started to pull away in the process as well. He was so dominant, he wouldn't relinquish this lead even after the pitstop phase!
The Ferraris were struggling, and it was obvious. Leclerc had a lockup, losing even more time to Max in the process while Sainz was just steadily falling back, though somehow staying clear of giving DRS to Perez who was chasing down the Spaniard's P3. During all this however, Zhou Guanyu had his first retirement due to mechanical failure and was hence the first retirement of the race.
Stabilisation of the race and pitstop phase
Here's that stage of the race which was a turn-off for most, and it was the mid-phase of the race. Mercedes were on a charge, as Hamilton extended his gap to Gasly behind while Russell was carving his way through the pack. The pitstop phase beckoned, with Alonso and Norris losing out in this due to slow stops. A driver who was able to maintain good pace was Russell who was running as high as 7th, though he hadn't pitted yet.
Up ahead, Max lead comfortably but his teammate was in trouble- Perez complained of having no power via team radio, and even said that he was losing 3 seconds per lap to Sainz ahead. The issue was resolved, but it had cost him useful time. Leclerc and Sainz stopped for fresh tyres, as did Verstappen and Perez though all 4 retained their positions.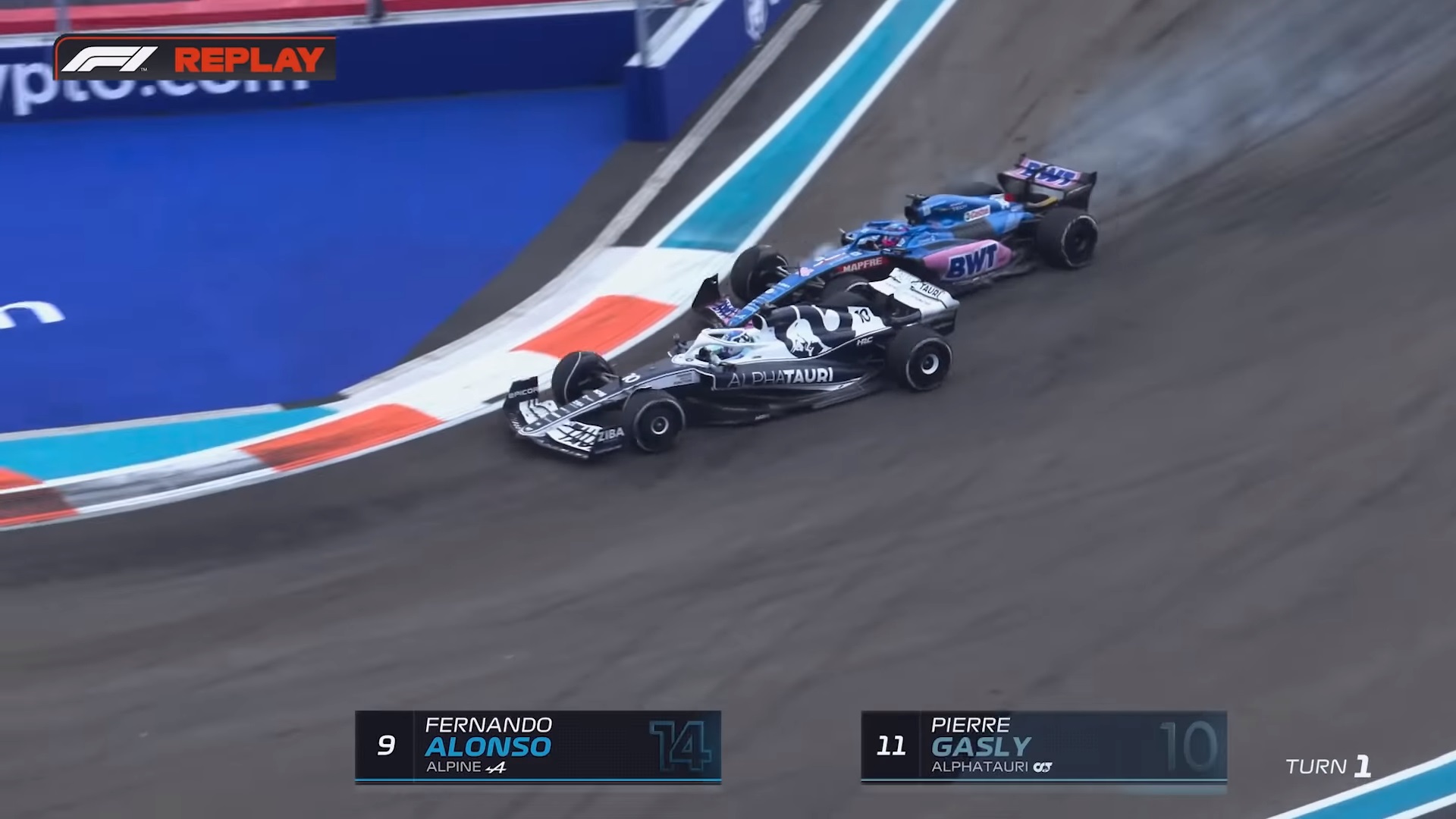 Hamilton had also stopped for fresh hard tyres, and was in P7. Ahead of him was teammate Russell, who was still on the hard tyres he had started the race on, and the young Briton sent an almost prophetic radio message over to his race engineer, saying "Let's wait for a Safety Car or VSC" so as to profit off someone else's misfortunes by not having to lose time in the pits. His friend in the McLaren, Lando Norris did exactly that just a few laps later!
How Lap 39 contact resulted in a Lap 41 Safety Car!
On Lap 39 as Gasly and Alonso approached Turn 1 in that order, Alonso stuck a wheel down the inside and hit Gasly's rear-right side in the process. Alonso would be given a 5-second penalty for this post-race, however Gasly had come off worse. He started falling back at quite an alarmingly rapid pace, and on Lap 41 ran a bit wide at Turn 7, conceding a few places in the process.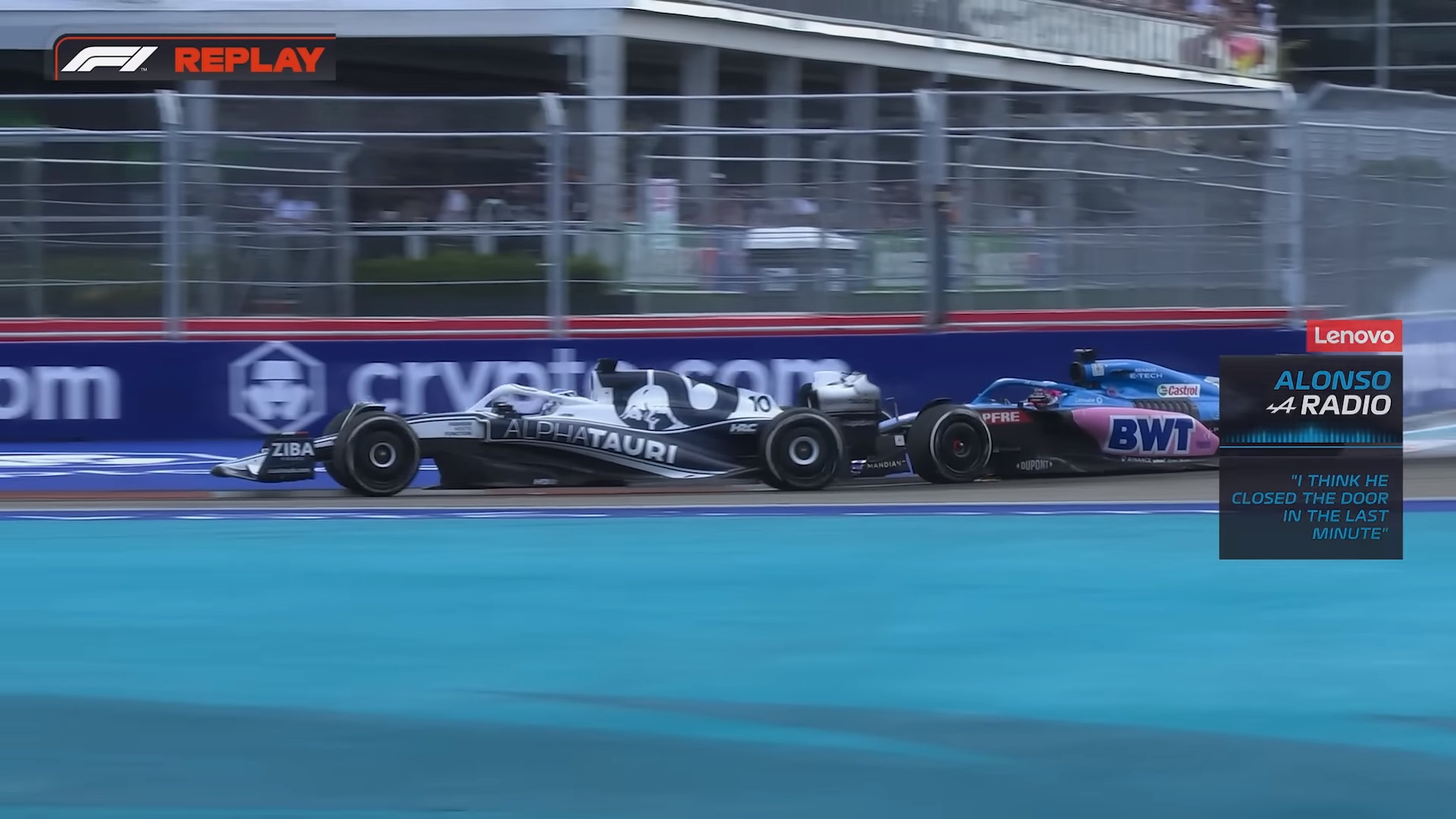 Lando Norris was behind the stricken AlphaTauri at this point, and was looking to get past. As they exited Turn 8, it looked like Gasly would lose yet another place as he had been during the previous laps- however it just wasn't to be. The two made contact, sending Lando into a high-speed spin while Gasly got even more damage to his car. Due to the amount of debris on track thanks to the bits of rubber and carbon fiber on track, the VSC was called out and then the full Safety Car was called out.
[tie_slideshow]
[tie_slide]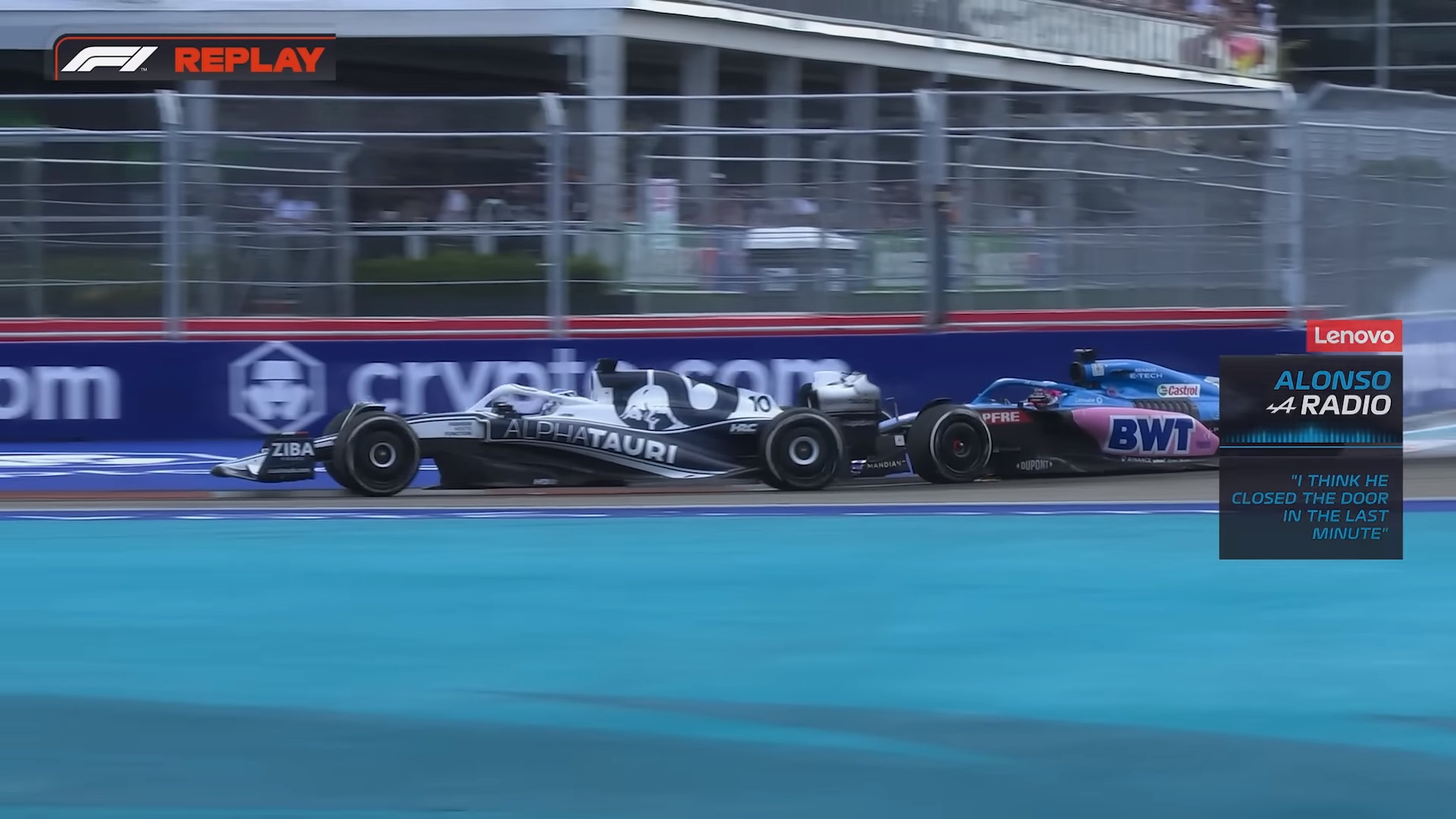 [/tie_slide]
[tie_slide]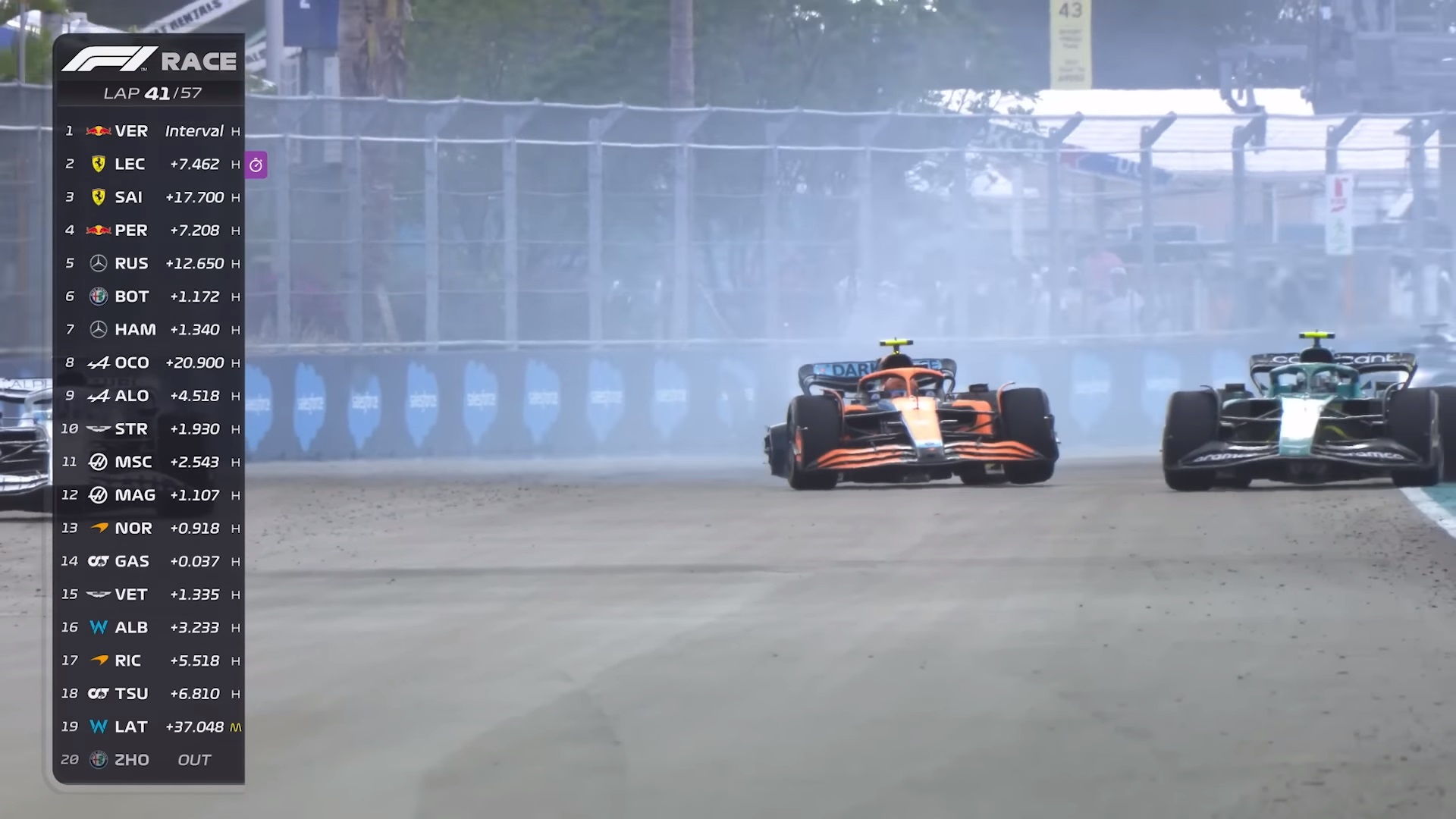 [/tie_slide]
[tie_slide]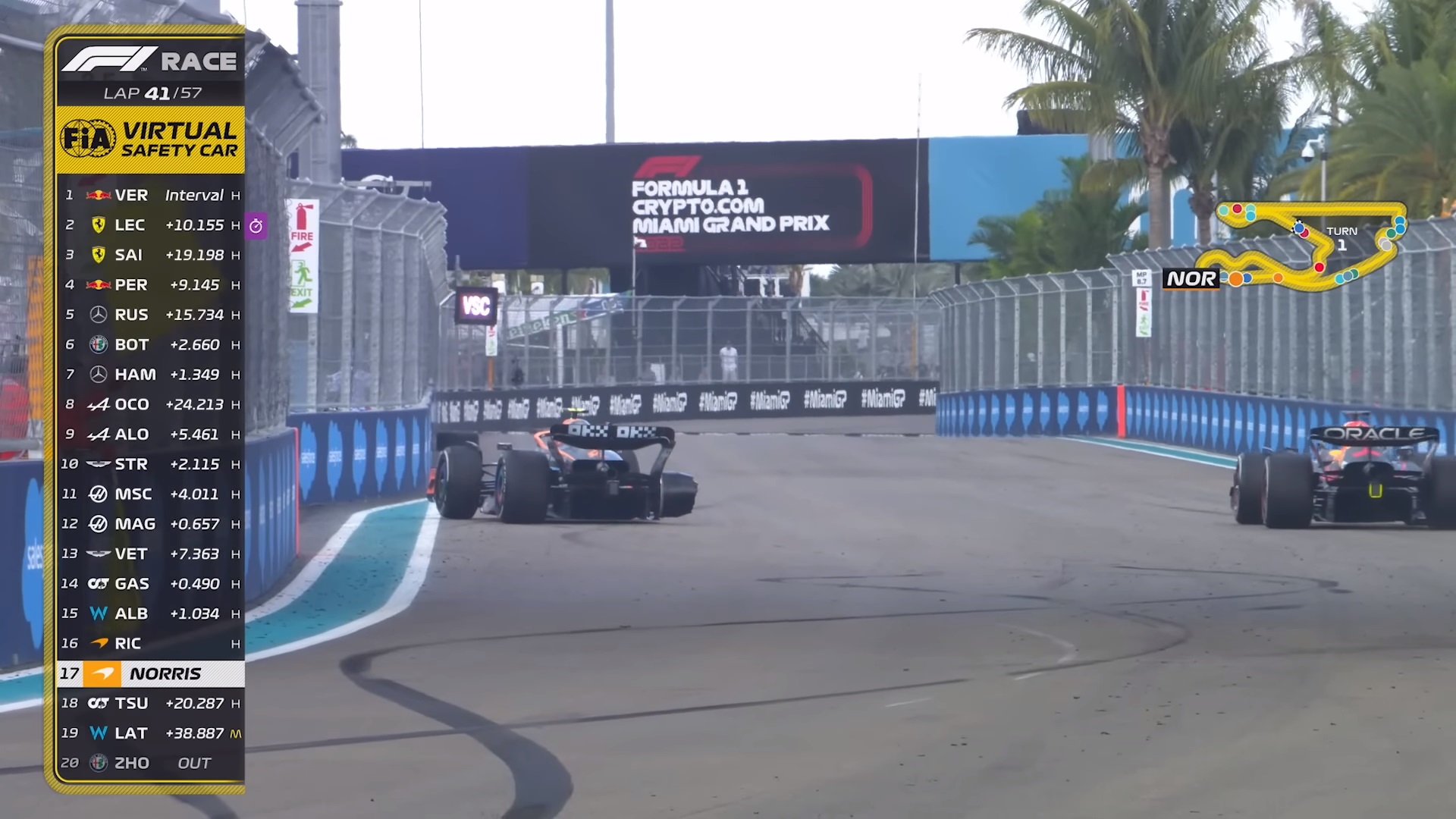 [/tie_slide]
[tie_slide]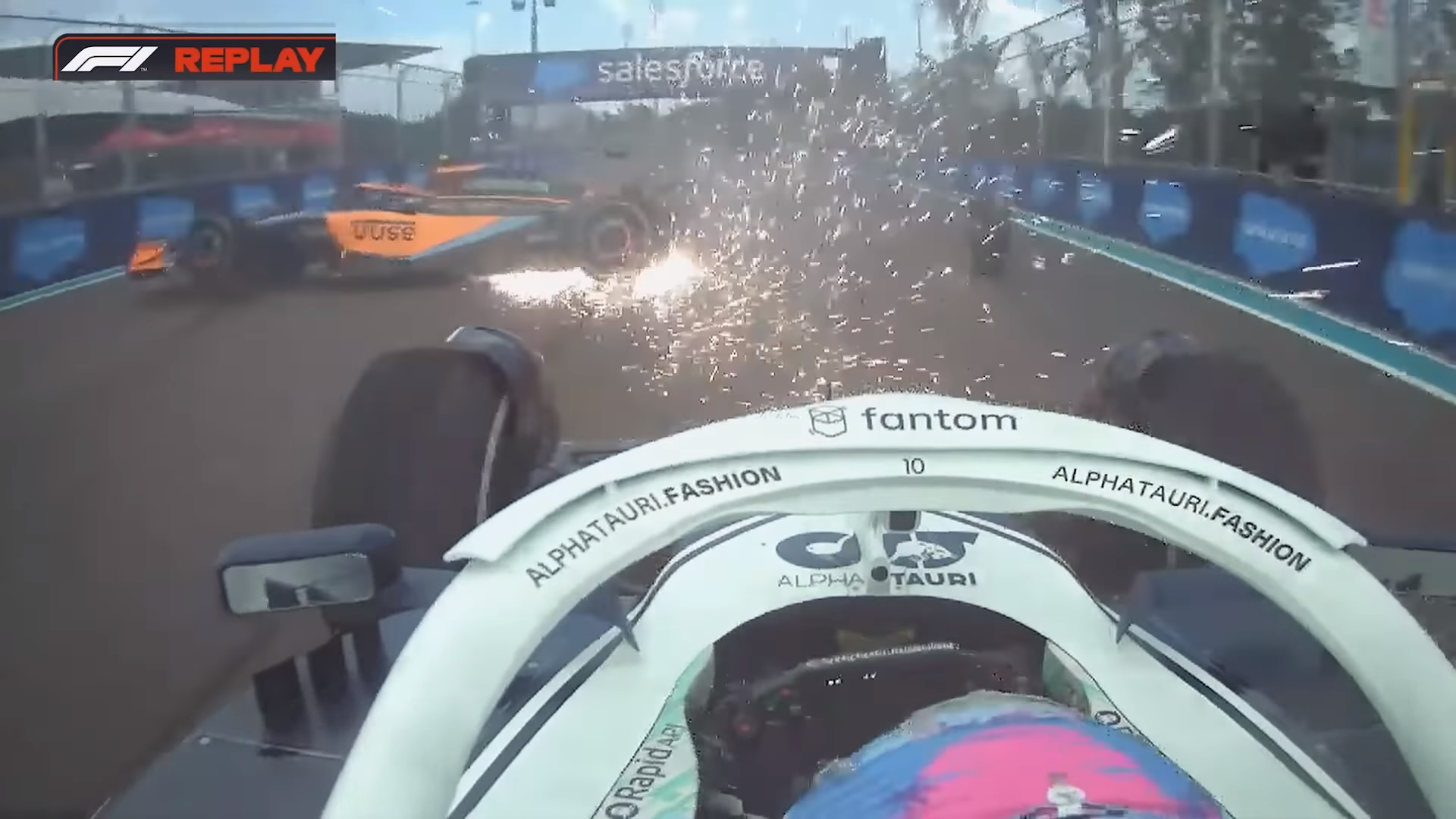 [/tie_slide]
[/tie_slideshow]
Russell, Perez and both AlphaTauri cars were some of the few who chose to pit, as the field bunched up. As the lapped cars were released to allow them to catch back up to the field, Gasly and his team chose to retire the car so as to avoid any more contact and also to save the engine. In the Top 10, Perez and Russell were the only ones on fresh mediums- the rest opted to stay out including Verstappen and both Ferrari cars, as did Hamilton and the rest of the field.
The restart and final few laps
Sainz had quite a poor restart, and was immediately under threat from Perez on softer, fresher tyres. Post this, the battles at the tail-end of the field weren't televised, but both Haas and both Aston Martin cars kept jockeying around for position, as the battle to achieve the final few points got extremely heated. Further up, the Mercedes duo also battled it out- Russell was getting very eager to get past Hamilton, and made a few daring moves before eventually making it stick, moving up into P5. His progress was aided by Bottas' mistake at the final turn on Lap 49, which gave him one less car to overtake on his path to P5.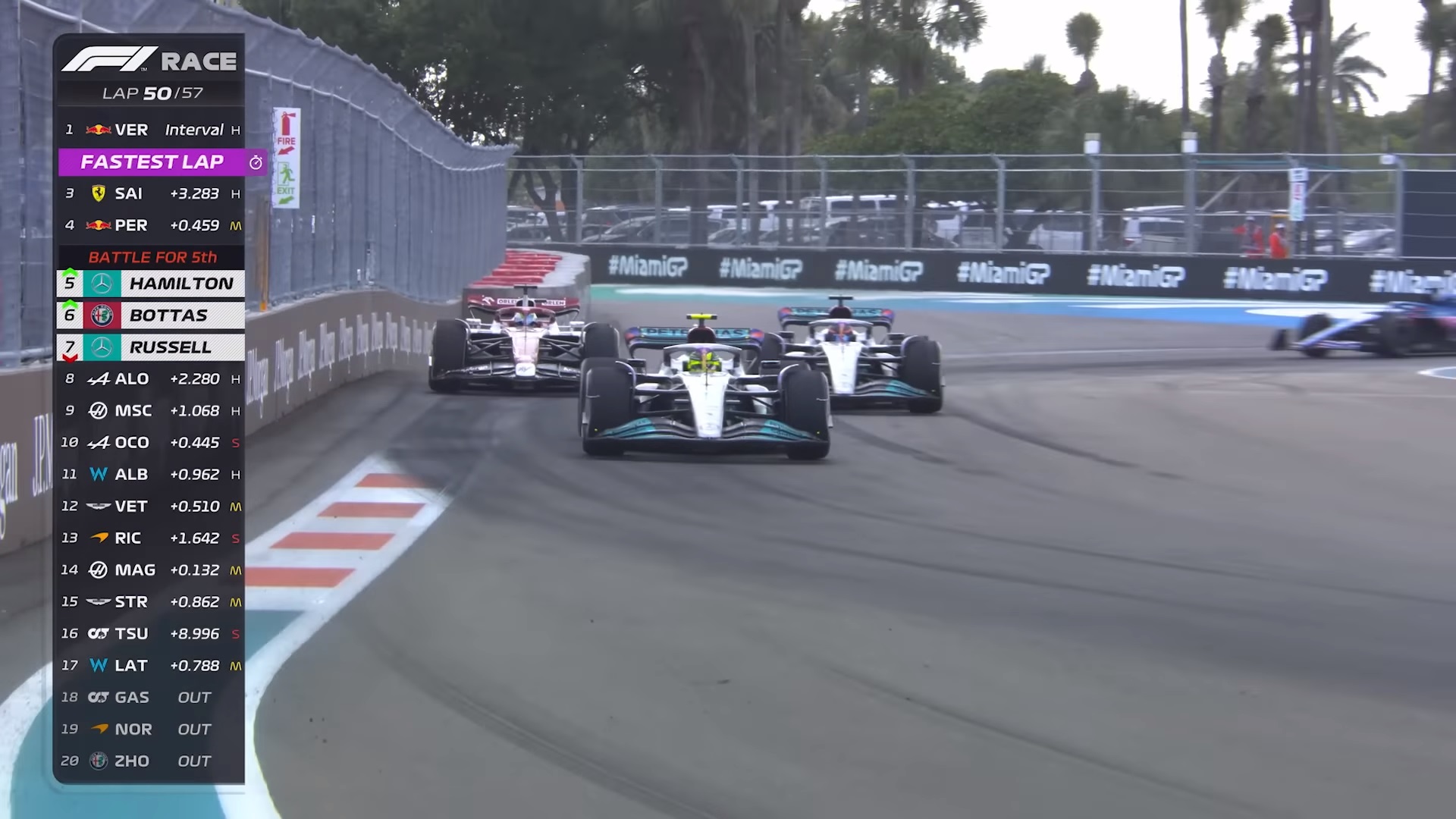 Lap 52 saw Perez attempt a move on Sainz, though the Mexican locked up going into Turn 1 allowing the Ferrari driver to breathe a sigh of relief for at least a few more laps. On Lap 54, Schumacher and Vettel got past Ocon who made a mistake similar to the one Bottas had made.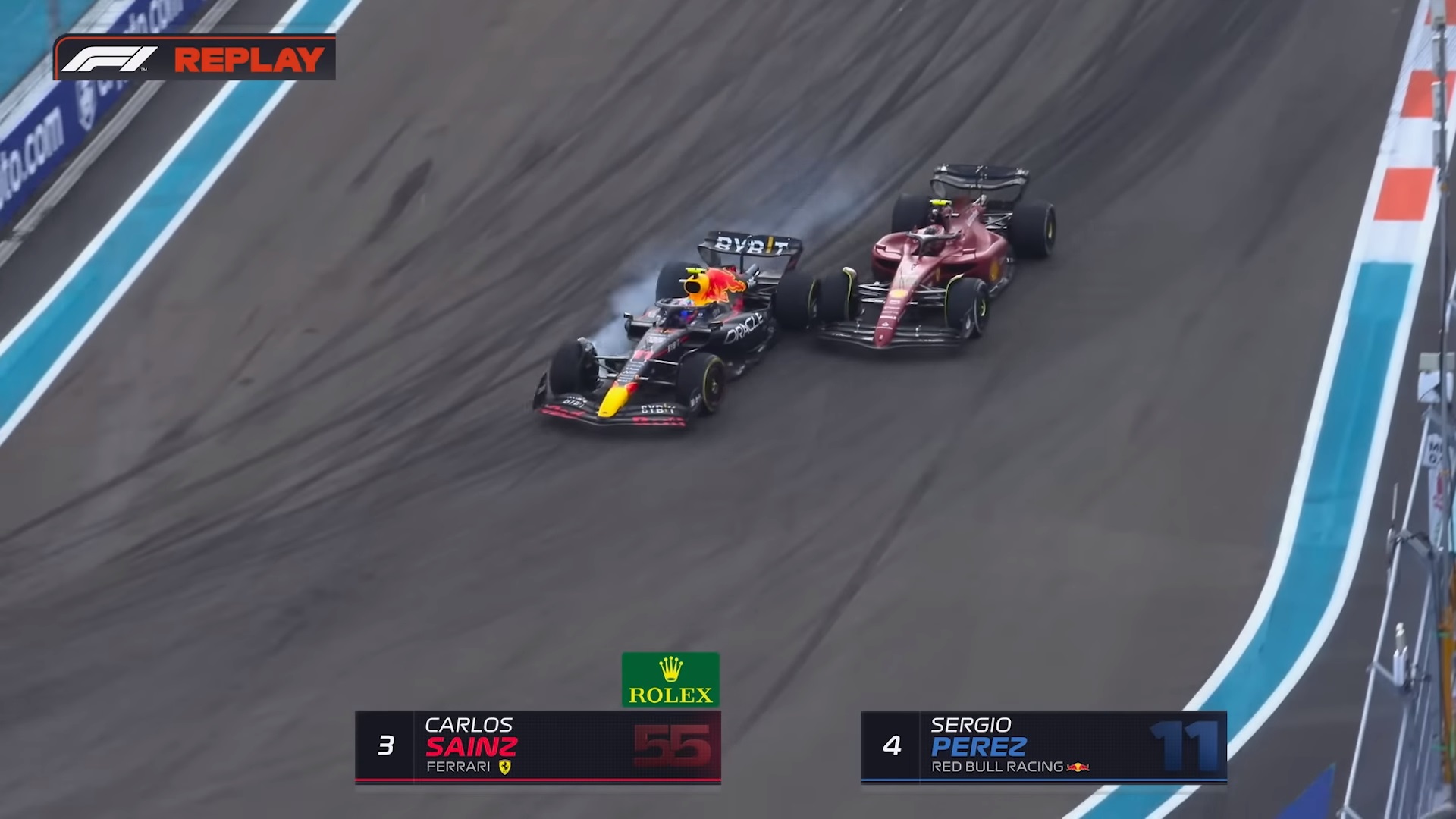 Schumacher was running in the points-paying positions with P9 and also hungry for his first ever F1 points. It all looked so dreamy for him, but unfortunately the dream came crashing down when he went into the side of mentor and friend Vettel's Aston Martin. This allowed Ocon to retake P9, as the damage from the crash gave Mick damage while it ended Vettel's race.
[tie_slideshow]
[tie_slide]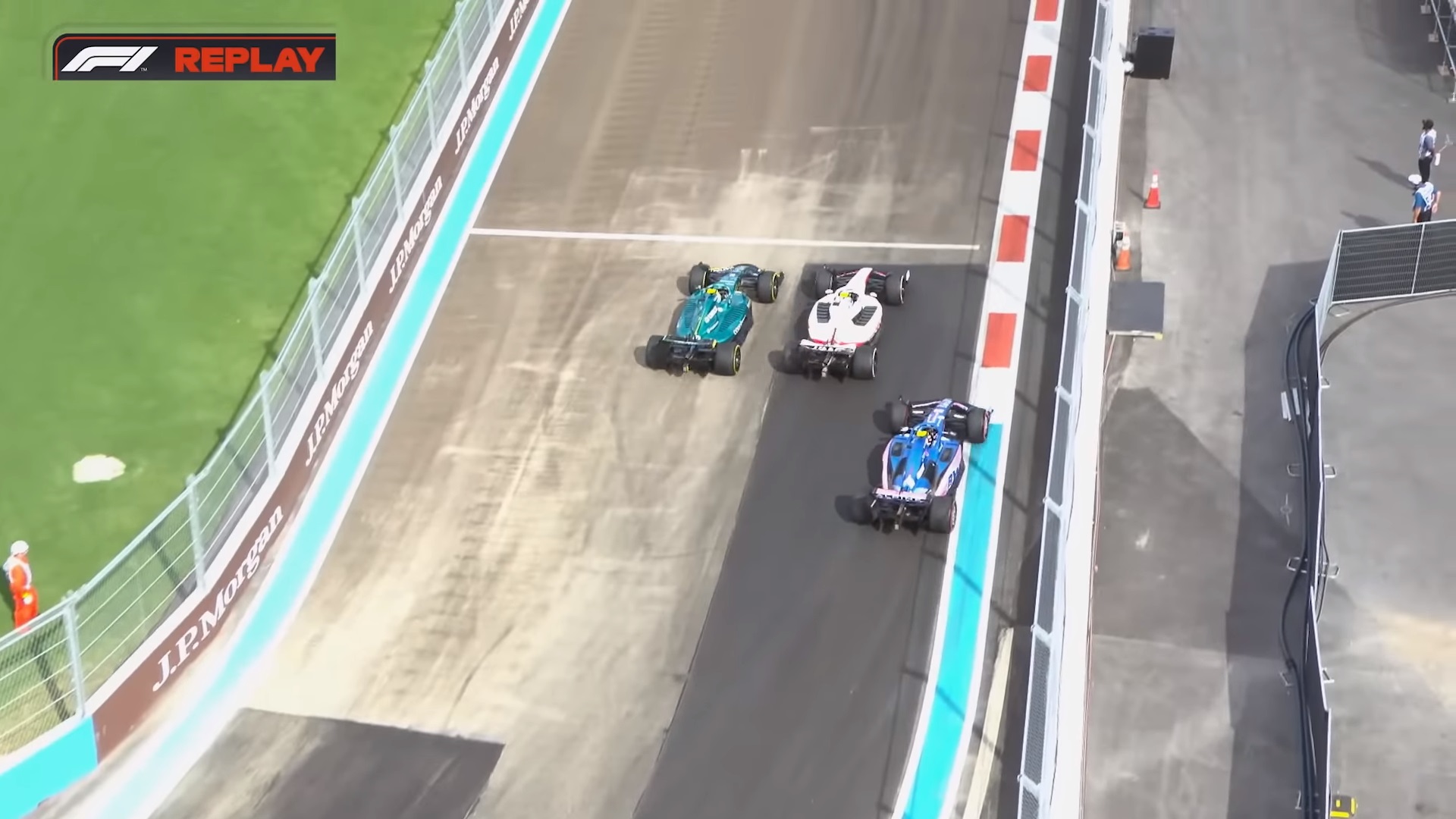 [/tie_slide]
[tie_slide]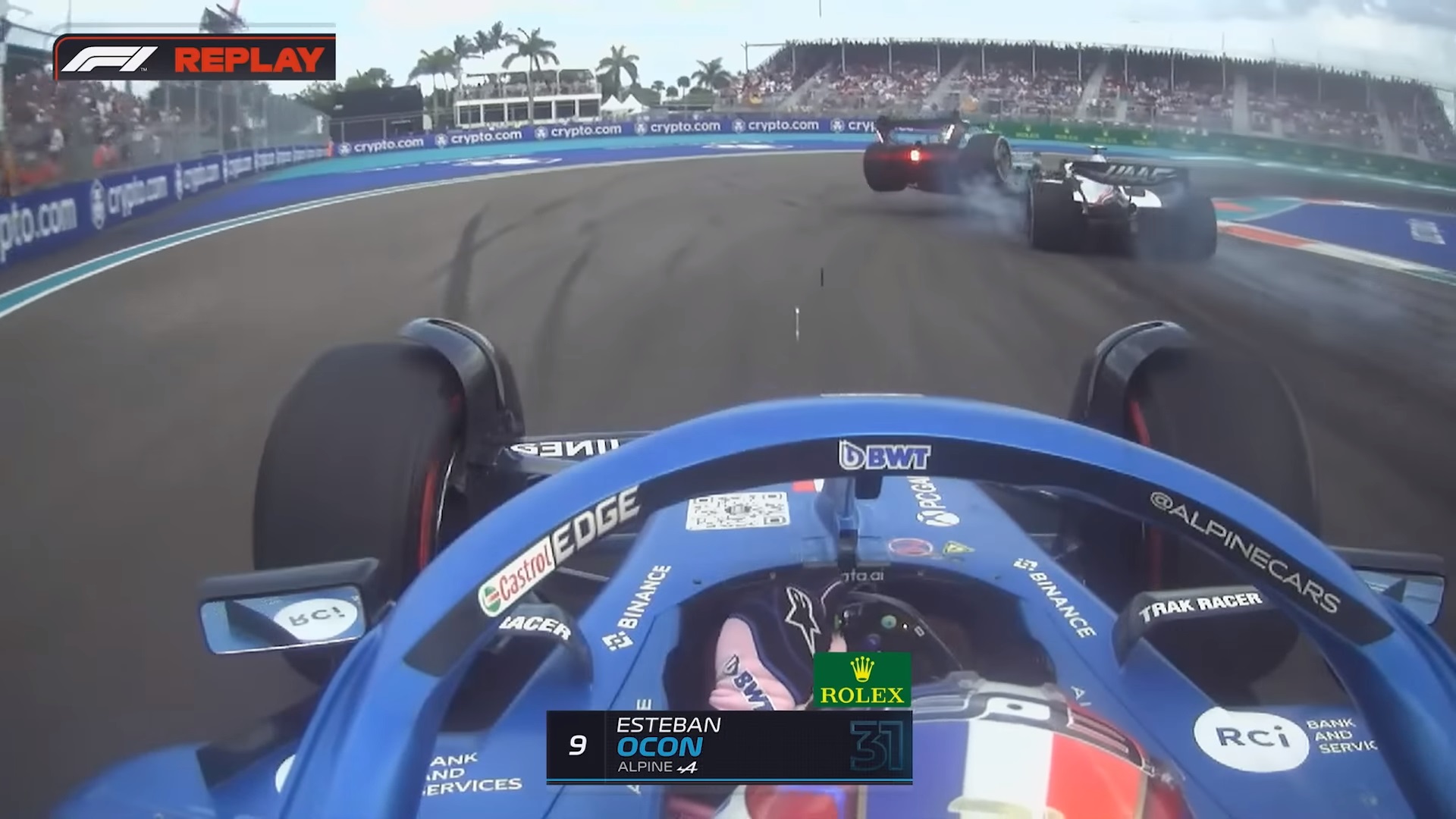 [/tie_slide]
[tie_slide]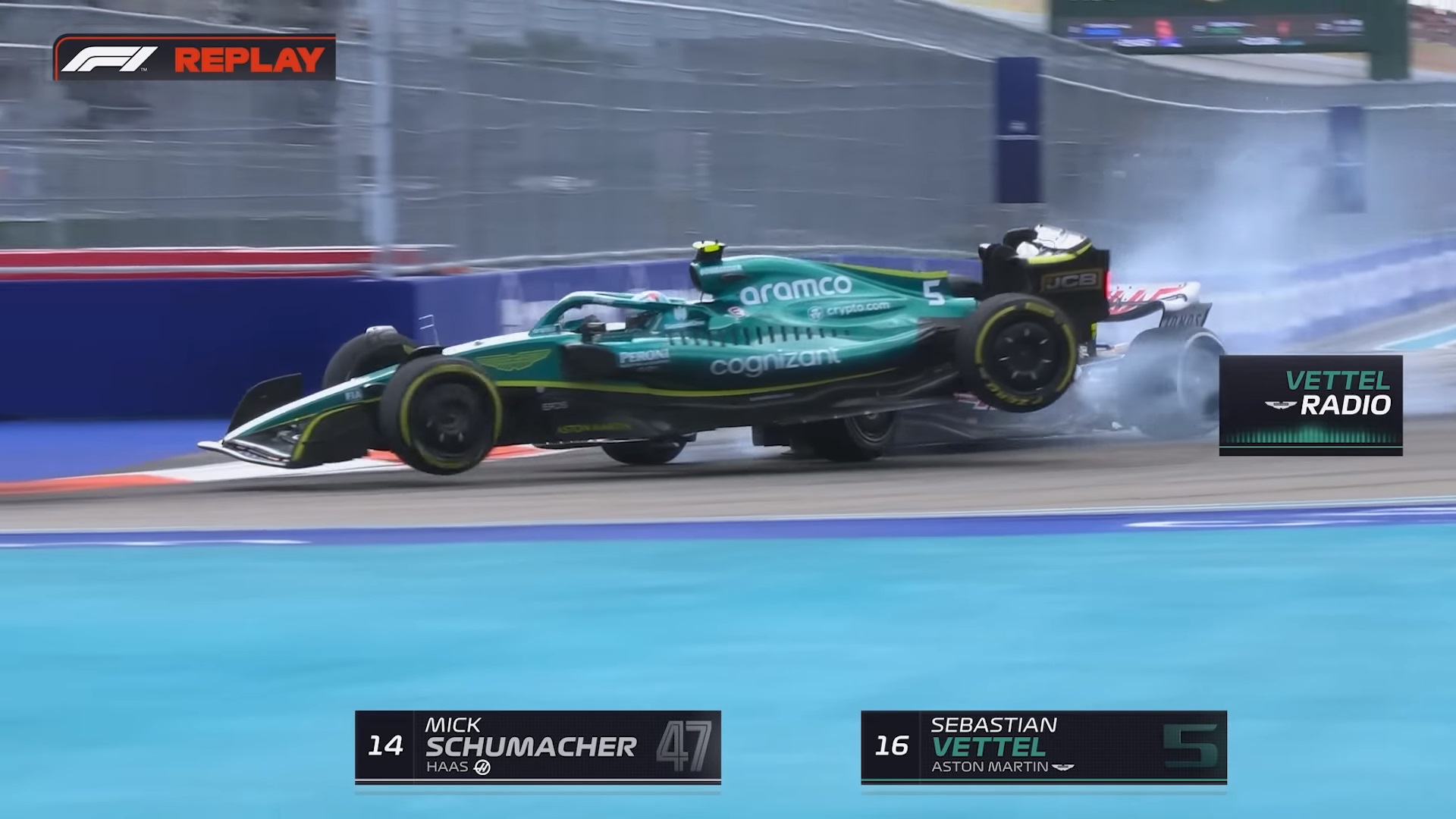 [/tie_slide]
[tie_slide]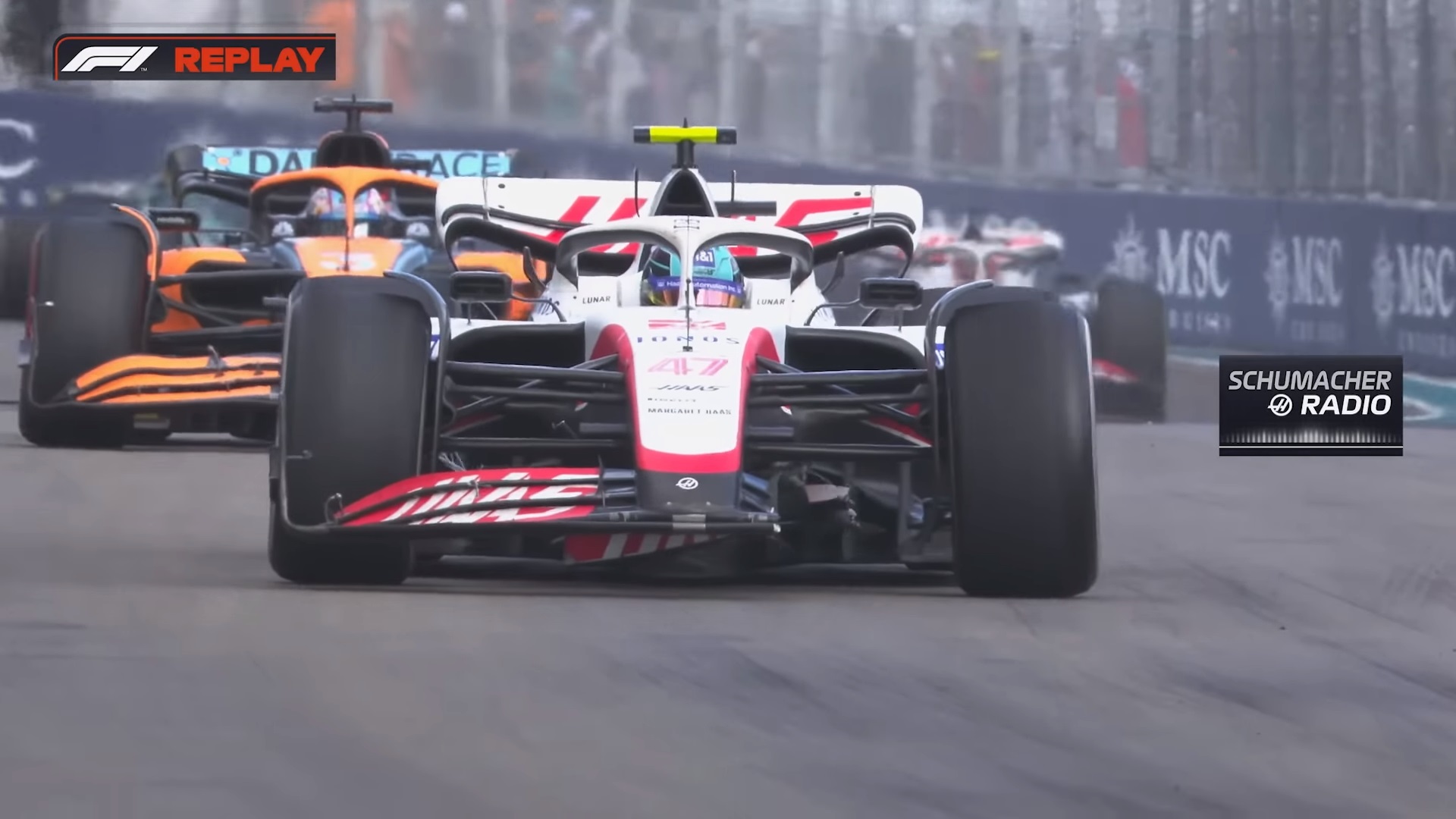 [/tie_slide]
[/tie_slideshow]
As the last lap approached, it was clear who was top dog in Miami on Sunday- Max Verstappen took the top points and stood on the top step of the podium, followed by Charles Leclerc in P2 and Carlos Sainz returning to the podium with P3. Perez finished P4 while Russell had an exceptionally consistent drive to finish P5 at the drop of the flag. An interesting stat for the data-driven fans out there is that Max has won every race he's finished, Sainz has finished on the podium at every race he's finished (excluding Sprint) and Russell has finished in the top 5 every race he's taken part in (excluding Sprint)!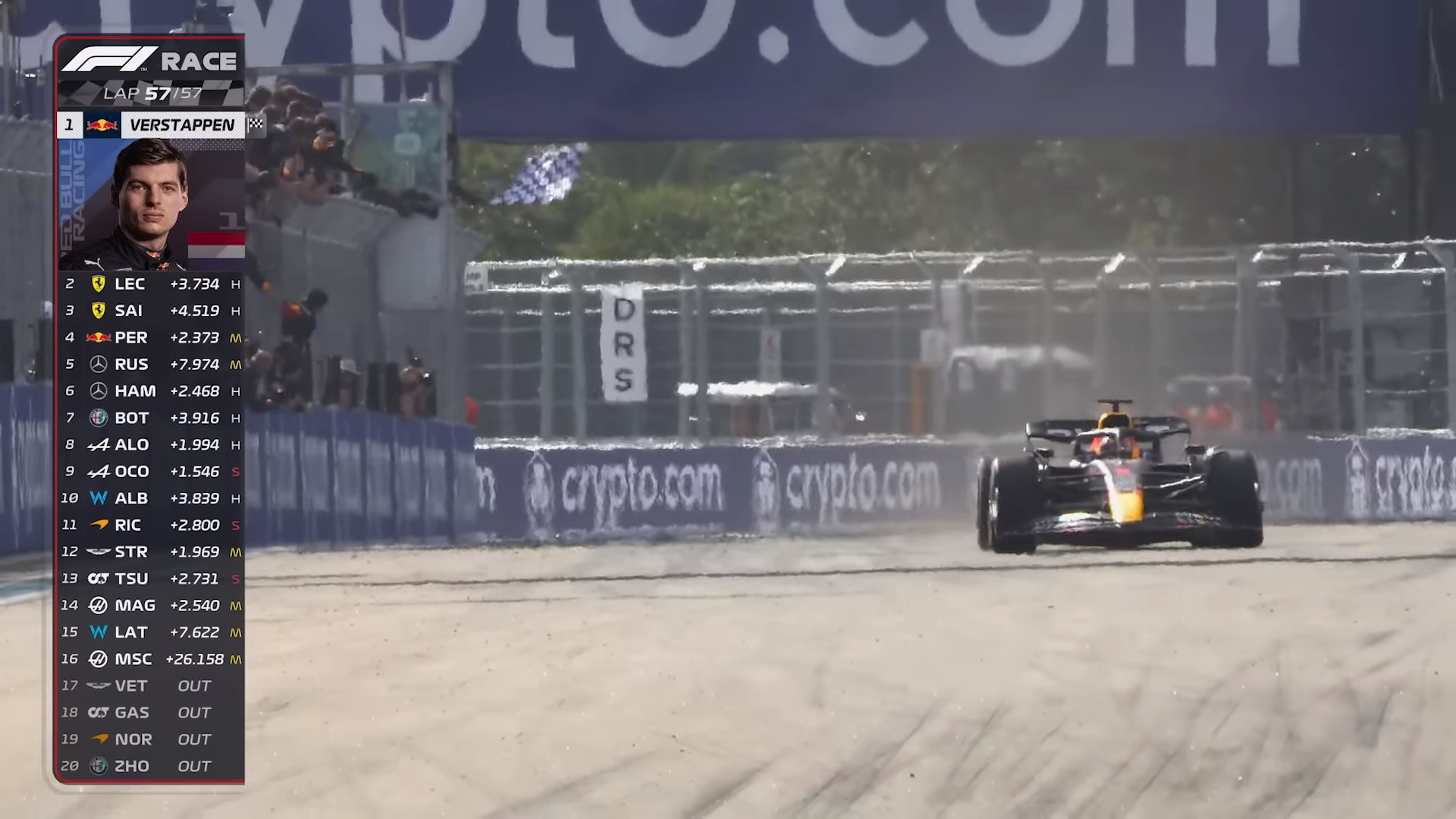 Further back, some stellar drives from the likes of Ocon, Albon and Stroll saw them finish 8th, 9th and 10th respectively. Why is this important? Well, Ocon drove from P20 to P8, Albon drove an inferior car into the points positions (again) and Stroll recovered from a pitlane start to finish P10! Sure, they benefited from a few penalties for those who finished ahead of them on-track, though the important thing is that they were there when it was necessary!
Here's the race result and driver standings at the end of the 2022 Miami GP:
[toggle title="Race Result for the 2022 Miami GP" state="close"]
POS
DRIVER
CAR
LAPS
TIME/RETIRED
PTS
1
1
 
RED BULL RACING RBPT
57
1:34:24.258
26
2
16
 
FERRARI
57
+3.786

s

18
3
55
 
FERRARI
57
+8.229

s

15
4
11
 
RED BULL RACING RBPT
57
+10.638

s

12
5
63
 
MERCEDES
57
+18.582

s

10
6
44
 
MERCEDES
57
+21.368

s

8
7
77
 
ALFA ROMEO FERRARI
57
+25.073

s

6
8
31
 
ALPINE RENAULT
57
+28.386

s

4
9
23
 
WILLIAMS MERCEDES
57
+32.365

s

2
10
18
 
ASTON MARTIN ARAMCO MERCEDES
57
+37.026

s

1
11
14
 
ALPINE RENAULT
57
+37.128

s

0
12
22
 
ALPHATAURI RBPT
57
+40.146

s

0
13
3
 
MCLAREN MERCEDES
57
+40.902

s

0
14
6
 
WILLIAMS MERCEDES
57
+49.936

s

0
15
47
 
HAAS FERRARI
57
+73.305

s

0
16
20
 
HAAS FERRARI
56
DNF
0
17
5
 
ASTON MARTIN ARAMCO MERCEDES
54
DNF
0
NC
10
 
ALPHATAURI RBPT
45
DNF
0
NC
4
 
MCLAREN MERCEDES
39
DNF
0
NC
24
 
ALFA ROMEO FERRARI
6
DNF
0
Note – Verstappen scored an additional point for setting the fastest lap of the race. Alonso and Magnussen received five-second time penalties for causing collisions. Ricciardo and Alonso received five-second time penalties for leaving the track and gaining an advantage.
[/toggle]
[toggle title="Driver Standings after the 2022 Miami GP" state="close"]
[/toggle]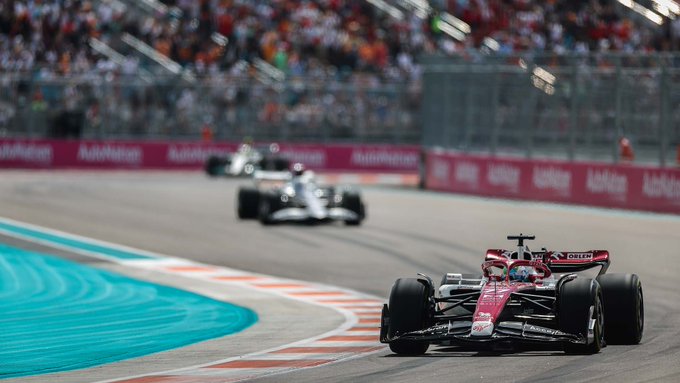 Now, here's the driver rankings for the 2022 Miami GP!
1st: Max Verstappen:
The fact that Max has won every race he's finished in 2022 is a testament to his talent, and also to the fact that Red Bull have developed a fantastic car this year, similar to the one they had in the early 2010s.
With Mercedes crippled and Ferrari having a run of bad form, the form Max is in is quite reminiscent to that which Hamilton was post 2014 and the one Vettel was in between 2010-13, and that is consistent, fast yet measured and matured.
Rating: 10/10
2nd: Charles Leclerc:
Ferrari's prodigy bounced back from a poor Imola result to finish on the podium, and still retain the lead of the championship in doing so. He would've certainly liked to have finished one position higher, though P2 is what he had to settle for.
Ferrari don't seem to have the same competitive advantage they did in say Bahrain or Australia, though their pace seems to vary from circuit to circuit. What's key is that Ferrari are one of the few teams who haven't upgraded their car at all during these 5 races, so expect to see their pace improve over the next few rounds!
Rating: 9/10
3rd: Carlos Sainz Jr
Carlos has not had the smoothest of starts to the season, with two consecutive retirements plaguing his season. He's been off the pace, and has lagged behind teammate Leclerc in every race this year, with Miami being no different.
However, this is the same driver who beat Charles in the drivers' standings last year, and scored 4 podiums in his maiden season for the Scuderia. Provided some of his bad luck goes away, we can expect to see the "Smooth Operator" on the podium a lot more for the rest of the season!
Rating: 7/10
4th: Sergio Perez:
The Mexican didn't have the best of races, though with P4 he's helped close the gap between Red Bull and Ferrari to just 6 points. He will however be hoping for better results than the ones he's getting!
Just one podium to his name this year isn't enough for the 2-time GP winner, whose pace is sometimes great while sometimes is lacking. Regardless, as long as he can hassle the Ferraris and let teammate Max run away, he's doing exactly what he needs to for the team!
Rating: 7/10
5th: George Russell:
After a poor qualifying, the way in which George climbed up the order was remarkable. Consistency, superior speed and a great understanding of the race all helped him finish P5 at the drop of the flag.
The manner in which his radio message to wait for a Safety Car was noted by the team was testament to how well the combination is working, and speaks volumes about the potential places it could go in the future.
Rating: 8/10
6th: Lewis Hamilton
It might look like a dull race for Lewis, but he actually had quite a good race. A decent qualifying effort saw him start P6, though he had great race pace to maintain P5 until the Safety Car botched his chances.
Sans the Safety Car he's have been in with a great shot at P5, though he seems to still have a few qualms with his car. Nonetheless, don't rule him out because of his poor start to the season just yet!
Rating: 7.5/10
7th: Valtteri Bottas:
The Finn had a very clean weekend and an especially good race, though he made just one mistake. However, the severity of said mistake was so profound that he lost 2 places as a result of it!
He was looking comfortable for a P5 until a moment at the final corner ruined his race, and dropped him down to P7. Still, points are better than no points, and with the Alfa-Bottas combination looking like it could rule the midfield, he's certainly one to watch!
Rating: 7.5/10
8th: Esteban Ocon:
Esteban's race wasn't televised much, though he didn't need coverage and exposure to do what he does best- driving fast! To go from P20 to P8 while being under the radar is no small feat, and that's just what he did.
To be so consistent and stay out of trouble for the entirety of the race is what got Ocon the points he desired so badly. It was a great drive, and one which has been under-appreciated for sure!
Rating: 8.5/10
9th: Alexander Albon:
Alex has now scored points on two separate occasions for Williams within 5 races of driving for the team, and has out-driven his car at pretty much every occasion he's got, with Miami being no different.
He's easily got the measure of teammate Latifi, and is coming of age as a dependable and consistent driver, who is there to pick up the pieces whenever necessary. We can expect more points finishes from him during the rest of the season!
Rating: 8/10
10th: Lance Stroll:
Lance had a scruffy end to his race, making contact with Magnussen losing him potential places. Despite that, pit lane to points isn't a bad end to his afternoon at all!
He was performing well, and save for the contact with Magnussen he was actually looking good for a potential P9 or P8. His performance has added a few more points to Aston Martin's roster, something which will certainly be appreciated by the team!
Rating: 7/10
Honourable Mentions: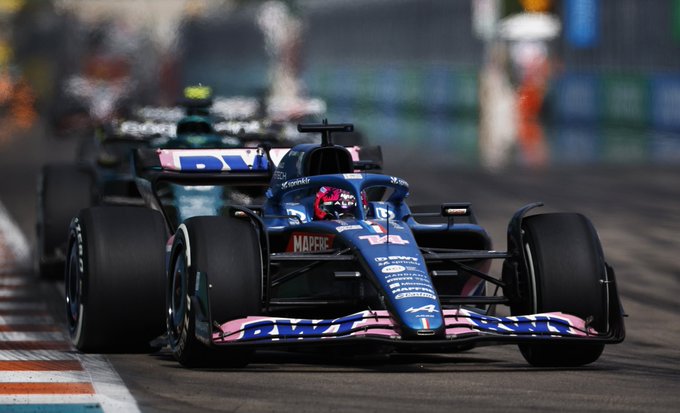 Mick Schumacher: The German was looking set for his first points, but got a bit too hungry while chasing it down. Sans the scruffy end to the race, he looked to be performing well enough, and could soon pose a regular threat for points!
Sebastian Vettel: Seb was having a decent race, and looked to be in with a shot at points, but it just wasn't meant to be in the end.
Pierre Gasly: It must be noted that Pierre was comfortably in the points before the unfortunate collision with Alonso ruined his race, and that he was looking quite good for a potential points finish.