Launch
Bugatti delivers their first $10 million Centodieci customer car!
This very special first unit is finished in EB110 blue paying homage to the legendary model which was at the core of inception of the Centodieci.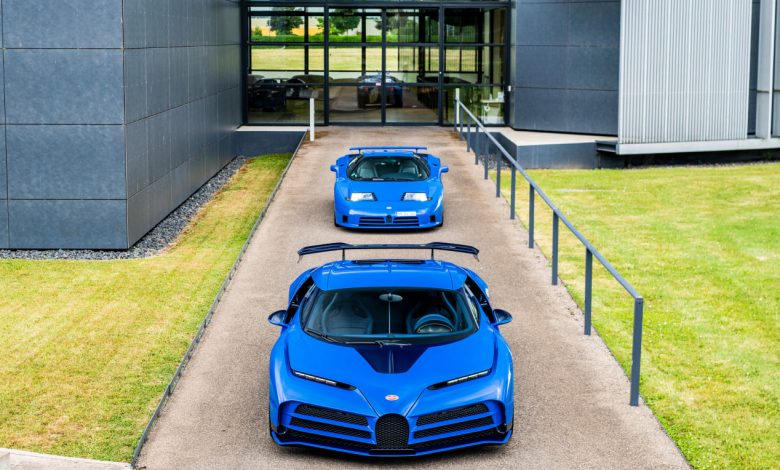 Bugatti unveiled the Centodieci as an homage to the EB110. It lies in the name itself as Centodieci is Italian for 110. The moment we saw a 21st century version of the EB110 in the form of the Centodieci, we knew Ettore Bugatti would be proud. Limited to just 10 units and priced at around $10 million, the Centodieci isn't exactly a car you can buy with money. It is so limited that only very special Bugatti customers got the chance of ordering one. That list includes Cristiano Ronaldo who reportedly placed an order back in March of 2021.
The first unit is finished in EB110 Blue – a distinctive color synonymous with Bugatti, the EB110 and even the factory that it was constructed in. In short, Bugatti and blue go hand in hand. The Campogalliano facility where the EB110 was built came to be known as the 'Fabricca Blu', or blue factory, adorned with Bugatti's famous paint. The EB110 itself was first revealed to the world's media wearing the vibrant shade of blue. In fact, the only two colors I remember the EB110 in are Blue and Yellow.
The classic combination of EB110 Blue and EB110 Sport Silver for the Centodieci's wheels is no coincidence because the owner of this first one has REAL taste. This owner also owns an EB110 GT finished in the same iconic colors. The interior again draws inspiration from its prestigious forebear, but reinvigorated for the modern era. The quilted chessboard-like pattern, door panels, roof liner, floor mats and center console was first established in the EB110 but elevated here with a bespoke application. Bugatti says the process of creating the Centodieci interior takes around 16 weeks to complete, including one day dedicated solely to meticulously examining the seats.
[tie_slideshow]
[tie_slide]
[/tie_slide]
[tie_slide]
[/tie_slide]
[tie_slide]
[/tie_slide]
[tie_slide]
[/tie_slide]
[tie_slide]
[/tie_slide]
[tie_slide]
[/tie_slide]
[tie_slide]
[/tie_slide]
[tie_slide]
[/tie_slide]
[/tie_slideshow]
Featuring the iconic 8.0-liter W16 engine producing 1,600PS of power, the Centodieci accelerates from 0 to 100 km/h in 2.4 seconds to a top speed of 380 km/h. Bugatti's chassis engineers worked extensively to perfect the hyper sports car's handling to produce a uniquely dynamic Bugatti experience behind the wheel. We can't say if it works but knowing it is a Bugatti, it probably does.