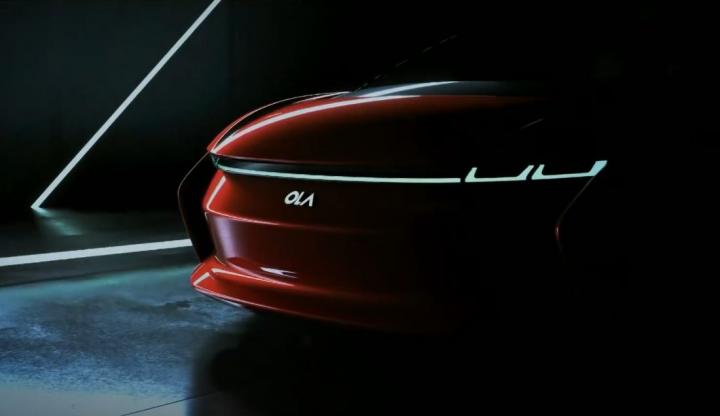 Ola Electric unveiled teaser images of 3 of their upcoming electric vehicles during an event day held at their Futurefactory in Tamil Nadu. The event was called 'Ola Customer Day' and a short clip aired at the event, showed off teasers of Ola's upcoming 4-wheeled EVs.
The designs look rather similar to the current trends of EVs akin to Lucid Air and other concepts. The key word being concepts. A number of EV companies have come up internationally with promises to deliver EVs to customers by some date, most of them failing. Even Tesla is not able to deliver on due dates or even start production for vehicles like the Tesla Roadster which was supposed to be out by 2020!
Anyway, back to its design, it can be seen to feature a clean minimalist look, very low slung flanked by lights that wrap around the front and rear. Unsurprisingly, this light-bar design which is a rather big trend on cars in 2022 is seen on Ola's EVs as well. The OLA logo is also illuminated in all of the images, so the modern appeal of these cars is quite apparent. Although we can't judge the looks or anything from teaser images of a most likely concept, it is mostly certain that Ola will definitely want to make an impression come August 15th because if it is an EV coming from India, the world is definitely watching!
Details are sparse, though CEO Bhavish Aggarwal said that more information would come into the public domain on India's Independence Day on August 15th this year. However, as of now, there's little we can do apart from speculating- we could see concept art or even some more teasers over the next few weeks.
Ola had shown off a futuristic design in January this year, and that could well be one of the cars or at least a derivative of it which we see in these images. The most important aspect of it remains as to when will Ola likely release these cars for the road. Owing to its recent mishaps with the Ola e-scooters, they're likely to put in more hours for R&D for these cars which have a much higher risk compared to two wheelers. We expect these to be available not before 2024 though, if sources are to be believed, the reveal for these cars will likely happen early next year! India will likely have the Bharat NCAP safety rating system by 2023 as well which is another reason why Ola might put their EVs into testing and R&D for a longer time. Check out the images below: