Formula 1
Remarkable Russell claims maiden F1 pole at Hungary! 2022 Hungarian GP Qualifying Highlights
A baffling lap from Russell took him all the way to the top of the timesheet, with the Ferraris following behind.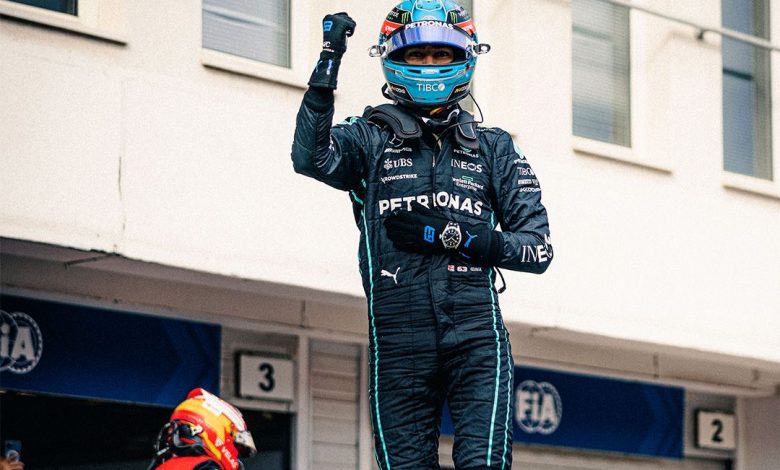 George Russell has finally claimed his first ever pole position in Formula 1! He was followed by both the Ferraris who were initially looking at a front row lockout. It was a double whammy for RedBull though, as Perez was knocked out in Q2, being blocked by Magnussen on his flying lap, and Verstappen who faced power issues in Q3 not being able to set a decent enough time. Verstappen and Perez will start P10 and P11 repectively.
Q1
After a surprisingly wet FP3 session, where Latifi stunned everyone as he took the top spot, the track had started drying up for the quali session to commence. Both Mercedes drivers dominated this session, with Sainz behind them. The hype caused by the Williams drivers was washed away as Latifi qualified P20 and Albon P17. It was a tough session for Vettel as well after his shunt in FP3, having to settle for P18. Gasly's lap times were deleted for infringing track limits and Tsunoda got outqualified by Schumacher by a mere 0.035s. The Alphatauri duo will start the race P19 and P16 respectively.
Q2
Alonso surprised everyone, not really though as he has been running brilliantly in the quali sessions this season. His brilliant runs with the soft tire helped him claim P3. Verstappen took P1 with a time of 1:17:708, with Leclerc trailing behind by just few hundredths. It was a day Perez would want to forget nonetheless. Firstly, his lap time was wrongly deleted for crossing track limits at Turn 5, but reinstated later after thorough checking and secondly due to the confusion, he had to take an extra run where traffic played an unfortunate role. He was impeded by Magnussen and could not improve himself. As a result he could just qualify P11.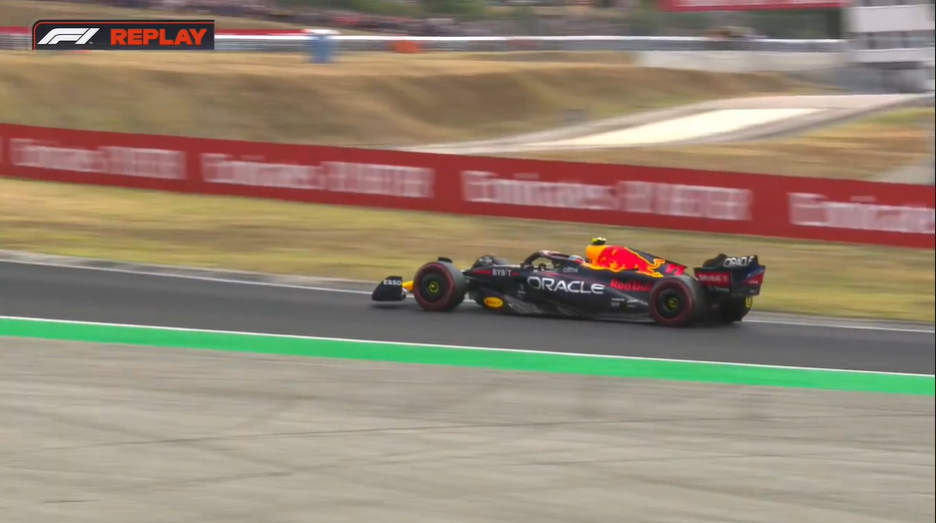 Q3
An exciting session was underway which saw multiple drivers in contention for pole. Initially Sainz posted a fast lap of 1:17:505 followed by Leclerc. Then Norris posted a similar time, and it felt like he could improve upon that as well, but finally had to be satisfied with a P4. In the final runs, Sainz improved on his time for a 1:17:421 and looked to claim the top spot comfortably, followed by his teammate. But as they say, it isn't actually over until it's over- A blistering lap from Russell in the end made sure that he would start the race tomorrow at P1. Before the start of the session, RedBull discovered some power glitches in Verstappen's car, but could not fix it in time.
Akin to this, Mercedes kept working on Lewis' KERS system in FP3 and then in qualifying, when Merc finally looked to have a god enough car, Hamilton's DRS stopped working. A forgetful quali for him though his lap times still managed to get him to P7. On the track Verstappen was heard spamming buttons on his steering and hurled a bunch of expletives followed by "Nothing works!". The Dutchman, who was expected to claim the front row, got relegated to P10, only hoping to redeem himself in the main race. The complete driver standings for this session are given below:
POS
DRIVER
Q1
Q2
Q3
1
63
 
MERCEDES
1:18.407
1:18.154
1:17.377
23
2
55
 
FERRARI
1:18.434
1:17.946
1:17.421
22
3
16
 
FERRARI
1:18.806
1:17.768
1:17.567
22
4
4
 
MCLAREN MERCEDES
1:18.653
1:18.121
1:17.769
19
5
31
 
ALPINE RENAULT
1:18.866
1:18.216
1:18.018
20
6
14
 
ALPINE RENAULT
1:18.716
1:17.904
1:18.078
17
7
44
 
MERCEDES
1:18.374
1:18.035
1:18.142
21
8
77
 
ALFA ROMEO FERRARI
1:18.935
1:18.445
1:18.157
20
9
3
 
MCLAREN MERCEDES
1:18.775
1:18.198
1:18.379
19
10
1
 
RED BULL RACING RBPT
1:18.509
1:17.703
1:18.823
21
11
11
 
RED BULL RACING RBPT
1:19.118
1:18.516
16
12
24
 
ALFA ROMEO FERRARI
1:18.973
1:18.573
16
13
20
 
HAAS FERRARI
1:18.993
1:18.825
18
14
18
 
ASTON MARTIN ARAMCO MERCEDES
1:19.205
1:19.137
16
15
47
 
HAAS FERRARI
1:19.164
1:19.202
16
16
22
 
ALPHATAURI RBPT
1:19.240
9
17
23
 
WILLIAMS MERCEDES
1:19.256
10
18
5
 
ASTON MARTIN ARAMCO MERCEDES
1:19.273
10
19
10
 
ALPHATAURI RBPT
1:19.527
9
20
6
 
WILLIAMS MERCEDES
1:19.570
10