Auto Business
News
Versus Wednesdays! Jeep Compass vs. Mahindra XUV700 vs. Tata Safari vs. Hyundai Tucson
For a budget of around ₹30 lakhs, you're spoilt for choice with 4 different offerings from America, Korea and India.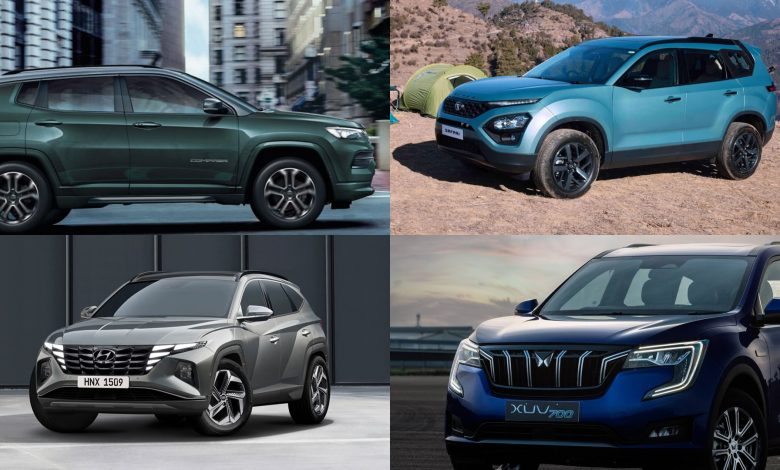 In a tectonic shift towards SUVs globally, India has also been buying more SUVs than ever before. But, this is a comparo between the "real" SUVs at the price segment of ₹30 lakhs. The Tucson exceeds that budget and the rest of the cars by quite a margin so bear that in mind. Also, we've taken the top spec 4×4 (if available) automatic trim of each vehicle to compare for their respective prices in their diesel engine options. So, what would be the best SUV for your ₹30 lakhs? Let's narrow it down.
The performance specs
When it comes to performance, all 4 SUVs are almost the same in terms of power and engine capacity. In fact, apart from the XUV700, the rest are all powered by a 2.0L engine. The Tata Safari and the Jeep Compass are powered by an identical Fiat manufactured 2.0L diesel engine with 168HP and 350Nm of torque which is the lowest of the bunch. The Tucson comes with a 2.0L diesel producing 184bhp and 416nm of torque while the XUV700's 2.2L diesel churns out 182hp and 450 Nm of torque. Apart from the Safari, the remaining 3 are offered with a 4×4 system while the Safari loses out on its famed name with a front wheel drive without the "go aywhere" capability.
Each of these luxury SUVs features an automatic transmission but, the Jeep offers the best auto here with a 9-speed transmission alongwith a manual override although, no sport mode is offered. The Tucson offers a rather special 8-speed automatic with manual override and sport mode on offer. Both the Indian SUVs XUV700 and Safari offer a 6-speed automatic with manual overrides and sport modes as well. The best out of the lot, out of the driving that we've had while testing, is the Jeep's 9-speed transmission which does not let you feel any effort and makes you feel confident… especially on highways.
Overall, the best combination on offer in terms of engine refinement, power and transmission goes to the Hyundai Tucson. The Tucson is agile and does not make you feel the bulk of an SUV. It might not be as good of an off-roader but, it sure is the faster on-roader out of the bunch. As for the others, even though the XUV700 comes with only a 6-speed transmission, it's gear ratios are significantly better than the Safari and you don't have to wait as long or lower the gear manually to overtake as much as you have to do in the Tata. The Compass lacks in power yet it makes up for it in off-roading.
Drive and off-roading
The strangest thing about this heading is that the car with the best ride quality lacks a 4×4 even though it has been quite famous for its off-roading capabilities from its very well experienced past. Not only that, the Safari does not even offer a rear-wheel drive system which could've been significantly better for off-roading as was the case with the Tata Hexa. The title for the best overall ride and off-roading is a tie between the Jeep and the Mahindra. The Mahindra is a jack of all trades, master of none while the Compass is the king of off-roading and the jack in terms of ride quality. The Tucson's ride will remind you of a non-SUV like the Verna and could make you feel worn out even though you have 184HP at the helm of your right foot. The 4×4 system is also not as good and definitely does not feel as allowable as the "rugged" one of the others.
All in all, if you're not too much of an off-roader and need a comfortable chauffeur driven SUV, the Tata Safari is your best bet, especially given the buttery smooth ride and a very confident response especially on highways. If you are solely concerned about off-roading, the Compass is your best bet. If you want to be able to do both, you have to sacrifice a little on both with the XUV700. The thing is, the XUV700 offers a really good balance of ride quality and handling mixed with the perfect pinch of ruggedness but, it just isn't meant for everyone so do have a test drive before you finalize your decision.
Interiors and features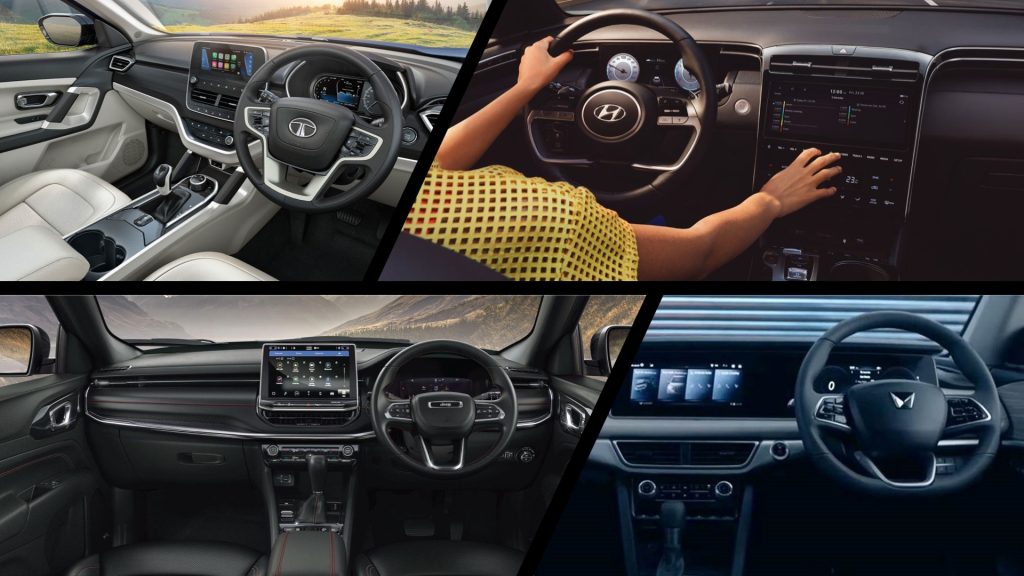 THIS is the showdown round. All these cars have it covered from all the major areas. From Apple Carplay/Android Auto, to a panoramic sunroof to premium quality sound systems, these are all really loaded up in terms of tech and features. Here's a list of some of the important features:
| | | | | |
| --- | --- | --- | --- | --- |
|   | Tucson | XUV700 | Safari | Compass |
| Anti-Lock Braking System (ABS) | YES | YES | YES | YES |
| Electronic Brake-force Distribution (EBD)(Know More) | YES | YES | YES | YES |
| Brake Assist (BA)(Know More) | YES | NO | YES | YES |
| Electronic Stability Program (ESP)(Know More) | YES | YES | YES | YES |
| Four-Wheel-Drive(Know More) | YES | YES | NO | YES |
| Hill Hold Control(Know More) | YES | NO | YES | YES |
| Traction Control System (TC/TCS)(Know More) | YES | YES | YES | YES |
| Hill Descent Control(Know More) | YES | YES | YES | YES |
| Differential Lock | YES (ELECTRONIC) | NO | NO | NO |
| Air Conditioner(Know More) | Yes (Automatic Dual Zone) | Yes (Automatic Dual Zone) | Yes (Automatic Dual Zone) | Yes (Automatic Dual Zone) |
| Front AC | Two Zones, Common Fan Speed Control | Two Zones, Individual Fan Speed Controls | Single Zone, Common Fan Speed Control | Two Zones, Common Fan Speed Control |
| Rear AC | Blower, Vents Behind Front Armrest | Blower, Vents on Pillars | Blower, Vents on Pillars | Blower, Vents Behind Front Armrest |
| Anti-glare Mirrors | Electronic – Internal Only | Manual – Internal Only | Electronic – Internal Only | Electronic – Internal Only |
| Parking Assist | Reverse Camera with Guidance | 360 Camera | Reverse Camera with Guidance | Reverse Camera |
| Parking Sensors | Front & Rear | Rear | Rear | Rear |
| Cruise Control | YES | Adaptive | YES | YES |
| One Touch -Down | Driver | NO | NO | Front |
| One Touch – Up | Driver | Driver | NO | Front |
| Headlights | LED | LED | Bi-Xenon Projector | LED |
| Touch Screen Size (inch) | 10.25 | 10.25 | 7 | 10.1 |
| Speakers | 8 | 12 | 9 | 6 |
| Panoramic Sunroof | YES | YES | YES | YES |
From the above, it is very clear that all these premium SUVs are very evenly matched and loaded with so much tech and features that you cannot go wrong in picking any of them. But, there are some weird quirks with these manufacturers missing out on the very basic of features. For example, the Tata Safari is a successor to the Tata Hexa which offered one touch down on all windows while the Safari does not offer one touch-up or down on any of the power windows in a ₹26 lakh car. One touch windows with anti-pinch is a very handy feature especially in such luxury cars.
Moreover, the Safari is the only one with a 2019 style 7″ infotainment screen as even cars from segments below have started offering 9″ infotainment units which could be a deal breaker to some people since, the Tucson, Compass and the XUV all offer over 10 inches of screen real-estate. In fact, the Tata Safari remains the only car in this comparo with a single zone climate control and non-LED bi-xenon headlamps as all the other cars offer a dual zone climate control and LED headlamps. But, where Tata pulls away is the brilliant 9-speaker audio system that continues to lead the way in almost every segment with the exceptional sound quality. Overall, the interior fit and finish is also much more improved than before with the interior being well put together as well.
Coming over to the XUV, it offers some amazing features like their AdrenoX fluid interface, adaptive cruise control 360 camera which is offered only in the XUV along with the new ADAS technology. But, Mahindra has either forgotten to add certain features or straight up expect the car to be too good so they removed certain basic features from a ₹30 lakh car. The XUV comes with a manual anti-glare mirror, no one touch down even for the driver window, no brake assist and no hill-hold control. Considering the suite on offer by Mahindra, these basic changes would be welcome additions. The Compass and the Tucson are the most fully loaded vehicles in the segment that offer exceptional fit, finish and layout of the interiors. And this is reflected in their price as well.  
Pricing, safety and conclusion
Owing to the size of the vehicles, the XUV700 will always give you the best value for your hard earned money. It is large, feature rich, good looking and even allows 7-seating along with a capable 4×4. It is also a GNCAP 5-star rated vehicle and the only one at that in this segment. With the Safari, Tata haven't given an official rating but Tata's reputation of making safe and strong vehicles sells with the Safari. The Compass is a 5-Star EUROncap rated vehicle while the Tucson is unrated so far.
Our first choice would definitely be the XUV700. If money is no object and you're more keen on the best quality then, the Compass and Tucson would be best suited for you. Although, their smaller sizes may act as a deal breaker as the Compass has issues adjusting even 4 tall people. The Compass wins over the Tucson only if off-roading is a major aspect. The Tata Safari, despite being such a new entrant, has started to show its age with a partially digital driver's display and an old fashioned (laggy) 7-inch touch screen.
Come over to price and the ranking changes. While the XUV still offers the best value, the exorbitant pricing of the Tucson starts to tear into the Fortuner category of SUVs as the Compass tries best to stay at the sub-40 lakhs range. Overall comparo winner – Mahindra XUV700.