Formula 1
Russell takes scintillating victory as Hamilton completes a Mercedes 1-2 for the first time in 2022! Brazil GP Race Highlights
It was racing drama overload at Interlagos as Russell finally got his much deserved victory all the while a rift was created between the RedBull boys.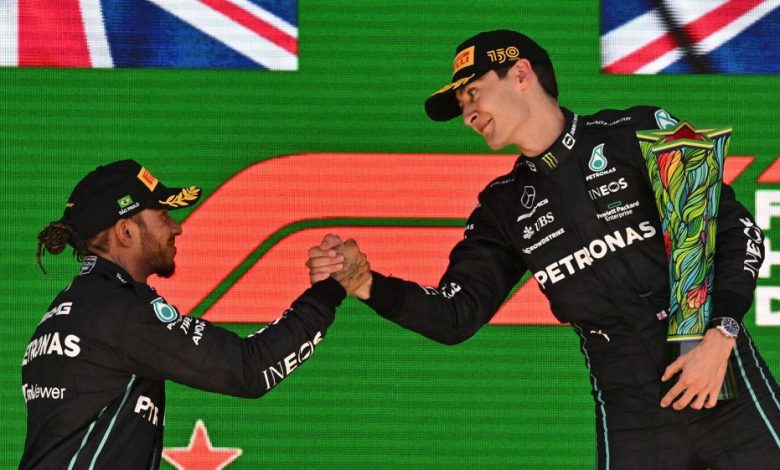 George Russell took a historic win at the 2022 Sao Paulo GP as teammate and 7-time world champion finished right behind in P2 making it the first Mercedes 1-2 of the 2022 season. After such a tough season, it was an amazing race weekend for Mercedes whose newest driver George Russell finally got his race win and the first win for Mercedes in 2022 taking in praise from fans, critics and his senior teammate Lewis Hamilton giving him the absolute best of hugs!
Things did not look this great in the RedBull garage though due to the recent antics of World Champion Max Verstappen and his abruptly unsportsmanlike behaviour especially when it was against Checo Perez who has garnered enough fans in the 2 years at RedBull that Max might actually NEED to make amends for his on-track behaviour. Not only this but Verstappen's post race interview about his crash with Hamilton, for which Max got a 5-second time penalty, did not help his cause. All in all, it was Verstappen's 3rd worst finish of the season and enough bad rep for his market value to have taken quite some nose-dive especially in Mexico and Brazil. But, most importantly, Verstappen's greatest on-track aid was Checo who has played a significant role in getting him the 2-championships and life can get difficult from now on. Scuderia Ferrari were again one of the worst strategists during the qualifying when Leclerc was the only one who was only on inters but, they finally redeemed some of it by not switching Sainz and Leclerc as Sainz soared through to the podium at P3. How all of this went down? Let's find out.
How it went down
Brazil's Interlagos track has seen high drama since F1 landed earlier this week, with Kevin Magnussen having taken his maiden pole position for Haas on Friday and then George Russell taking victory on Saturday's Sprint. Mix that with Hamilton finishing third in sprint starting from P8 for a Mercedes front row lock out  as Carlos Sainz's five-place penalty promoted the seven-time champion up to P2 for Sunday's grid.
Alex Albon was the only hard-tyres starter, from P19, with Charles Leclerc, Carlos Sainz, Kevin Magnussen, Mick Schumacher, Lance Stroll, Fernando Alonso, Nicholas Latifi and pit lane starter Yuki Tsunoda all taking mediums. The remaining grid started on softs.
The lights went out and it was Russell who got away best with Hamilton holding station in second and Verstappen staying ahead of a battling Sergio Perez, Lando Norris (who locked up into Turn 1) and Charles Leclerc.
The Safety Car was then brought out as Magnussen was tipped into a spin by Daniel Ricciardo at Turn 8, where the Haas driver went backwards, hit the McLaren, and sent him into the awaiting barriers – ending both drivers' races early. "Damn shame, Kev", the Dane was told. Indeed it was as Magussen looked strong for the weekend and who knows maybe the ensuing drama could've seen him finish in the top 5. Alas, that couldn't happen.
The safety car moved back to the pits on lap 6 as Russell again left the field away, with Verstappen right on the tail of Hamilton, and going into Turn 1 the pair were side-by-side. They then made contact at Turn 2, causing damage to the Dutchman's front wing. Seconds later, Norris and Leclerc collided, sending the Ferrari front-first into the barriers at Turn 7 – but he carried on. Verstappen was handed a 5-second time penalty for causing a collision, as did Norris. The effect of this incident on Hamilton wasn't visible but the famous F1 publication AMuS stated that Hamilton lost some time per lap owing to the floor damage from this incident.
Hamilton had shifted down to P8 but swiftly moved back into P5 by making fast moves on Schumacher, Gasly and Vettel. Seems like Hamilton and overtakes happen together at Interlagos as he took P4 from Norris by Lap 16th! Sainz was forced to stop for softs as he started losing time to front runners o the medium tyres with a stuck tear-off in his rear-right brake duct. He rejoined in P12 to promote Hamilton back up to third. Russell and Perez continued to circulate in the lead, with the former telling his Mercedes pit wall that he intended to extend his first stint, while Hamilton was making gains from P3.
Leclerc, having already pitted for mediums after his tussle with Norris, swapped to softs on Lap 23 – dropping him back to 17th behind AlphaTauri's YukiTsunoda. A two-second pit stop on the following lap saw Perez switch from softs to mediums, the Mexican emerging behind Bottas in P6 – but losing time in trying to pass the Alfa Romeo. Verstappen also pitted, whose stop lasted 10.7s. Russell was forced to pit to cover the Red Bull off and, although his stop lasted a second longer, the Mercedes emerged in front of the Red Bull still.
Having run the longest on soft tyres, Hamilton pitted from the lead for medium tyres on Lap 30 and emerged fourth, behind Sainz. Now on mediums, the seven-time champion was perhaps hoping to make this a one-stopper with the expectation that his rivals would have stop again. It then became a nail-biter grand prix as we sat impatiently waiting to see what unfolds next. At the halfway of the race, Russell had an almost 5-second lead over Perez in P2. Sainz in P3 was falling behind the pair and into the grasp of Hamilton in P4. Ferrari needed to react and they did. Sainz took a second pit stop, for new medium tyres, on Lap 37, with the Spaniard emerging fourth and 30 seconds off the lead. Despite losing time to Hamilton behind and Russell ahead, Perez chose not to react to Sainz's stop and he continued on his medium compounds. Russell also continued, with an eight-second lead by the end of Lap 40.
Verstappen's early second stop had brought him back to 10th after a number of midfielders had pitted, and the champion was closing in on Leclerc – who lost time in prying P8 off Norris. The Monegsaque would be told to pit a third time on Lap 45, dropping him from eighth to 14th. But, then came the best bit of the race. Hamilton couldn't have timed it this way even if he wanted to. On Lap 44, the 44 number driver raced to Perez and made his move overtaking him on T1 as the crowd went into a frenzy. By lap 48, Verstappen also was in P6 as teammate Perez stopped in the pits emerging in P4 behind Sainz but with fresher tyres.
Hamilton took that as his cue for a second stop – despite having gone longer in his first stint – to take soft tyres. "My tyres are good!" he exclaimed furiously after the team implored him to stop – but it was clear that Hamilton's side had to cover off that Perez stop. He emerged third and now had an eight-second deficit to Sainz – and a two-second lead on Perez. Russell stopped on lap 50 with a 22-second lead on Sainz but, Norris lost engine power and brought out a VSC on Lap 52. By lap 55, a Safety car was brought in as Lando's Mclaren became an obstacle. It was now when Russell and Hamilton were P1 and P2 as Russell was told to keep it respectful.
Mercedes duo were leading at the front as Perez defended P3 from Sainz which definitely helped Mercedes' cause. But, right when Perez was in P6 and Verstappen emerged behind him, drama again ensued at Interlagos. Verstappen was released past his team mate to "take some points off Alonso and Leclerc" at the start of Lap 67, and the Dutchman closed into DRS range of Alonso but could not make the move stick. Despite being told to hand the place back, Verstappen declined, and finished sixth. Unsurprisingly, Perez was furious and ended up saying on the radio, "This shows who he[Verstappen] really is." Max Verstappen's comments post race as to him having his reasons and "Don't ever ask me that again. Are we clear?" might have went okay with the RedBull team but, they certainly took a lot away from his market value as fans and critics alike criticized him for his act.
Fans, as usual, have compared this act to Hamilton who in 2017, gave the place back to Bottas as promised even though he was still fighting for a championship. Max, after already having taken the championship of the year, made such a deplorable move for P6 on a teammate who has helped him take two championships seems to be very very odd. It was only when Perez came in the team and took points away from Hamilton last year during bad races of Verstappen that Max had a fighting chance. What happens at RedBull next is definitely worth watching.