News
Maruti Suzuki trio Swift, Ignis and S-Presso scores 1-star in GNCAP crash tests!
The trio have scored a frightening 1-star safety rating under the updated GNCAP safety rating protocols conducted under the SaferCarsForIndia campaign.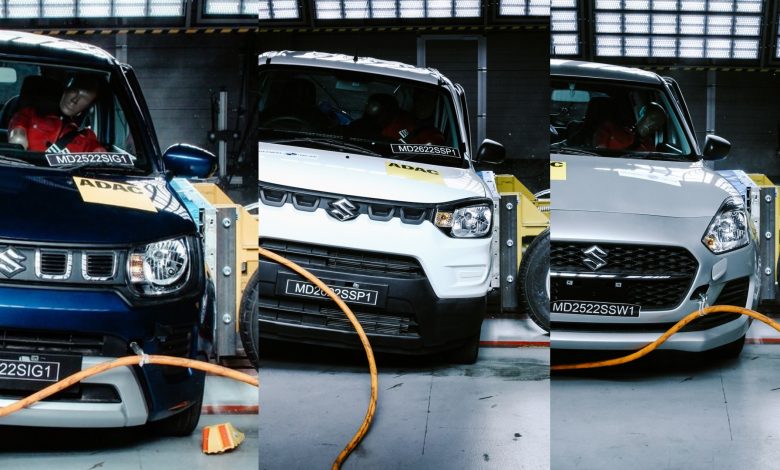 The Maruti Suzuki trio of Swift, Ignis and S-Presso have secured only 1-star at the GNCAP safety rating crash tests under the new protocols. It is important to note that it received a 0-star rating for child protection. The S-Presso was earlier tested under the 2020 protocols where it was able to secure a 0-star rating. The Maruti Suzuki S-Presso received a 1-star rating for adult occupant protection test, scoring 20.03 points out of a maximum of 34. This includes 8.19 points for frontal off-set impact and 11.9 points for the side deformable crash test, both out of a possible 17. Coming over to the Ignis, the India-spec Ignis, was previously tested in 2019 by GNCAP where it received a 3-star rating for adult occupant protection and 1-star for child occupant protection. Now though, it received a 1-star safety rating for adult protection and 0-star for child protection. The Swift is the only one of the three to have received a 1-star rating for both child and adult occupants protection.
In a concerning test result for the Indian buyer, several dignitaries including the secretary general of Global NCAP have raised concerns about the failed score of the three Maruti cars. And rightfully so since Maruti Suzuki continues to be the top-selling automaker of India. It does seem like the GNCAP rating results have started to affect the sales numbers of automakers as Tata and Mahindra continue to rake up higher sales figures. In a recent independent survey conducted by our team, we found out that almost 68% of carbuyers in the sub-compact SUV and mid-size/compact SUV space preferred safety rating over features like size of touchscreen display. This has been a very positive outlook and we will update the entire survey results once our grand survey is completed.
Coming back to the test results, the various heads of GNCAP, FIA and Towards Zero Foundation had a lot to say about these results as they praised the excellent build quality of Mahindra vehicles for having scored a full 5-star under the same rating. Alejandro Furas, Secretary General of Global NCAP said, "Global NCAP congratulates Mahindra on its continuing commitment to safety, achieving five stars for adult occupant protection under our new, more demanding crash test protocols. However, it is of great concern that the manufacturer with the largest market share in India, Maruti Suzuki, still offers such poorly performing models, which don't even make some key safety systems available to consumers in India as optional equipment."
Following this, David Ward, Executive President of the Towards Zero Foundation said, "Indian manufacturers such as Mahindra have clearly demonstrated their ongoing commitment to improving vehicle safety performance. This is very welcome and we look forward to this promising momentum being maintained when Bharat NCAP is launched next year. It is again disappointing that Maruti Suzuki have failed to match the safety progress being made by their competitors. At least now Indian Government regulations are forcing the company to apply minimum safety standards. But surely they should care enough about their customers to do much better than that."
Furthermore, Saul Billingsley, Executive Director of FIA Foundation said, "The failure of all three tested Maruti Suzuki models to achieve a safe rating showcases a disregard for the safety of Indian drivers, passengers and road users alike. The #SaferCarsForIndia campaign has shown how quickly manufacturers can adapt to meet Global NCAP's safety standards and it is time for Maruti Suzuki to learn from other regional manufacturers like Mahindra."
Reading the above, it is clear that Maruti Suzuki's quality concerns have started reaching the global news coverage. While we do support the reasonable "people's car" price of Maruti Suzuki and its feature rich offerings in the lower segment, it cannot be taken as an excuse for failing to make good build quality vehicles. Even in that segment, one can expect at least a 3-star safety rating just as Tata offers a 4-star rated car at cheaper prices than the Swift in the form of Tata Tiago. One can soon expect the government to implement even stricter norms under the current and very active administration of Nitin Gadkari, Minister of Road Transport and Highways in India. How quick does Maruti respond to this is another story we'll cover.