Auto Business
Trending
2020 Bentley Continental GTC – An uber luxury breeze for very deep pockets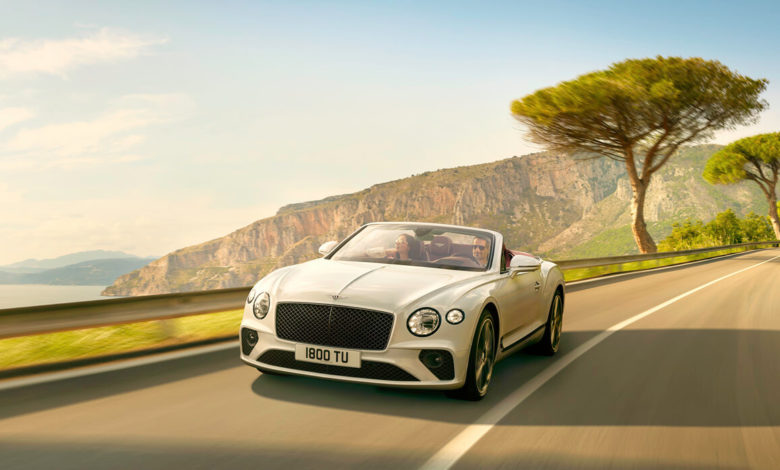 Arguably one of the most consistently opulent looking 2-door luxury grand tourer is back with its topless version, only now with a new neck warmer and a new convertible roof.
The 2020 Bentley Continental GTC was unveiled without much fuss or a big public event. The GTC shares its styling cues and underpinnings with the already familiar coupe, as it always has. However, it also features a new soft-top and a few extra features inside the cabin this time. The roof mechanism is a new Z-fold system which folds up and down in 19 seconds at speeds of up to 50KPH. In fact, it now is 3 decibels quieter than before, if that matters to you.
The good part is that it shares the underpinnings with its coupe sibling up until its waist. After that, well, it's a hit or miss. Convertible GT cars are hard to design for a number of reasons. Firstly, they're heavier and hence, they need to shed some weight here and there. Secondly, the aero of the car gets disturbs and it takes some engineering to design the tonneau cover that fits the roof and does not look weird. So, Bentley has to be given credit for consistently making it look like a natural car and not just some after-thought designed to fill demand for a convertible. That rear end though, is still not good enough. When the roof is up, the side profile looks a bit disproportional because of a very skinny back end and a beautifully placed heavy front end with that massive Bentley grille. With the roof down, things look much more pretty but, the rear end is similar to the coupe which is not really very Bentley like. Those tail-lamps do not showcase the true persona of this car. But hey, this is a Bentley with so much good stuff, it makes the bad design elements look like a piece of art.
Its powered by the same 6-3/4th liter W12 motor which delivers 626 horsepower and 664 pound-feet of torque and pushes the drop-top from 0 to 60 mph in 3.7 seconds. That's a tenth of a second slower than the coupe but, it's still blisteringly fast for a 6,316 pound car. Top speed, on the other hand, is similar to the Continental GT at 207 mph. The dynamics of this car are still pretty much the same with the same gearbox and similar body panels. Anyway, most of those interested in a car like this are probably wondering "how good is it on the inside though?"
Well, not surprisingly, the GTC borrows everything inside the cabin from the coupe. It sports the same dashboard and seat designs, as well as that Rotating infotainment Display. It features a 12.3-inch touchscreen housed in a three-sided unit, including veneer that matches the dashboard, the screen itself, and three elegant analogue dials. Of course, everything is wrapped in soft-touch surfaces and you can choose from many leather and wood veneer options. If you go for the Mulliner specification though, you can customize the cabin to a bespoke configuration just like you could add a diamond studded Breitling clock in the Bentayga for a mere £160,000. Talk about extremes, this car has the very same Naim audio system that can amplify any note of Beethoven and can also crank up the beats of whatever hip-hop track you can possibly imagine. It's so good that sometimes you'll be able to catch the faults in songs which the artists couldn't while they recorded it in the studio. Those speakers have some diamond finished center points that announce your arrival more than the exhaust.
So, it's amazing to drive, nice to look at, is a convertible and is loaded with tech, just like a Rolls-Royce Wraith. The question to ask then, is whether it's as good as the Wraith. And the answer to that is that it's subjective. Both Bentley and Rolls have come up to create a separate stance of their own and they're both unique, expensive and amazing pieces of art. The perfect answer to that will be why not buy both. Since, anyone who's at a stage of buying any of these cars definitely has enough dough for both of them.