Auto Business
Hyundai Motor India receives 5 Model-Awards at Initial Quality Study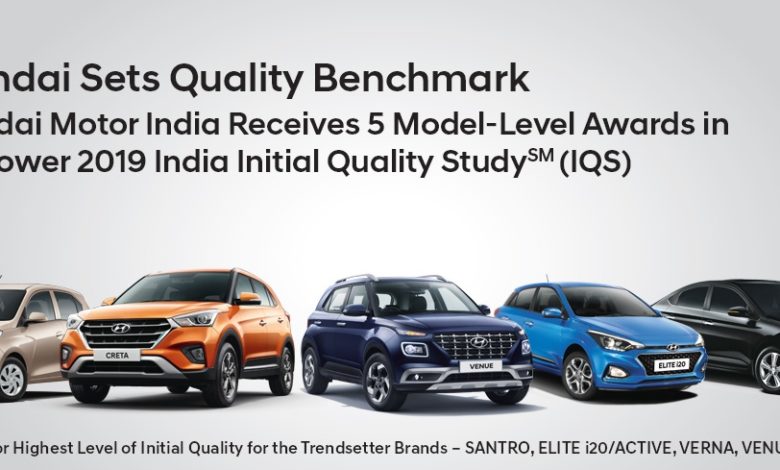 In the JD Power 2019 Initial Quality StudySM Hyundai Motors India achieved 5 Model-Level Awards on January 24th, 2020 at New Delhi. Hyundai Motors India has been India's #1 exporter since its inception and is also the country's smart mobility solution provider.
The initial quality is examined by recording the number of problems lodged by owners every 100 vehicles during the initial 2-6 months. The lower the score, the higher the quality. The 2019 Initial Quality StudySM is based on 6,051 responses recorded by new owners who made their purchase of the model between October 2018 and October 2019.
The study included 66 models that were an outcome of 13 makes. As explained above, the study was based on the problems that new owners experienced within the first 2-6 months of ownership. There were over 200 problems examined during the study, divided into eight categories of problem. The eight categories are as follows: (listed in frequent order of problems recorded)
Transmission/engine

The heating, ventilation, and cooling system (HVAC)

The experience from driving

Vehicle's exterior

Vehicle controls, display, and features

The interior of the vehicle

The audio, entertainment, and navigation system (AEN)

The seats of the vehicle
The CEO and Managing Director of Hyundai Motors India, Mr. S.S. Kim, said: "We are overwhelmed and delighted to be ranked #1 in the J.D. Power 2019 India Initial Quality StudySM for 5 of our trendsetter brands".
The trendsetter brands include Elite i20/Active, Santorum, Creta, Venue, and Verna. He said that as a company that is dedicated to their customers, they are committed to delivering top quality products to their customers offering "Quality time to make life a 'Happy Life'." He assured the Indian market that as a Lifetime Partner and beyond, Hyundai Motors India will continue to create groundbreaking products using innovative manufacturing technologies to stay ahead in the automobile industry of India.
The following are the rankings after the study was conducted:
Santro ranked highest in the compact category (54 PP100).

Elite i20/Active ranked highest in the premium compact category (57 PP100).

Verna ranked highest in the midsize category (63 PP100).

Venue ranked highest in the compact SUV category (52 PP100).

Creta ranked highest in the SUV segment (63 PP100).