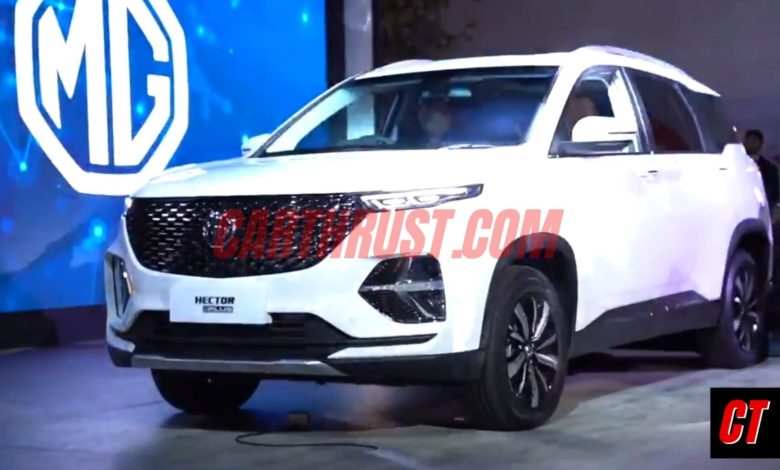 The MG Hector Plus 6/7-seater SUV was unveiled at the Auto Expo 2020. The new counterpart is based on their hugely successful Hector with the exterior styling tweaked to give it a distinguished look. This car has been increased in length by 40mm from the Hector.
The model is set to be launched for the Indian market consumption during the latter part of 2020. The exterior of the model comes with an enhanced chrome embellished grille, revised tail-light with distinct detailing, revised fog lights and front bumper, and newer rear bumpers with variant reflectors and diffuser. The headlights and DRL's are new as well. However, the difference in the dimension is not clearly visible. 

The interior of the model comes with an additional length that can accommodate a third row. This third row will have the capacity of carrying two passengers. The MG Hector Plus will be available with both 7-seater and 6-seated configurations. Even though the exterior receives certain tweaks, the interiors of the model such as the equipment level and dashboard design remain identical to the regular model of the Hector. 
The interesting part of any vehicle boils down to its power and engine capacity. So, the new model comes with a 1.5-liter turbocharged petrol engine and a 2.0 liter Diesel engine. The petrol engine will also be suitable for the mild-hybrid technology. Now, the gear system comes in both manual 6-speed transmission and 6-speed automatic dual-clutch transmission. However, the manual transmission is standard across the entire range and non-hybrid petrol version. All of this is of course, BS6 compliant
The production of his model has begun at the MG Motor India's Halol plant. It is expected that the bookings will soon begin as well. The brand is working on increasing the rate of production to make sure they can cope up with the demand-supply ratio. The additional variant is already ready for the market and the manufacturer has work setup for the remainder of the year. There is a possibility of MG Motors establishing a second plant to support the long term plans it has for the Indian market. 
The Hector will be launched sometime before the Tata Gravitas will hit the market along with the new Mahindra XUV500. And it seems like MG is keen on taking the early move advantage. This Hector Plus will be sold as the new Chevy Captiva in other markets globally. The price of the new Hector is expected to be marked above the price of the 5-seated Hector with a considerable amount. The 5-seated currently ranges between ₹12.73 lakhs and ₹17.43 lakhs.