Electric
Henrik Fisker revealed EV truck on Twitter – To be called Alaska!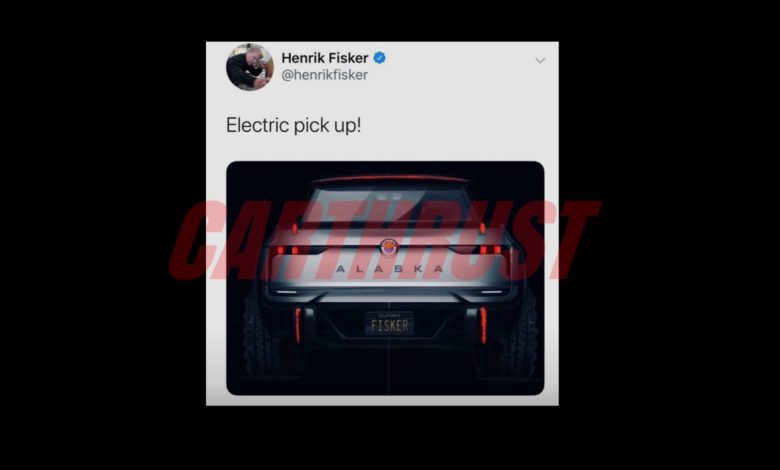 The EV branch of the automobile industry has been picking up pace recently. It is clear that the next big thing within the EV sector is electric pick-up trucks. At least in the US where pick-up trucks see the highest sales figures!
Now, a few people managed to get a glimpse of a tweet by Henrik Fisker which revealed the backside of a probable EV pickup truck. However, it was removed after some time. Here's a screenshot we got our hands on.
The tweet did come from Henrik Fisker's twitter handle, who is the man in charge. An email was sent out to a few sources that confirmed that this tweet was not intentional and that there can be no confirmation of the name or make of the model. That being said, the company did confirm that they are working on a model electric platform which will dominate the EV sector in the future. 
Given that the tweet was of the model's rear end, there's not much that can be said about it. The only thing that was clearly visible was that the model's name is Alaska. The picture did look like it was the computer-enhanced version of a hand-drawn sketch. This is because the tires of the model look truly hand-drawn. Even though nothing can be said of the cabin, this rugged, chunky exterior translates to a similar style of cabin like other pick-ups. Expect it to be a more hardcore version of the Fisker Ocean's interior.
There's absolutely no other information available about the electric truck. Therefore, there's no telling when it will come to the market or when it will be launched or even the price. Sources who caught a slight teaser at Inside EV's revealed that it is possible the electric vehicle truck will be using the same platform as the SUV. 
The Fisker Ocean made its debut last month at the Consumer Electronics Show which was taking place at Las Vegas. The SUV was revealed to have a 300-mile range along with a starting price of $37,499. This cost is interesting considering the SUV, which is attractive and capable. However, production isn't set to begin until next year and the deliveries of the first units will not begin until 2022. That is a long wait for consumers. On the other hand, brands like Ford, Tesla, and GM are planning to release electric trucks next year. Furthermore, Rivian is aiming to launch the R1T during the latter part of 2020.