Auto Business
Toyota releases a teaser image of new SUV before global premier! – Creta, Seltos, Harrier rival inbound?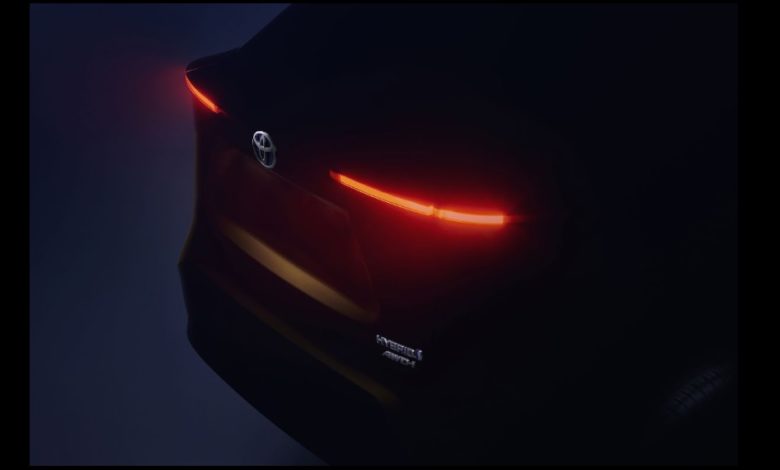 Earlier today, Toyota released a teaser that showed off the rear end of their new compact SUV. The company had also revealed sketches of this model earlier which showed off a bold and radical styling with a much more sober tone.
Additionally, the characteristics include a flat roof line, steeply raked windshields and accentuated surfaces. Even though the footprint is quite small, the company's designers seem to have prioritized the interior room over its sportiness character.
The teaser released today shows the tapering rear windshield, narrow LED lights for the tail, and a small flat-end area like a notchback on the tailgate. Finally, the teaser reveals the "Hybrid" badge which is placed at the tailgate's bottom right part. What's more to notice is the AWD-i badge which confirms that the car will have the intelligent AWD system from Toyota which could be a slightly low cost version of the 4×4 found on it's bigger SUV's. And we definitely think it will be good because Toyota 4×4's have serious off-road capabilities.
The mini SUV will relate closely to the Yaris and will be manufactured in the Onnaing facility in France. The crossover is expected to have a much longer wheelbase than the one in the Yaris. This will free up more space for the rear passengers. There are international media reports which have suggested that even though the new mini SUV is a crossover, it will still provide off-roading suspension and an all-wheel drive for hybrid power trains. Additionally, the 1.5 liter petrol engine with the battery pack and electric motor is the first preference. 
Now, Europe is steadily coming to terms with the idea of "high-riding" compact crossovers. Even though the market already has such offerings, Toyota will always be a strong entrant and competitor. The Japanese giant is expecting that the crossover and Yaris will account for 30% of their European sales by 2025. 
The direct competitor of this model will be the Nissan Juke, Hyundai Creta, VW T-Roc, and Kia Seltos. In the European portfolio of the brand the new model will be placed right below the C-HR. This model is scheduled to make its global debut at the Geneva Motor Show 2020. More information about the new model will be available by the 3rd of March.