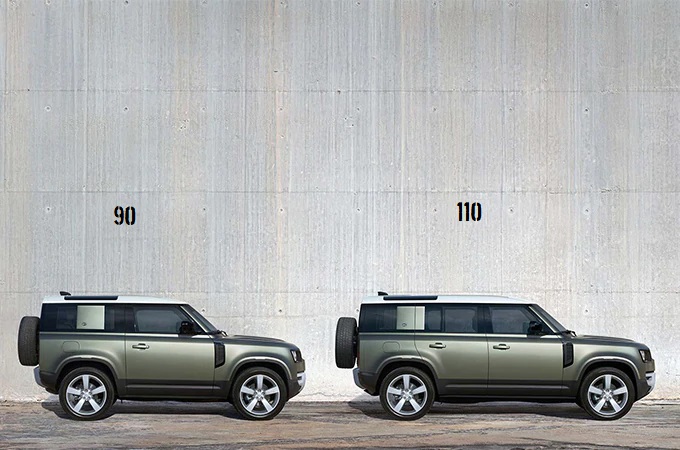 Looks like LandRover is absorbing the Value-for-money traits of it's parent, Tata Motors! Wonder why? Well, Landrover has launched the brand new Defender in India at a VERY aggressive starting price of INR 70 lakh!
At this price point, the Landrover Defender undercuts it's closest rival i.e. the Merc G-class by 105%. The Merc starts at a whopping Rs. 1.5 crores for the G350d and for a little less than that, you can equip yourself a fully equipped, adequately powerful and an extremely capable Defender 110. Oh! And it's gonna be offered in both the 90 (2+1 door) and 110 (4+1 door) body styles right!
Offered with a 2.0 L, 300PS petrol motor with 400 Nm of torque, the New Defender will be available as a completely built unit (CBU) in India. The New Defender will be offered in five different variants across both 90 and 110; Base, S, SE, HSE and First Edition. Dare I say that this one is so pliant that you can even take it to be your daily driver on the road. But, I'd recommend taking it to places where you create a path, literally!
The Defender is an icon. It is basically Land Rover's platform to showcase what their off road heritage is all about. The Defender comes with an infinitely customisable option set. It includes seating options, off-road or on-road kits, styling options, electronics and connectivity, etc. For India, the New Defender will come with 360° Surround Camera, Wade Sensing, Electronic Air Suspension (Standard on 110), Smartphone Pack, Connected Navigation Pro, Off-Road tires, Centre Console with refrigerated compartment (optional) and more.
Official statement
Rohit Suri, President & Managing Director, Jaguar Land Rover India Ltd. (JLRIL), said that "The New Defender embraces its rich lineage in a modern, 21st century package that makes it extremely capable, on and off-road. With the entry of this icon to India, we are extremely proud to offer to our customers, the most capable and durable product in the Land Rover portfolio, while still retaining the authenticity and character of the original."