Auto Business
Lighter, more powerful and agile – The New Mclaren 765LT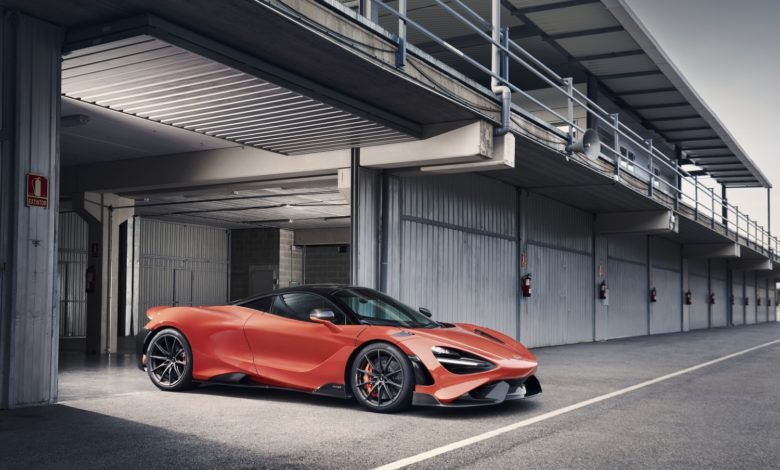 The LT or long-tail series began in the '90s with the Mclaren F1 GTR race car. In 2015, the company decided to bring the LT moniker to the street and skip to today, Mclaren launched the next product in their long-tail saga – the Mclaren 765LT.
Launched at Company's HQ in Woking, U.K, this beauty is powered by a twin-turbocharged V-8 producing 765ps (Hence the name 765) and 800nm of torque, which enables it to go from 0-100 kmph in 2.8 seconds and 0-200 kmph in less than 7.2 seconds. This could be attributed to a lighter body which is 80 kilos less than regular 765 and a class-leading power to weight ratio of 622 ps per tonne (That's insane).
The extensive focus on shedding weight has bought in the use of light weight carbon composites panels for the body, a full titanium exhaust system and carbon interiors featuring a lightweight carbon seat. The use of Carbon fibre on this car is strategic and is done with only one focus- to attain light and rigid body with an insane amount of power. This enables it to attain 330 kmph of top speed.
The 765LT doesn't have any air conditioning or music system but if you are planning to buy one for those long drives in summers, it can be added without any additional costs as the company deleted it to reduce weight.
But, even without the music system, the sweet LT symphony would suffice any music system.
The 765LT has carbon fibre and Alcantara leather all over in the interiors, and the attention to detail looks quite impressive.
Oh BTW! Mclaren is only planning to produce 765 units of the 765LT. So if, like me, this happens to be your dream car, let's fill up those dreams with these images because by the time it becomes purchase-able, it'd have already sold out!