Auto Business
Formula 1
News
We've lost another racing legend – Sir Stirling Moss dies at 90
Sir Stirling Moss also revered as 'Mr Motor Racing' passed away at his London home, leaving us with his history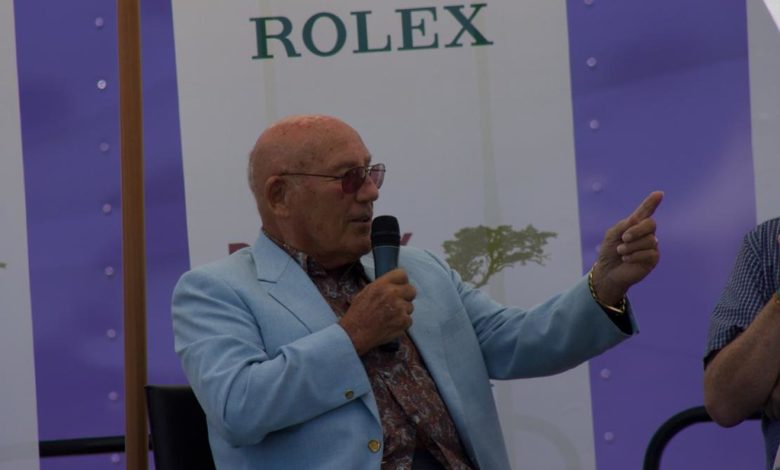 "If you're not trying to win at all costs, what on earth are you doing there?", this phrase by Sir Stirling Moss is representative of how passionate he was about racing. This was a man who had established himself one of the greatest players to have been a part of F1 and he had inspired, and also been admired by many.
Sir Stirling Moss had a successful career, and in his 14 years of being a part of F1, he competed in 375 races, from which he won 212, and this is a impressive feat to have achieved. A man like Moss could not be taken away from the sport he loved so much, the only reason why he had to retire from racing was due to a horrific crash that took place during the Formula One Glover trophy in the year 1962.
This crash left him in a coma for a month, and post this crash, he felt he was not performing up to his standards anymore, and decided to retire. This also earned him the title for the greatest and most eligible racer ever to not be a world champion. In fact, Sir Stirling Moss was so great that Mercedes had even rolled out a special edition of their already very special Mercedes SLR McLaren supercar. It was called the Mercedes SLR Stirling Moss, it is a very rare car, spectacular to look at and currently is worth in the millions. Imagine having a special car from Mercedes and you get to see it!
Sir Stirling Moss was born in 1929 and his career started at the age of 18, when he raced in a Cooper 500 competition, and since then, Moss never looked back. Moss was hungry for opportunities, but he needed to prove his mettle, and he attained his recognition and first international victory, when Tommy Wisdom lent his Jaguar XK120 to Moss, and Moss took this opening and he demolished his competitors, his Jaguar teammates included.
Clearly Jaguar saw Moss's capabilities and potential and they signed him as their teams's leader. When Moss would be pacing away during a race, it would appear as though the car and him were at one, which just shows how profound was his love for motor races. If one were to talk about the highlight of Stirling Moss's career, without doubt it would be his triumph in the 1955 Mille Miglia, which was a 1600 kilometer race through Italy, and Moss while driving a Mercedes-Benz 300SLR made his victory look so easy, as he attained the first position by a lead of half an hour, second being his rival and idol Juan Manuel Fangio.
Stirling Moss was a great man on the race track, and as a human too. In 1958, Moss lost to Ferrari's Hawthorn, and during this race Moss saved Hawthorn from receiving a penalty of 6 points, by standing up for him when Hawthorn's actions regarding a spin at the Portuguese Grand Prix had been questioned. Moss lost to Hawthorn by 1 point, which he could have avoided had he not stood up for Hawthorn, but that was the kind of man Moss was, true to the game, inside and out. It is instances like this which defined him, and provided him with the world's love and approbation.
After the 1958 defeat, Moss took less interest on winning the championship, and raced for his love for racing. While driving for Lotus, Moss took on the much superior Ferrari 'Sharknose' and not only did he take this car on, but he even defeated it. This just goes on to show that it was expertise which could power any car he drove towards victory.
By the end of 1961, Moss had been the world's best for 4 seasons, but he was aware of Jim Clark another exceptional racer, and Moss thought of upgrading his equipment to in order to race Clark. Luckily for him, at this point a deal with Walker was available to race a Ferrari in F1, but this race was never to be, as Moss suffered a ghastly crash during the Formula One Glover Trophy, in Goodwood, when his car hit the bank of the earth at 160 kilometer per hour.
This accident resulted in him suffering brain injuries, and his left side being paralysed for 6 months.In spite of an accident of this kind, Moss, brave as ever, became a business man and in this venture of his life, he did quite well. He also continued to be a part of motor races, by being a commentator and many other roles.
Moss had one said 'I hope I'll continue to be described as the greatest driver who never won the world championship, but it doesn't really matter, the most important thing for me was gaining respect of the drivers and I think I achieved that'. I think I can go on to say that not only did he gain the respect of the drivers, but also the respect from the hundred and thousands of people who looked up to him. One of the many people he inspired is none other than Lewis Hamilton, who considers himself lucky to have shared friendship with Moss.
Fresh from the loss of Niki Lauda and the very young Anthoine Hubert in 2019, the world has lost another true legend. Rest in peace Sir Stirling Moss.